Design
How To Promote With Brochures (Part 2) – 11 Tips for Effective Promotional Brochures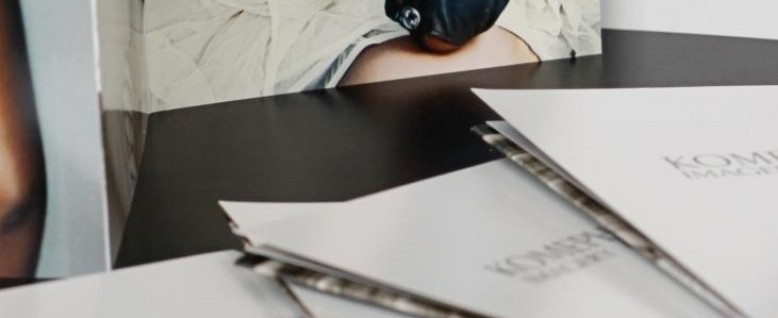 In the first part of this series, we gave the most reliable approaches for promotions with brochures, based on the top 5 applications
11 Tips for Designing Effective Promotional Brochures
11.) Design for a specific purpose
As the saying goes, "a jack-of-all-trades is a master of none". Trying to do everything all at once will only muddle the focus of your brochures. At best, they would be mildly confusing. At worst, they could negatively affect your return on investment. Fonts, choice of content, colors, and all design elements should ideally follow the intended purpose.
10.) Use images least 300 DPI/PPI or better
Brochures will be read at arm's length. This makes it important to use image files that won't look fuzzy upon printing. Using better quality image files ensures you have better looking images, but also helps your brand look better as well.
9.) Include content that adds value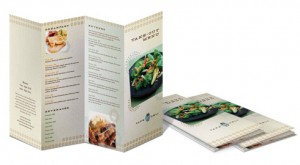 Take-out Menu Brochures 11 x 17″ Accordion Fold (4 Panels)
As a rule of thumb, you'll want to have images and copy that people will be willing to share. What that is depends on the context. Perhaps your promos or discounts are enough to make your brochure share-worthy. Other things you may want to add include graphs, simple comics, maps, relevant images, how-to's or other kinds of exclusive content to make them interesting.
Valuable content not only keeps your brochures from being thrown away, you also increase the chances they will be shared with another reader.
8.) Avoid mass distribution
While brochures can be affordable, they are best suited for very specific audiences. Make sure that when you only distribute brochures to audiences who are likely to be interested in what you might offer. Flyers and other single-page prints are a more economical medium for mass distribution.
7.) Use brochures with other promotional approaches
Rarely will a brochure alone be enough to close a sale. They can however, be an important tool for helping educate an audience. Brochures for example, can help a sales force better illustrate points to potential customers. They can also be bundled with business cards at events and trade shows to help delineate a pitch and to encourage prospects to call or message back.
You can also try drawing people in with a vinyl banner or a booth, and hand out brochures to people who signal interest. Be careful though – if you bother people and they ask for a brochure, they might ask for them as a polite way out. Make sure to only give them away to people you feel are strong leads.
6.) Integrate social media channels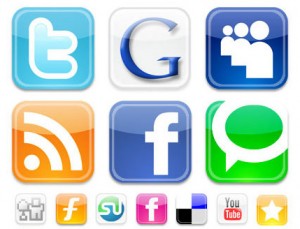 If you have a website, or a related blog, the URL should always be on your brochures. Depending on the situation, you may also want to include your Facebook, Pinterest, LinkedIn, or G+ pages as well. QR Codes are another thing to look at if you want to add a level of exclusivity to an offer.
It costs nothing to include these, and you might be missing out on opportunities to interact with your audience if you skip this part.
5.) Do not change business or org policies too soon after printing
If important info on your brochures becomes outdated, you might risk confusing or even alienating customers. Let an acceptable amount of time pass after a promotional campaign before making major changes to policies if you can help it. To avoid problems, place disclaimers in your brochures and specify campaign periods when applicable.
4.) Avoid walls of text
Use bullets, images, and smaller paragraphs to make your brochure easier to read.
3.) PROOFREAD!
Realistically, it will be impossible to remove each and every error you'll find on copy. However, try to reread everything before you distribute. Don't just focus on typos either. Look out for fact and logic errors, as these can totally ruin your brochure's credibility.
2.) Always choose manual print proofing
Brochures are folded multi-page products printed back to back. This means alignment issues can be more obvious and are compounded as folds are applied. Improper proofing can result in brochures with completely misaligned pages.
Complex designs with specific color combinations will also benefit from being proofed by an experienced prepress expert, as this keeps colors truer to how they appear on a properly calibrated monitor. For any print product that requires precision folding and color fidelity, manual proofing is still the way to go.
1.) Design for typical brochure racks
The top third of your brochure – the part visible on a brochure rack – should have your tagline or whatever information you think your target audience will be interested in. Of course, this isn't as important for direct mail brochures.
Brochures are an indispensable part of many promotions strategies. Their many uses has made them a favorite of salesforces and promoters all over the world. However, despite their versatility, it pays to know how to effectively design and use them for a given purpose.
The First of This Series:
5 Popular Brochure Applications (Part 1)
Sources:
ianrpubs.unl.edu/live/g2028/build/g2028.pdf
cerqa.com/blog/index.php/2012/12/3-advantages-brochure-marketing-offers-business/
morningstarmultimedia.com/benefits-of-brochures/
outsource.net.au/blog/expert-tips-brochure-marketing/
allencrawley.com/how-to-use-brochures-to-grow-your-business-part1/
powerhomebiz.com/marketing-tips/direct-marketing/use-brochures-effectively.html
outsource.net.au/blog/expert-tips-brochure-marketing/
en.wikipedia.org/wiki/Brochure
allencrawley.com/how-to-use-brochures-to-grow-your-business-part1/
cerqa.com/blog/index.php/2012/12/3-advantages-brochure-marketing-offers-business/
morningstarmultimedia.com/benefits-of-brochures/
Images taken from UPrinting.com and UPrinting's Facebook Page
Love/Hate this article? Questions? Insights? Just head over to the comment section below. We'd love to hear from you!