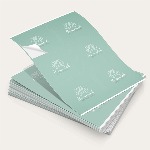 Uncoated or high gloss stickers
Multiple sticker size options
Prints in as little as 1 business day
Features
Uncoated or high gloss stickers
Multiple sticker size options
Prints in as little as 1 business day
Print Multiple Designs in Your
Sticker Sheets
Custom sticker sheet printing combines the best things about cut-to-size and roll stickers. Just like roll stickers, you get to peel off and apply stickers continuously and efficiently. Then you can neatly stack them like cut-to-size stickers. Our sheet stickers are kiss cut for easy peeling and work great as address or mailing stickers, food labels, or as product tags.
Create Custom Sticker Sheets
Print easy to apply rectangular stickers. 
Need to apply your logo quickly on your packaging or envelope? Sticker sheets help you keep track of the number as you place each piece by hand. Choose from five rectangular shapes that can fit small, medium, and large surfaces. 
Choose the correct size based on the number of sheets. 
You can estimate the size of your rectangular shaped pieces based on the number of stickers available per sheet. The bigger the sticker size, the smaller the number of pieces per sheet. You can order several sheets to meet the sticker quantity needed. 
Large (5" x 4"): 

4 stickers per sheet 

 

Medium:

 4" x 3.33" stickers at 6 per sheet; 4" x 2" stickers at 10 per sheet; 3.5" x 2" stickers at 12 per sheet

 

Small (2.685" x 1"): 

30 per sheet

 
All sheets are letter-sized at 8.5" x 11". You can easily stack and organize them like paper before peeling off and applying the individual designs.
---
The 

Benefits of 

Custom

 Sticker Sheet Printing
Downloadable layout templates. 
Not sure how to estimate the available sizes on a sheet? Head to the "Templates" tab and download your preferred sticker size. Files are available for your editing program of choice: AI, JPEG, PDF, PSD, and PUB. 
Each file includes the safe zone, trim line, and bleed for the size. Be sure to design with these guidelines so no detail is missed in the final print. The infographic below explains the role of each guideline:
Durable, indoor-friendly material and complementary coating.  
All sticker sheets are printed on a smooth, white paper sticker that's best for indoor storage and applied on products that are not exposed to water, moisture or oil. You can complement the sticker sheet design with the following finishes: 
Uncoated 

gives your sticker an elegant, natural look. The surface is writable and has no glare, making it easy to read typography or text-based designs.

 

High Gloss

 has the highest reflectivity and offers stunning shine. Perfect for bright, colorful designs

 
Fast printing options. 
You can print 25 to 400 sheets in 1 business day. The printing time includes every step of the process, from uploading your file, the 30-point review, to approval of the free PDF proof. Higher quantities can be printed in at least 2 business days.
---
How to Create and Order Sticker Sheets
Select your sticker's features. 
Choose a size based on the number of stickers per sheet and the corresponding size for each.  
Upload a print-ready file or download a layout template. 
Upload a file in PDF, JPEG, PSD, or AI format. Make sure your file follows the size you selected on the online calculator. The entire file must also be in the standard 8.5" x 11" size for one sheet.  
The "Templates" tab offers downloadable layout files you can edit in the correct size.  
Proceed directly to printing or approve a free PDF proof. 
Is your file set in the selected size and shape? Has it been designed with the correct guidelines? Choose "Print ASAP" in the "File Upload" page. Your submission will go undergo a thorough human and automated review to ensure it meets the correct technical quality.  
You can review and approve a free PDF proof before it proceeds to print. On the "File Upload" page, select "Wait —I want to receive and approve a free PDF proof" as your proofing option. Note that your file will only be printed after it has been approved.
---
Sticker Sheet Printing FAQs
What is the smallest sticker that can be printed on a sticker sheet?? 
The smallest sticker size is 2.685" x 1". One sheet will contain 30 stickers of this size.  
How many custom sticker sheets can I order?? 
You can order a minimum of 25 custom sticker sheets and a maximum of 4,000. The online calculator will automatically update the number of stickers based on your sticker size and the total number of sheets.  
How many stickers will fit on a sheet?? 
The number of stickers per sheet depends on the sticker size. The online calculator lists the following choices: 
2.685" x 1" – 30 per sheet

 

3.5" x 2" – 12 per sheet

 

4" x 2"

 

–

 10 per sheet

 

4" x 3.33" – 6 per sheet

 

5" x 4" – 4 per sheet 

 
How do I set up my uploaded file for sticker sheet printing? 
Files with kiss-cut stickers will need to include the cut lines per shape. The kiss cut layer is what indicates the sticker's shape when peeled off the backing.  Here's how you can create the kiss cut lines on Illustrator:
Double

-

check if your file is in CMYK mode and all elements are 300 dpi resolution.

 

Lock and hide the layer for your 

design

. Duplicate this first layer and rename the copied layer "Kiss Cut".

 

Select the new "Kiss Cut" layer, then go to Window > Pathfinder > Unite. This will merge the artwork into the designated shape.

 

Select the merged, solid shape and make its stroke color 100% magenta. Fill color should be "None". 

 

Set the layer of your 

design

 to visible then select the Kiss cut layer. Select Object > Path > Offset Path. 

 

The Offset Path window lets you 

determine the 

white space 

the

 design 

and the kiss cut line. 

This distance is what shows the sticker shape upon peeling. 

 

Select the Kiss Cut layer and duplicate it. 

Place the third layer below the Kiss Cut one. This third layer is what sets the 

outermost cut line and shape of your sticker. Make the third layer's stroke color 100% cyan.

 You can name it as the "Through Cut" or "Outer Sticker Outline."

 

Go to Object > Path > Offset Path for the third layer. Set the appropriate distance between the Kiss Cut layer and the final layer.

 

Save your file with all three layers visible and labeled accordingly. 
Sticker Sheet templates.
Save time by using our free templates. Our templates have been setup with proper bleeds and margins, assuring your print job turns out accurate. To download, select a file type and click on the size below.
1,000,000+ business professionals trust us with their printing.
Designers. Small businesses. Iconic brands. We print for you.
Free file check.
Your files will be reviewed for printing errors without paying a cent.
More printing.
150+ print products to help you make a good impression. 1000+ options to customize to your heart's content.
Reliable. Always.
The product you want. The way you want. Professional printing guaranteed.