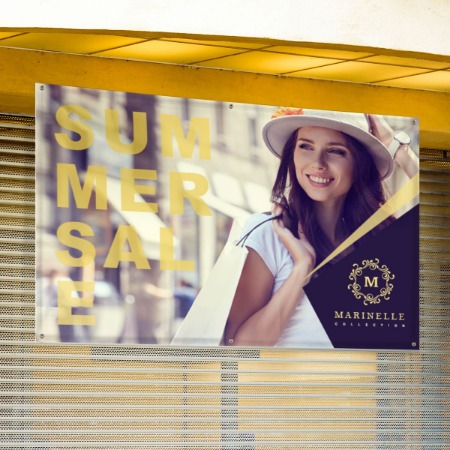 Large-format printing for your business
No-glare, matte finish for great visibility
Grommets/pole pockets for easy hanging
Custom sizes available
Features
Large-format printing for your business
No-glare, matte finish for great visibility
Grommets/pole pockets for easy hanging
Custom sizes available
Proudly market your business with custom printed Vinyl Banners.
Grab customers' attention quickly before they move on to the next shiny big thing with vinyl banner printing. 
Placing advertising banners near your store allows you to catch and sustain people's interest—quickly and effectively.
Often large and conspicuous, banners point customers to your business without the usual high advertising costs. Printing vinyl banners is a one-off job that you can use over and over again. 
The specs you need to make an impact
It comes with different sizes to help you get more eyeballs on your business. Whether it's the standard 3' x 2' banner or the enormous 20' x 8' one, you can find the size that's a perfect fit for your brand.
You have the option to choose from three high-quality materials: 
Standard 13 oz. vinyl is great for both indoor and outdoor use but may not withstand extreme weather conditions.
Premium 15 oz. vinyl is more durable, making it ideal for outdoor use.
9 oz. mesh vinyl allows airflow while maintaining high-quality prints.
To hang the banner against a wall, add grommets on each corner or every two feet of the banner to protect the holes from fraying.
Adding hemming strengthens the edges of banners, making them less likely to rip apart.
If you already have a banner stand, you may choose to add pole pockets (left and right or top and bottom).
What can vinyl banners do for my business?
Banners can help keep your business in people's minds. Here are more reasons why:
Brand awareness. Before customers can do business with you, they need to know first that you exist. Hanging an banner near your store makes it easier for customers to find you and know what you're offering. 
Easy customization. Your brand competes with several other businesses offering the same products and services. With different customization options, vinyl banners allow you to stand out from the competition. 
Quick turnarounds. Banners can be printed within one business day. They are easy and quick to produce, making them perfect as a last-minute advertising solution. 
Versatile. Vinyl posters can be used for any type of event. From trade shows and conferences to mall sales and music festivals, marketing banners can be placed anywhere there's high traffic for maximum visibility.
Make an impact with a simple but attention-grabbing design.
Here are some design guidelines to follow: 
Don't cram it all in. Banners need to be readable even from a distance. Choose only the important information that your customers need to know. 
Choose the right material. Where you will put your banner determines the kind of material that you should get. Is it for an indoor event, or is it for outdoor use?
Include a call to action. A well-designed banner is great, but it must specify the action that you want your customers to take. 
Want to know more about how you can make your vinyl banners an effective marketing tool? Check out these related articles:
4 Vinyl Banner Ideas for Your Retail Store
Vinyl Banners Q & A
Can I upload my own artwork to print vinyl banners?
Yes. When you upload your file, you have the option to have the banner print right away or get the free PDF proof. 
Can I print on both sides of the banner?
Yes. By selecting the "Front and Back" option on the calculator, you will be able to print your artwork on both sides of the banner. 
Do I need to add hemming to my banner?
Hemming reinforces the edges of your banner to prevent tearing or unraveling. With hemming, the banner sides become thicker and stronger, dramatically improving its ability to withstand the elements. 
Vinyl banners templates.
Save time by using our free templates. Our templates have been setup with proper bleeds and margins, assuring your print job turns out accurate. To download, select a file type and click on the size below.
1,000,000+ business professionals trust us with their printing.
Designers. Small businesses. Iconic brands. We print for you.
Free file check.
Your files will be reviewed for printing errors without paying a cent.
More printing.
150+ print products to help you make a good impression. 1000+ options to customize to your heart's content.
Reliable. Always.
The product you want. The way you want. Professional printing guaranteed.