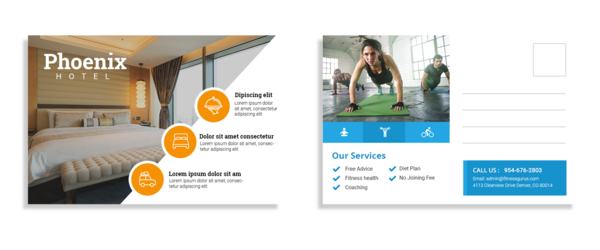 Custom Postcards
Powerful tools with high response rates
Can be mailed or handed out like flyers
Use spot UV and metallic printing to really stand out
Custom postcards. Traditional tool, impressive results.
Direct mail marketing is not dead. With postcard printing, you can resuscitate your marketing efforts without overspending.
According to the Direct Marketing Association (DMA), direct mail like custom postcards have a higher response rate of 4.4% than email with only 0.12%.
What Makes Postcards Effective?
Postcards are tangible. Even with the internet, people still appreciate receiving and holding tangible objects.
More importantly, postcards get read. Customers can immediately see your message the moment they take the postcards from the mailbox.
And unlike other marketing materials that arrive in envelopes, postcards make it easy for your customers to see what you're offering. It's already "open" and ready to read.
With postcard printing, you can keep your marketing alive by:
Promoting special offers
Introducing a new product or service
Driving traffic to your website
Keeping in touch with existing customers
How to Make the Most of Postcard Marketing
Business postcards are a powerful marketing tool. When done correctly, postcards can generate a high response rate that leads to more sales.
Here are some ways to make your postcard marketing a success:
Target related prospects. Your subscriber list should include people who are or might be interested in your business. A vegan will not be interested in an all-you-can-eat steak, so choose your prospects well.

Create a campaign. – A single postcard sent will not deliver great results. Build familiarity with your business by regularly sending postcards to your customers.

Personalize your message. – Appearing professional is important—so is building a connection with your customers. Add a personal but brief message to build rapport with your customers.

Don't turn your message into a sales pitch. – Although you can include promos and sales in your postcards, don't make it the focus of your message. Postcards should lead to the next step in making a sale, not the end of it.
Custom Postcard FAQs
Are your postcards EDDM®-approved?
Yes, our Every Door Direct Mail postcards follow the USPS guidelines.
Can I print my postcards in landscape orientation?
Yes, you can print in either a landscape or portrait orientation. It depends on how your design file is set up. If you're printing on both front and back, make sure that the design on the back follows USPS mailing requirements.
What resolution should my files be?
All files should be at least 300dpi. This ensures that your artwork prints out clearly.