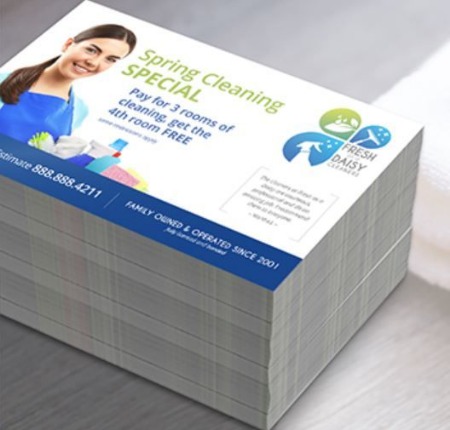 Inform & impress customers with deals & promos
Printed on thick, durable cardstock
Protective coating options available
Cost-saving and convenient Mailing Service
Features
Inform & impress customers with deals & promos
Printed on thick, durable cardstock
Protective coating options available
Cost-saving and convenient Mailing Service
Promote Big Events With High-Quality Standard Postcard Printing.
Effective marketing need not consume your entire budget and take up a lot of time. Standard promotional postcard printing is an affordable way of informing current and potential customers of your brand's latest deals, promos or products. The promotional impact begins when your postcard mailing reaches the homes of consumers. Receiving a promotional postcard can inspire them to check out what you're announcing and visit your store to take advantage of a sale or event. Whether you need 4" x 6" postcard printing or another size option, we make it easy to design, print and mail a high-quality, professional postcard. Trust UPrinting and you'll soon see what makes us the best postcard printing service for your business.
Standard postcard size information for printing, design and mailing
When you're printing postcards to mail to potential customers, choosing the right postcard dimensions matters. Choose wisely, taking into account the amount of information you need to convey and how much your custom postcards will cost to mail.
What are the standard postcard sizes you offer?

For flat standard postcards, we offer designs measuring 4 x 6 inches, 4.25 x 6 inches, 5 x 7 inches, 5.5 x 8.5 inches, 6 x 9 inches and 6 x 11 inches. We find that these sizes are the easiest to mail and the best to accommodate the designs our customers want to see on their postcards.

We also offer folded postcards as either half-folds or tri-folds. Half-fold postcard sizes are 8.5 x 6 inches (folds to 4.25 x 6 inches), 10 x 7 (folds to 5 x 7 inches), 11 x 8.5 inches (folds to 5.5 x 8.5 inches), 12 x 9 inches (folds to 6 x 9 inches) and 12 x 11 inches (folds to 6 x 11 inches). Tri-fold postcard sizes are 12.75 x 6 inches (folds to 4.25 x 6 inches), 15 x 7 inches (folds to 5 x 7 inches) and 16.5 x 8.5 inches (folds to 5.5 x 8.5 inches).
Which is the best size for my postcard design?
It's crucial to choose dimensions that will make your custom postcards effective. Here are some of our standard postcard sizes that are sure to make an immediate impression:
4" x 6" postcards are small enough to make a straightforward and easy-to-read announcement. They're also easy to keep and can be mailed with a postcard stamp. And while 4" x 6" postcard printing is one of the smaller options, it can still make a big impact.


5" x 7" postcards stand out against the smaller, standard postcards sent as personal mail. Their width allows for the right balance between images and compelling copy. Our 5" x 7" postcard printing is perfect for promoting a new business or product line.


5.5" x 8.5" postcards have more than enough space for an image-heavy or extremely visual design. They're recommended for postcards announcing a sale or special deal available in store for a limited time.


6" x 9" postcards are the biggest option among the popular postcard sizes. They're suitable for postcards with more than three images or the need to relay information in a straightforward, visual manner.
Do the postcard sizes have to be in a landscape orientation?



No, they don't. You can create custom postcards in either a landscape or portrait orientation depending on your design file. But if your purpose is to mail them without envelopes, make sure that the back side adheres to USPS mailing requirements.
Can you mail a 5" x 7" postcard?
Yes. In fact, all standard postcard sizes, from 4" x 6" up to 6" x 11", flat or folded to size, can be mailed.
Is there a way to mail my cards if they don't follow the USPS mailing requirements?
If you can't change the layout of your postcard design to comply with the USPS requirements, then you can opt for envelopes. Postcards mailed with envelopes will cost more, but if you just can't make your postcard fit within the USPS dimensions, this is a workable option.
Choosing a Paper Type
Which is the most durable card stock among the materials available?
The thicker card stocks are able to withstand the most potential damage from the mailing process. The 14 pt. card stock is the most popular option, but the 16 pt. and 17 pt. have a more substantial weight. We highly recommend 16 pt. card stock gloss for those planning to deliver a large quantity of postcards to many different locations.
Designing a Standard Postcard
How do I create an effective postcard design?
Keep things short and sweet. People want information that's easy to digest and understand. The copy on your postcard should compel customers to read but not lose their attention.

Call your customers to action. Give them a reason to visit your store or website or try your new product. This action can convert your postcard marketing into significant sales.

Communicate what you have to offer. Resist the urge to list product features. Instead, show customers how to save money or benefit from your business. For example, let them know that the latest restaurant promotion will save them money (50% off) or how a real estate location can lower their cost of living in the long run.

Use large images and bright colors. Your postcard needs to stand out against every other marketing promotion. Make sure that the central image is compelling enough to draw attention and that the colors lead the customer right into your headline and contact information.

To find out how else you can use custom postcards, check out this article on designing postcards effectively.
Is there a specific format to follow for a standard postcard size?
Customers are free to create any postcard design, but we set specific requirements for the layout. Check out our mailing templates, which can help you with the address, postal markings and indicia placement. If you need help with your postcard printing and mailing, feel free to contact us through our live chat box or call us at 1-888-888-4211.
What is the advantage of getting a free file check?
Our free file check lets you look at the design before it is sent for printing. This gives you the opportunity to make changes and ensure that your 5" x 7" postcard printing is free of errors.
Note: If you are mailing this product, please confirm that your mail addressing machine can print on the laminated surface. If you're unsure, please call to request for a sample before placing your order.
Mailing and Cost Concerns