Political Campaign Printing
Let us help you win the next election.
Let us help you win the next election.
Order large quantities at low unit prices
Create a complete campaign with postcards, flyers, posters, brochures, and more
Direct Mail Postcard Campaign
Personalize your retail packaging
Sizes range from 4" x 6" to 6" x 11"
Sturdy cardstock & protective coatings
Target a specific demographic
Sizes range from 6.25" x 8" to 11" x 17"
Prints in 1 business day
Additional space for longer messages
Folds to mailable postcard sizes
Custom sizes also available
Campaign Poster Promotions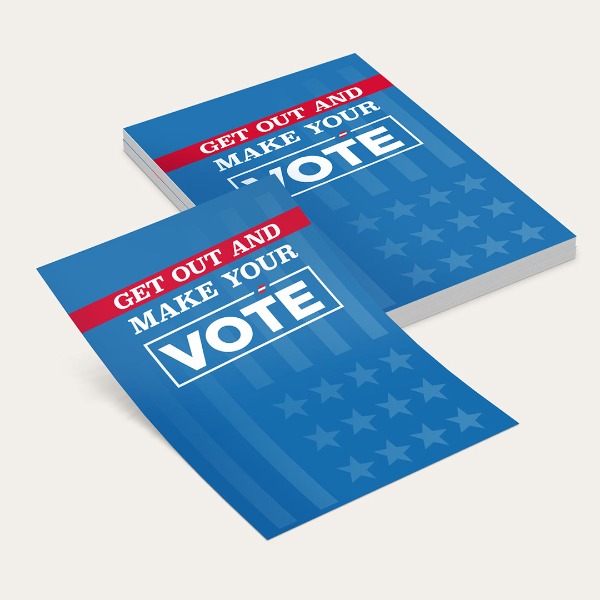 Order in bulk (up to 100,000) to save on printing
Sizes range from 11" x 17" to 24" x 36"
Print on sturdy paper or cardstock
Stand out with high-resolution printing
Catch attention with high-gloss paper
Available in large or custom sizes
Printed on sturdy PVC board
Water-resistant for outdoor display
Print in custom sizes
Campaign Supporter Starter Pack
Cut-to-size and roll format
Square, circle, oval, and rectangle
Standard and custom sizes
Durable corrugated plastic
Add an H-wire for quick setup
Instant visibility outdoors
Matte finish for easy readability
Add grommets or pole pockets
Print in custom sizes if needed
Sticks on cars, vans, and trucks
Long-lasting 30 pt. magnetic stock
Standard and custom sizes


Weather-resistant vinyl material
Square and rectangle shapes
1 business day printing available
4 shapes for your message or logo
Choose from 5 handy sizes
Made of durable metal
Design in a standard or custom size
Printed on sturdy paper or cardstock
Bundle large orders in shrink-wrapping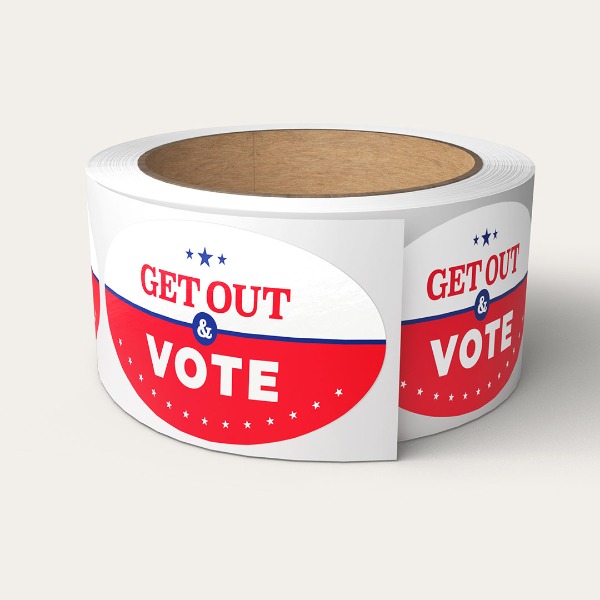 4 shapes plus custom options
Comes in a roll format
Outdoor and indoor-friendly material
Slim, square, standard, or custom sizes
Stand out in gloss, high-gloss, or matte
3 durable cardstock choices
Wide selection of styles, colors and sizes
Choose from 3 decorating methods
Print on front & back
Choose different styles like caps, beanies and visors
Embroider your design on the front
Over 50 color variations
Stand out in vibrant high-gloss UV
Made of thick 17 pt. magnet
With custom size options
Grassroots Campaign Materials
Printed on durable cardstock
Gloss, high-gloss, or matte coating
Print in 1 business day
Two-, three-, and four-panel folds
Sturdy paper and cardstock choices
Standard and custom sizes available
Clear & vibrant full-color printing
White sticker paper and BOPP materials
7 cut-to-size and 4 roll shapes
Comprehensive Political Campaign Printing
Choose from a multitude of print products.
Whether you're handing out flyers or brochures to introduce your candidate, distributing door hangers or pins to supporters, your candidate will be fully promoted in every print marketing opportunity.
Select custom sizes and shapes.
Personalize your campaign materials for every kind of voter. Create mini flyers they can take home or lengthy brochures they can read. Send out direct mail postcards to reach a specific demographic and produce signs to rally supporters.
Create a unique design in real time.
Ensure no detail is missed in every campaign design. Download any of our templates or create artwork on our online design tool. Settle any other payment details after sending it over to us for printing.
Rally Supporters With Professional Political Campaign Printing
Looking for a reliable printing partner that will show voters your candidate is the nation's next leader? UPrinting offers every kind of campaign material you need to increase your candidate's visibility and get their message across a wider spectrum of voters.
5 Ways to Elevate Your Campaign Materials
Customize Every Detail of Your Message

Mass marketing will be lost on the different voter types in America. You need to personalize every detail in your print material, from the color choice and fonts to the coating finish. Not only that, you need to use the precise words and style that would appeal to targeted segments.

Dr. Lisa Spiller, author of Branding the Candidate: Marketing Strategies to Win Your Vote, emphasized that political campaigns are now customized and personalized and "not mass marketing like all political campaigns had been in the past."

Some of the crucial print features that require customization include:

Size - Standard sizes are available for all kinds of campaign materials. If you require specific dimensions, select Custom Size on the pricing calculator and indicate your preferred width and length.


Premium coating options - Add a matte finish as your background or highlight your candidate's name in a high-gloss UV finish.
Select Durable Paper or Cardstock to Make a Strong Impression
Handing out flyers or brochures that need to show your candidate is willing to invest in this nation? Choose from several durable paper or cardstock that keep your message as good as new:
100 lb. Paper Gloss is the most popular and recommended choice for brochures and flyers, as it's thicker than a standard magazine page.


14 pt. Cardstock is also available if you need a much thicker material that will instantly impress potential voters.
Send Direct Mail Postcards to Reach a Specific Demographic
Personalization includes sending out targeted messages to a specific demographic. Print EDDM® postcards that fulfill USPS requirements for selected postcard mailing delivery routes.

Unlike USPS Direct Mail services, EDDM® does not require a mailing list and postage permit. All the post office needs is a postal route for them to deliver your postcards directly to a specific voter demographic.
Start a Grassroots Campaign
Talking directly to voters door to door can drive up the engagement metrics of your candidate. It's important to have printed campaign materials such as rack cards or door hangers so that once voters are convinced, they can show their support with these materials.
Provide Communities Promotional Tools for Supporters
Gather local supporters in different communities and supply them with promotional printed materials such as buttons, stickers, and yard signs. Any display of support they can showcase, whether in their yard or on their car, is a free advertising opportunity for your candidate.