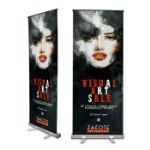 Quick and easy setup for conventions
Arrives assembled to a frame & in a travel bag
Available in 3 sizes including 33.5" x 79"
Printed on waterproof 13 oz. poly film
Features
Quick and easy setup for conventions
Arrives assembled to a frame & in a travel bag
Available in 3 sizes including 33.5" x 79"
Printed on waterproof 13 oz. poly film
Retractable Banner Q&A
A.
Keep these tips in mind as you create your retractable banner design:
Choose a top-to-bottom or left-to-right orientation. Your design should be created in a way that guides the customer's gaze through the visuals and text. Taller retractable banner stands work better with a top-to-bottom layout, while a wider pop-up banner stand is read better from left to right.
Always use high-quality images. These banners are large and should be able to draw people's attention from a distance. The images you include on your banner should not look pixelated, whether someone is looking at them up close or from across the room. The resolution of all of your visual elements should be at least 300 dpi.
Be colorful, but use caution. A black-and-white banner is boring and won't draw people's interest. Use colors that catch the eye but also work well together. Stick to a color palette that fits with your branding.
A.No, but you're not likely to need one: The banner material and the stand it's mounted to should last at least five years with proper care.
A.You can choose a printing time when you place your order. Our shortest retractable banner printing time is only two business days. Keep in mind that this time frame does not include shipping: You can select the "Estimate Shipping Cost and Delivery Date" option to find out when your order might arrive.
Size. Color. Material. It's all here, and more.
1 Paper/Stock Options
13 oz. Poly Film
Front is glossy, super smooth bright white
Gray back provides ultimate opacity even in bright lighting
Waterproof
Retractable banner templates.
Save time by using our free templates. Our templates have been setup with proper bleeds and margins, assuring your print job turns out accurate. To download, select a file type and click on the size below.