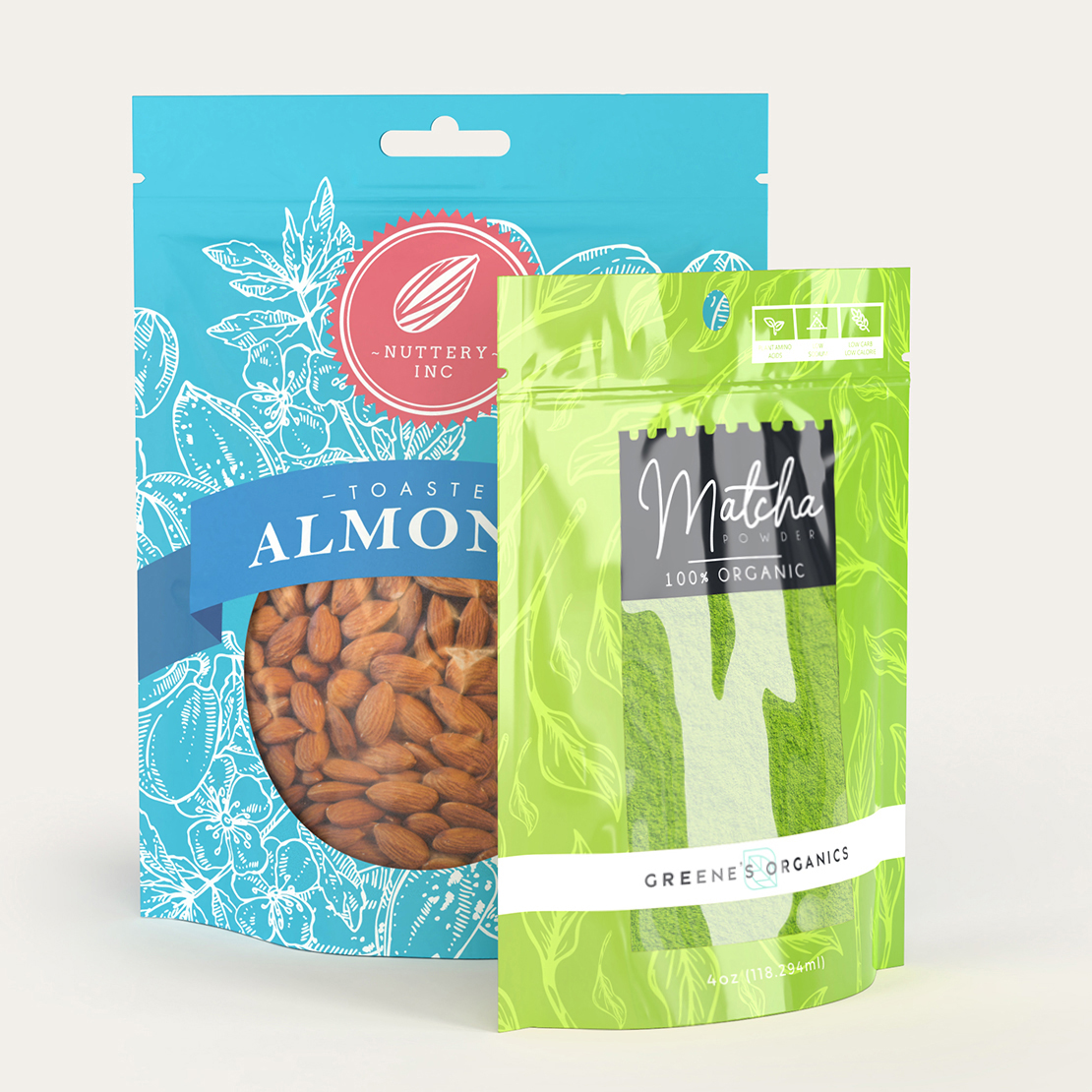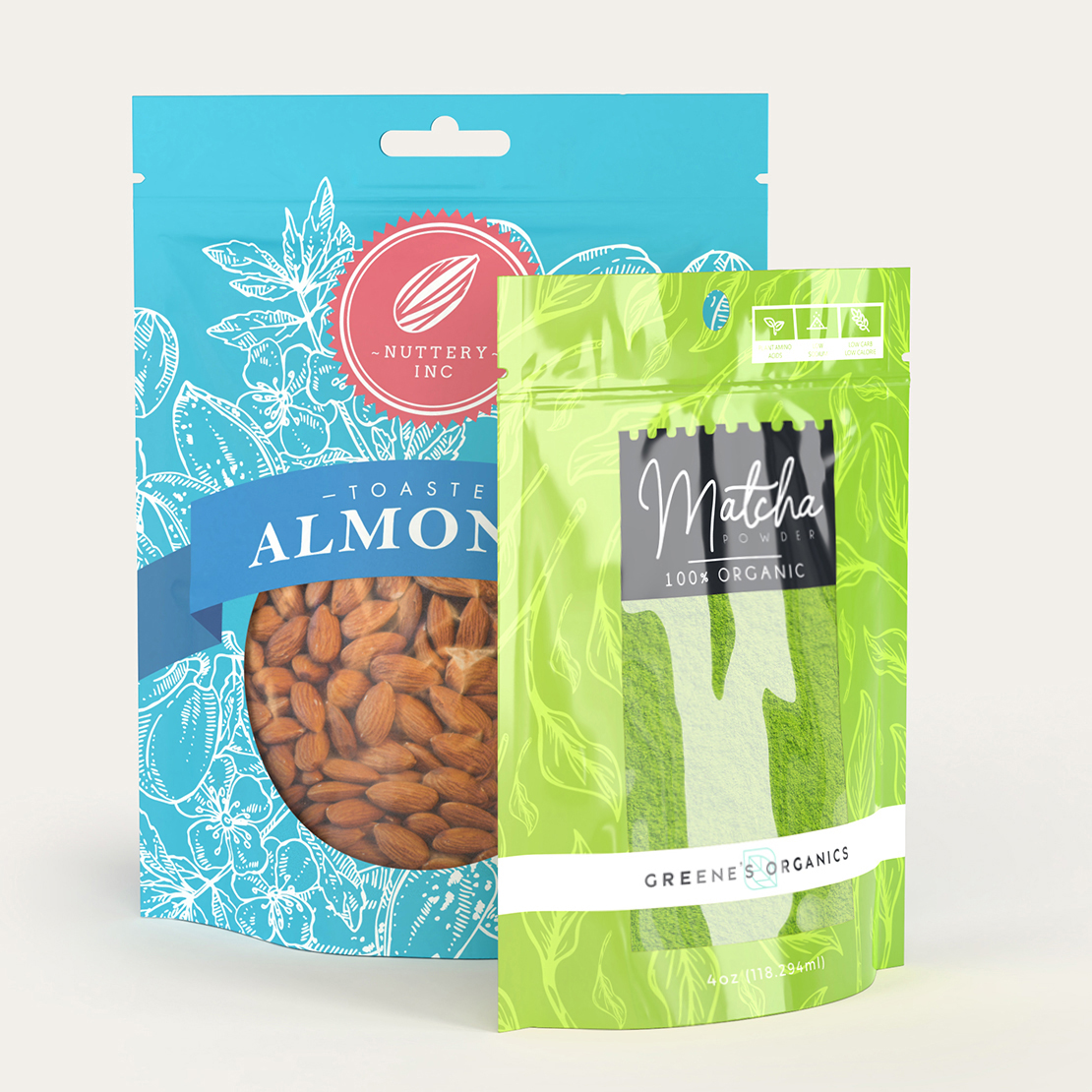 Variety of sizes to fit any product

 

Bottom gussets expand when filled

 

Order as few as 1 or as many as 50,000

 

Add

 zippers, tear-notches & hang holes

 
Features
Variety of sizes to fit any product

 

Bottom gussets expand when filled

 

Order as few as 1 or as many as 50,000

 

Add

 zippers, tear-notches & hang holes

 
Get your product noticed with stand-up pouches.
According to the Paper and Packaging Board, 7 out of 10 consumers believe that product packaging influences their buying decision. Make that number count for your business by using stand-up pouches for your packaging.
Stand-up pouches make your products look attractive and professional. With user-friendly features like tear notches, zippers, and hang holes, stand-up pouches can give your product a premium look.
Versatile and practical, these pouches are excellent choices for liquid, dry, and even powdered products. Use them in packaging a variety of products including snacks, powdered beverages, pet food, household products, health supplements, pharmaceutical products, beauty accessories, and other non-food items.
Let Your Products Stand Tall on the Shelf
Stand-up pouches have bottom gussets that expand when filled, allowing products to stand securely on the shelves. This way, the pouches rest on a solid base and will not topple.
These puncture and tear-resistant pouches come in a wide range of sizes and capacities:
| Pouch Size | Estimated Capacity |
| --- | --- |
| 3.25" x 4.75" x 2" | 1 oz. |
| 4.375" x 6" x 2" | 2 oz. |
| 5" x 6.5" x 2.5" | 2 - 3 oz. |
| 5" x 7" x 3" | 4 oz. |
| 5.75" x 7.5" x 2.5" | 4 oz. |
| 6.5" x 8" x 2.5" | 4 - 5 oz. |
| 6.75" x 8.5" x 3.5" | 8 oz. |
| 7" x 9" x 3" | 8 oz. |
| 7.25" x 6" x 2" | 8 oz. |
| 8.125" x 10" x 3.5" | 12 oz. |
| 9.875" x 10.5" x 3" | 12 oz. |
| 12" x 12.5" x 3.5" | 16 oz. |
Note: Measurements are in width x height x bottom gusset width. Capacity is an estimation only.
Stand-up pouches are commonly used for food, but you can fill them with almost any type of product. The most popular size that we offer is the 4.375" x 6" x 2", which can hold up to 2 oz.
In addition to the bottom gussets, stand-up pouches also come with the following features to make displaying, opening, and storing a lot easier:
Zippers keep products fresh by sealing off the package after use. It also makes storing leftover items without any need for jars or other containers.

Tear-notches make opening the pouches easier. No need to use a pair of scissors or other tools.

Heat seals make the pouches leak-proof. This makes packaging liquid products a lot more convenient.

Hang holes allow you to display your products on a hook if you're short on shelf space. Choose between a round or euro (sombrero) hang hole.
Extend the Shelf Life of Your Product, Not Its Stay on the Shelf
Stand-up pouches also help extend the life of your products. Barrier films prevent moisture and oxygen from entering the pouches and in doing so, help prolong the life of both food and non-food products.
Barrier films offer different levels of protection. The oxygen transfer rate (OTR) indicates how much oxygen can pass through the packaging. Lower OTRs mean that less oxygen passes through the material.
Below are the materials we use for stand-up pouches:


| | White Barrier Film | Clear Barrier Film | Metallized Barrier Film |
| --- | --- | --- | --- |
| Printing | Full color | Full color with window | Full color metallic |
| White Ink Printing | n.a. | Yes, included | Yes, optional |
| Average Thickness | 4.6 mil. | 4.6 mil. | 3.1 mil |
| Construction | 48ga. PET/3.0 mil. EVOH Coex/Ink/Laminate | 48ga. PET/3.0 mil. EVOH Coex/Ink/Laminate | 48ga. MET PET/1.5 mil. mLLDPE/Ink/Laminate |
| OTR (Oxygen Transfer Rate) | <.05 | <.05 | <.08 |
| Oxygen Protection | | | |
| Moisture Protection | | | |
| Light Protection | | | |
| Dry Products | | | |
| Liquid Products | | | |
| Food | | | |
Customize Your Own Stand-Up Pouches
Product packaging communicates what your brand stands for and what it can do for your customers. Here's how you can design stand-up pouches that stand out on the shelves:
Create artwork that represents your brand.

Are you into a minimalist design? Or do you like to add a pop of color to your packaging? Regardless of your design preference, your artwork should stay on brand so that customers can easily remember it. Use colors and typography that best reflect your brand personality.

Make certain areas of your design pop out with white ink.

White ink can make your design look more vibrant. It's useful when you want specific areas of your artwork to appear white. Without it, the design will have the same color as the film underneath it. White ink is available on clear and metallized Film.

Choose the coating for your pouches.

Matte coating has an elegant finish. It has a muted appearance, which is best suited for brands that want to look classy and polished. Gloss coating has a shiny appearance that makes the color look more vibrant. Bright colors combined with the shiny finish are perfect for brands that want to appear bold and fun.

Add helpful product information.

Make it easier for customers to decide that your product is best by adding useful product information. Nutritional information, directions on how to use, ingredients, and best by dates are handy when customers are confronted with similar products.
Why choose UPrinting for your custom stand-up pouches
Low Minimum
Ordering pouches in smaller quantities means that you can quickly respond to your market's changing needs, seasonal variations, or regulations.
Print On-Demand
Order what you need, whenever you need it. Ideal for short runs, digital printing allows you to print pouches at any time.
Fast Turnaround
Market your products quicker. Shorter printing time and fast shipping allow you to put your products on the shelf in about 10 business days, not several weeks.
Cost-Effective
Pay only for the cost of the product at checkout. We do not charge setup and plate fees, so you get your money's worth for every piece of packaging you order.
High-Performance Materials
Puncture-resistant barrier materials prolong the shelf life of your products. Our pouches are well-suited for liquid, dry, and powdered products.
Professional Full-Color Printing
Give your product a premium look without the hefty price tag. Our pouches are digitally printed, so colors appear vibrant.
How to order.
---
1
Customize It
Select the size and material that suits your needs. With plenty of options for customization, you can create packaging exactly as you want them.
2
Upload It
Our downloadable templates are set up with proper bleeds and margins so you can use your favorite graphic design software to create your artwork file.
3
Approve It
Your print file will go through a 30-point review. We will show you an online proof before we print so you can be sure that your design will turn out as you imagine it.
Stand-Up Pouches FAQs
Stand-up pouches templates.
Save time by using our free templates. Our templates have been setup with proper bleeds and margins, assuring your print job turns out accurate. To download, select a file type and click on the size below.
1,000,000+ business professionals trust us with their printing.
Designers. Small businesses. Iconic brands. We print for you.
Free file check.
Your files will be reviewed for printing errors without paying a cent.
More printing.
150+ print products to help you make a good impression. 1000+ options to customize to your heart's content.
Reliable. Always.
The product you want. The way you want. Professional printing guaranteed.