Print High-Quality

 Photo Stickers

 

Your Customers Will Proudly Display
Create custom photo stickers you'll want to display on gadgets, walls, and other visible surfaces. Print designs that can be used as wall decorations or to enhance the look of your accessories. Order in bulk to save more on each sticker's unit price or order several sticker sheets. Every aspect of your design can be tailored exactly to your vision.
Choose from four standard shapes and a variety of sizes that will fit any kind of image. Custom dimensions are available for bulk roll stickers. If you need individually cut stickers, you can order a couple of pieces in cut-to-size. All photos are printed in high-resolution so every detail is seen from a close or reasonable distance. The choices below let you personalize picture stickers accordingly.
How to Create the Best Custom 

Photo Stickers
Use this checklist to ensure the file is print-ready in all the technical aspects. 
Set the file to CMYK color. To do this in Photoshop, go to Image > Mode > CMYK Color. For 

Indesign

, go to Window > Color.

 

Use the 

safe zone, trim line, and bleed

 to 

ensure all details 

appear in their designated positions. The 

bleed

 is the section we will trim off after printing. 

The trim 

shows the final size of your prin

ted product.

 

Your background color should go past the

 trim and

 bleed to prevent any white spaces from appearing.

 

The 

safe zone 

is the area that includes all the important details and text of your photo sticker design. Keep all essential details in this zone so it is not cut off.

 

Make sure the image is 300 dpi. Otherwise, the image will come out blurry and pixelated in the final print.

 

Upload a file in JPG, JPEG, PDF, PUB, or AI.

 You can also download any of the available layout templates that include the guidelines to prepare your design for print.

 
Select a shape that will fit the length and width of your image. 
Most images fit in the standard square or rectangle. Print your images with the usual sharp edges or add sleek rounded corners that come with the roll stickers. If you have a specific theme for your sticker design, such as Valentine's or another special holiday, you can print the images in other shapes such as heart, arch, hexagon, oval, circle, and starburst. A wide variety of sizes are available for each shape. You can also choose from several widths and heights for the right combination of your custom size. 
Choose a coating that will complement the image's colors.  
Sticker sheets come in either uncoated or high gloss coating. Uncoated provides a writable, rustic-looking surface. Its lack of glare makes the photo easy on the eyes. High gloss coating offers the most stunning shine and highest reflectivity. Colors come out extra bold and bright. It protects the photo from frequent handling.  
Matte and gloss coating is available for bulk stickers. Matte has very little glare and is suitable for an image seeking a subdued, neutral impression. It is not recommended for images that will be frequently touched but are ideal for photos displayed from afar or behind a protective frame. 
The gloss has just the right shine for a bright, colorful image. The coating is also fingerprint resistant, perfect for multiple handling. 
Photo Stickers FAQs
How many photo stickers can I order?
For bulk orders, you can order at least 25 cut-to-size stickers and a minimum of 100 roll stickers. Both cut-to-size and roll come in maximum quantities of up to 100,000. 
Quantities above 250 are recommended for roll photo stickers.  
How many pictures can I fit on a sheet of photo stickers?
You can fit at least 4 stickers to a maximum of 30 images in one sheet. The number of stickers depends on the size of the entire sheet, which is indicated for each available sticker size. All sheets are in the standard 8.5" x 11" letter. 
What finishes can I order photo stickers in?
Photo stickers come in the following finishes: 
The g

loss

 

gives a reflective shine that comes off the surface. It also brightens the colors printed in this coating.

 

Matte 

makes text readable. It's the standard coating for rustic, natural-looking designs that are easy on the eyes.

 

High Gloss

 offers the most vibrant shine and reflectivity. Perfect for images that have dominantly bright and bold hues.

 
Which sticker material is waterproof? 
Vinyl is the recommended material for photo stickers. It comes in an extra shiny high gloss and extra reflective shine when placed against the light. It's not only built for outdoor exposure but is also waterproof and oil resistant. 
How long will it take to print my custom photo stickers? 
The production time depends on the sticker type, shape, size, format, and material. Bulk cut-to-size stickers take a minimum of 1 business day to print, while roll stickers take at least 2 business days. Sticker sheets can be printed in 1 business day.
Marketing Ideas and Design Inspiration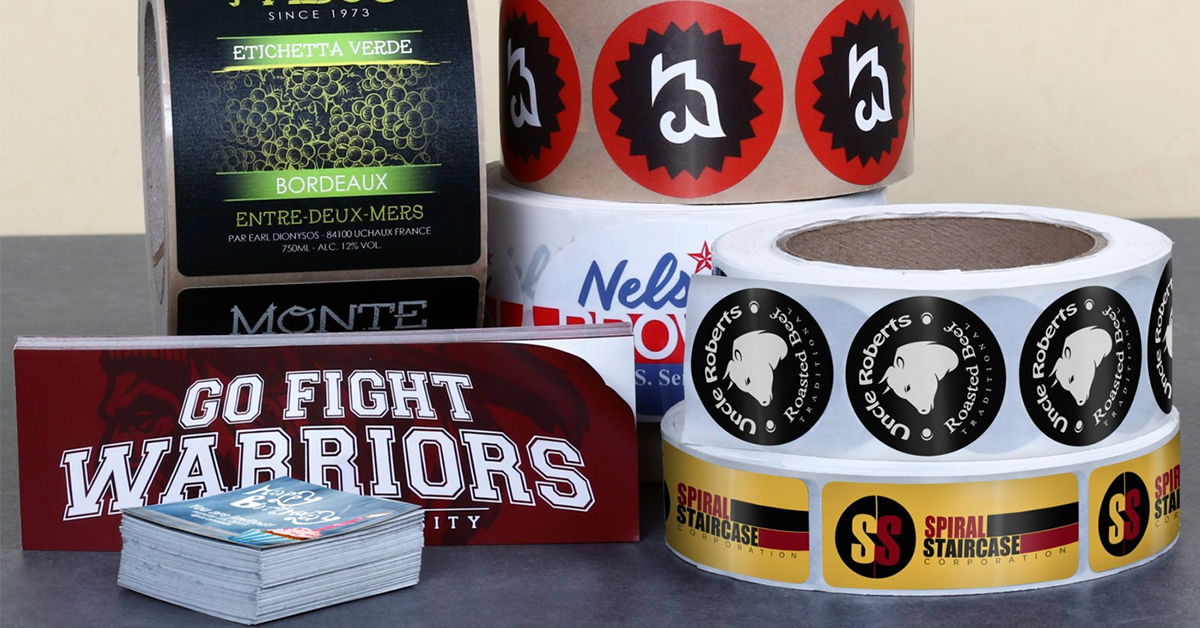 All you need to know about the dos and don'ts of sticker printing.
How to come up with a custom sticker that distinguishes your design.
An easy reference for first-time sticker and label designers.