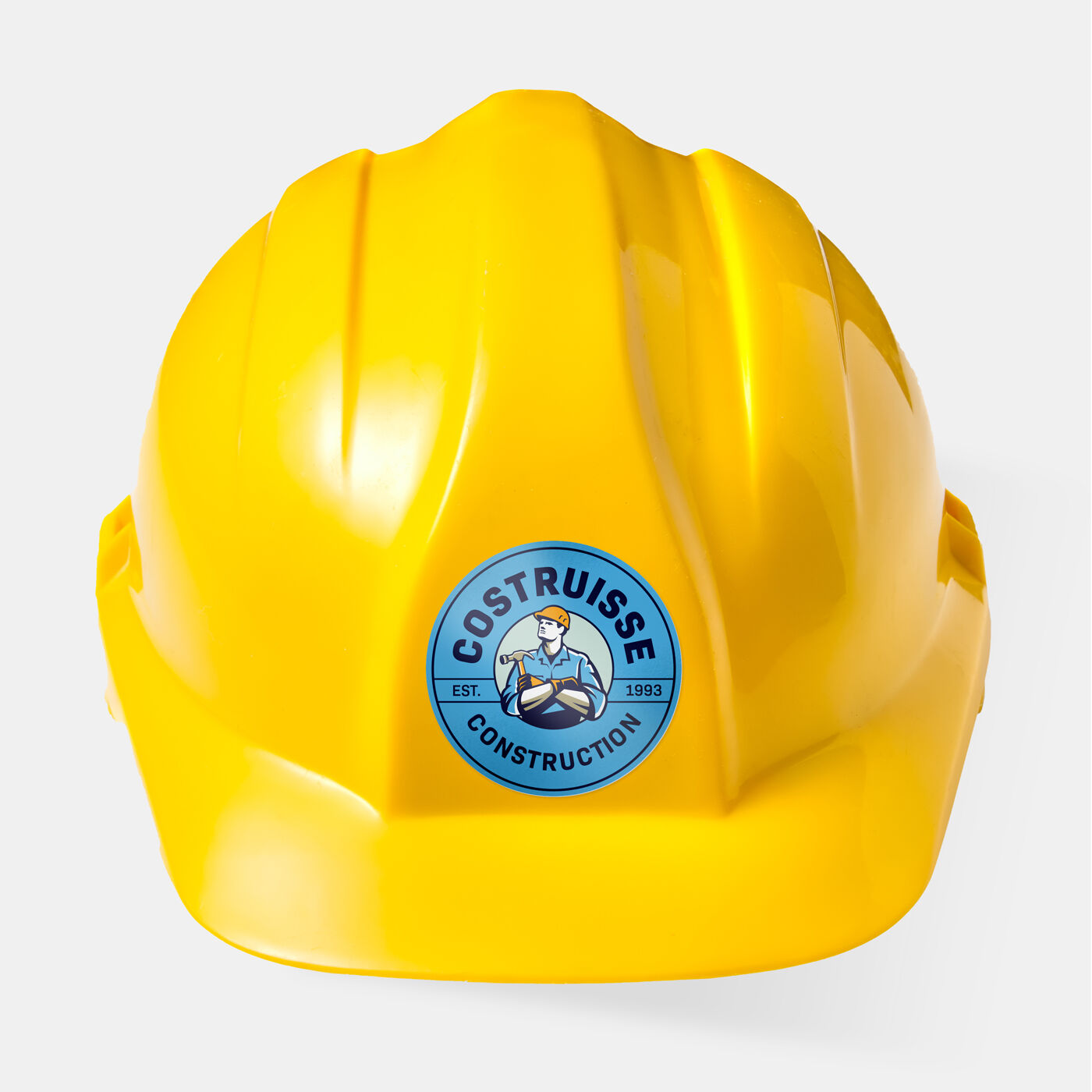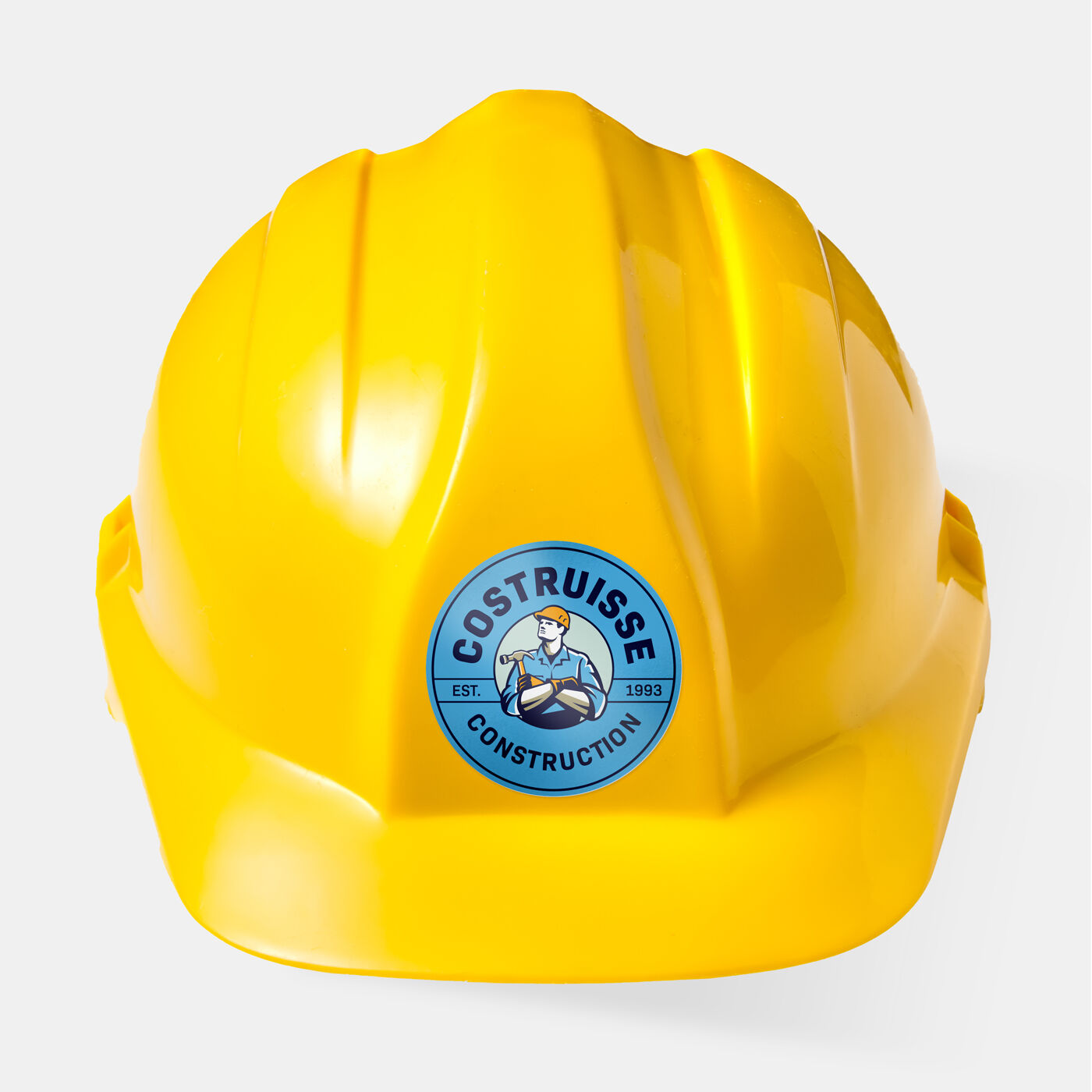 Easy to apply on hats used outdoors

 

Vinyl protects against sun & rain

 

Print in individual 

cut-to-size 

pieces

 
Features
Easy to apply on hats used outdoors

 

Vinyl protects against sun & rain

 

Print in individual 

cut-to-size 

pieces

 
Design and Customize Durable Hard Hat Stickers for Safer Working Conditions 
Hard hat stickers are a necessity in construction sites and other hazard-prone work sites like factories, mines, and electric repair. At construction sites, they can be used to identify workers, visitors, and the traffic of people who move around the area. Print your custom hard hat sticker in the size and shape you need. A variety of standard and personalized dimensions are available for large to small application areas. UPrinting offers other personalized features for creating these stickers on this website. 
Built to Fit All Kinds of Outdoor Working Conditions 
Here are 5 reasons to have your construction hard stickers made using our online calculator and design tool: 
1. Waterproof and UV-coated vinyl that can withstand all kinds of weather. Your hard hat stickers are printed on durable and outdoor-friendly 4 mil. white vinyl. This material comes with UV-coated to protect it from sunlight. It also keeps the design good as new after rain or any other weather exposure. 
2. Sizes and shapes to fit your specific needs. Print in standard shapes such as square, rectangle, circle, and oval. Other options such as arch and hexagon are available for the cut-to-size type.  
The cut-to-size format comes in a variety of custom sizes. Select "Custom" as the shape and you can combine a wide range of widths and heights listed on the online calculator. 
3. Print in easy to apply cut-to-size format. Cut-to-size stickers are individually cut and normally applied by hand. Recommended for quantities under 250 pieces for fast application. 
For more details, check out the video below: 
https://www.youtube.com/watch?v=YKDl6KrSY1U  
4. Easy back peel for fast application. All cut-to-size stickers come with an easy bend and peel backing. Simply bend the individually cut sticker and the peel will appear midway, as seen in the video below: 
https://www.youtube.com/watch?v=Mz9Tx7-0XI4  
5. Upload a design for review or use a template to get started.  If your file is ready to print, upload it from your device after inputting the specs on the online calculator. Select "Upload Your File & Order Now" to start. 
If you have no background in editing tools like Adobe Photoshop or InDesign, choose "Create Your Design Online." This brings you to the online design tool that lets you produce a design from scratch on your browser.  

The Requirements for OSHA Hard Hat Stickers  
While the Occupational Safety and Health Administration (OSHA) does not prohibit the application or painting of stickers on helmet shells, employers requiring these must comply with any requirements that involve such. Below is a list of the standard for applying stickers on a hard hat's surface:   
The helmet must be in a "reliable condition", which means it has been checked for cracks, dents, penetration, and other damages from impact. 
Place the stickers at least ¾" from the edge. This prevents the sticker from becoming an electrical conductor. 
The stickers shouldn't completely cover the hat so that it can be inspected for any damage. 
Stickers must be applied according to the manufacturer's instructions. 
Custom Hard Hat Stickers FAQs 
How do you apply hard hat stickers?  
Cut-to-size stickers come with an easy bend-and-peel backing for fast placement. Refer to the video above on how to apply each individual sticker. 
Are hard hat stickers waterproof? 
Yes, all stickers made of white vinyl are waterproof.  
Does OSHA allow the use of custom hard hat stickers? 
Yes, OSHA requires the use of custom hard hat stickers as long as the dimensions and application follow the requirements listed above. 
Can I reapply hard hat stickers? 
No, hard hat stickers are made of a permanent adhesive. The vinyl will leave a mark if it is removed.  
Size. Color. Material. It's all here, and more.
1 Paper/Stock Options
4 mil. White Vinyl High Gloss (UV)
Crack and peel vinyl sticker with an ultra gloss finish.
Features a permanent, all purpose adhesive back
Permanent ink markers work best for writing given sufficient drying time
Waterproof and great for outdoor use
Quantities 250 and above are hot water resistant
Hard Hat Stickers templates.
1,000,000+ business professionals trust us with their printing.
Designers. Small businesses. Iconic brands. We print for you.
Free file check.
Your files will be reviewed for printing errors without paying a cent.
More printing.
150+ print products to help you make a good impression. 1000+ options to customize to your heart's content.
Reliable. Always.
The product you want. The way you want. Professional printing guaranteed.