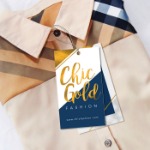 Luxurious look and feel
Gold, copper, & silver foil
Popular sizes: 2" x 3.5", 2" x 2", and 3" x 3"
Print on one or both sides
Features
Luxurious look and feel
Gold, copper, & silver foil
Popular sizes: 2" x 3.5", 2" x 2", and 3" x 3"
Print on one or both sides
Add some sparkle to your merchandise with foil hang tag printing.
Foil hang tag printing gives your tags a little something extra without overpowering other elements in your designs. Use them for luxury items to highlight their value, or with any product offer to increase your brand image. The metallic tones on foil hang tags give off an industrial vibe that can also go well with tech branding.
Print foil hang tags to give your offers a touch of class. These metallic hang tags are available in your choice of gold, copper, or silver foil. UPrinting also offers printing on one or both sides, which gives you the option of leaving one side blank depending on the type of impact you want to make.
Contact us
to learn more about foil hang tag printing and further customization options.
1,000,000+ business professionals trust us with their printing.
Designers. Small businesses. Iconic brands. We print for you.

Free file check.
Your files will be reviewed for printing errors without paying a cent. We're so confident in the quality of our printing that we provide 100% free proofing. No order commitment or credit card is required!

Reliable. Always.
The product you want. The way you want. Professional printing guaranteed. With UPrinting you can rest assured that your print product will turn our right the first time. We offer superior quality guaranteed.

Fast turnaround.
Some of the fastest printing times. Print whatever you want, when you want with 1-day turnaround options you can have your product printed and shipped within 24 hours.