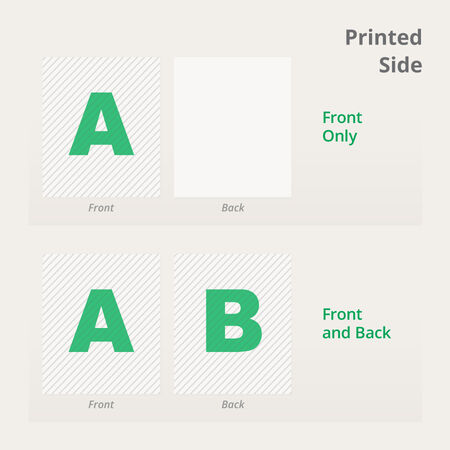 Perfect for promoting upscale events
Metallic printing makes designs glimmer
Thick 16 pt. cardstock
Many sizes to choose from
Features
Perfect for promoting upscale events
Metallic printing makes designs glimmer
Thick 16 pt. cardstock
Many sizes to choose from
Metallic flyers: Shine that drives attention.
How do you promote an event that's all about glitz and glamour? It's simple: you go with metallic flyer printing.
Flyers are the go-to standard for event promotion. And when you add metallic coating to the mix, you're left with awesome flyers that really shine. They will capture your customer's attention. That's a guarantee.
Incredible Thickness
Your custom metallic flyer will be printed on 16 pt. cardstock. That's around half the thickness of a credit card.
Unlike regular paper stock, 16 pt cardstock is not as flimsy. They're tough and can certainly last longer. Because of its premium quality, your customers will have second thoughts about throwing these flyers away.
9 Sizes to Choose From
Make your flyers as big or as small as you need them to be. We currently offer nine sizes. Sizes range from 4" x 6" all the way to 8.5" x 11".
We suggest printing larger flyers if you're planning to hand them out in person. Not only are large flyers hard to ignore, but your customers would also be able to appreciate the metallic aspect more.
Other Uses
Metallic flyer printing goes beyond event promotion. You can just as easily use them as business flyers to introduce new products or services.
Making an appearance at a trade show anytime soon? Don't leave without metallic flyers. They will make it easier for you to stand out more. In a sea of mundane flyers, your marketing flyers will steal the show.
Metallic flyers can even be used to promote restaurant menu items. Or use them as club flyers for your next party.
There are plenty of ways to use cheap flyer printing to boost sales and build a brand. All it takes is creativity and a solid flyer design.
More Shine You Say?
Metallic coating applies a layer of silver ink to make the entire flyer glisten. But what if you want a particular area of your design shine brighter than the rest?
That's where spot UV comes in. Spot UV is a process that applies a high-gloss coating to areas you specify in your flyer design. It's a perfect way to put a spotlight on important text or even a product image.
Q&A
What does turnaround time mean?
It refers to the number of business days it will take to print your product. Shipping time is not included.
What are the most popular flyer sizes?
5.5" x 8.5" and 8.5" x 11"
Can I print on both sides of the flyer?
Yes
Can I have my flyers folded?
We don't offer folding options for metallic flyers at this time.
Note: If you are mailing this product, please confirm that your mail addressing machine can print on the laminated surface. If unsure, please call to request for a sample before placing your order.
Size. Color. Material. It's all here, and more.
1 Paper/Stock Options
16 pt. Cardstock Gloss
Slightly thicker and sturdier than the 14 pt. cardstock; added rigidity protects it from folds and creases

Colors and images come out in vivid detail

Provides limited writability using some ballpoint pens or permanent markers
Metallic flyer templates.
Save time by using our free templates. Our templates have been setup with proper bleeds and margins, assuring your print job turns out accurate. To download, select a file type and click on the size below.
1,000,000+ business professionals trust us with their printing.
Designers. Small businesses. Iconic brands. We print for you.
Free file check.
Your files will be reviewed for printing errors without paying a cent.
More printing.
150+ print products to help you make a good impression. 1000+ options to customize to your heart's content.
Reliable. Always.
The product you want. The way you want. Professional printing guaranteed.