Design
Tips and Resources on Finding the Perfect Font
Fonts speak beyond the words you have used. You can't simply expect one specific font to work suitably for each and every design project you have. An individual font (or type) has its own voice and character and it is a must for you to choose wisely or else people will not understand your message.
There are many things to keep in mind. First, consider the message you are trying to convey. Will the font help you prove your point, or would it just make people take you less seriously? Second, what mood are you trying to suggest? Is your message supposed to be fun or serious? After deciding on the two, look at the fonts you've chosen initially–more closely this time. Does it make sense to use Comic Sans on an Obituary or Vivaldi on a child's birthday party banner?
Moreover, regardless of the two aforementioned factors, make sure that the fonts you use are readable. People are more likely to buy your product or service if they understood your ad in the first place.
For today, we'll let popular design experts help you out. Here are several links we are sure you'll find useful if you are still torn on what font to use.
Articles on Fonts and When (or not) to Use Them:
Top 7 Fonts Used By Professionals in Graphic Design
by Jacob Cass on Just Creative Design

A Plea From 16 Most Overused Fonts
by Vivien on Inspiration Bit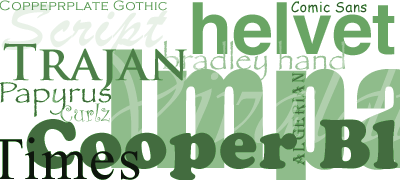 How to Choose a Typeface
by Douglas Bonneville on Smashing Magazine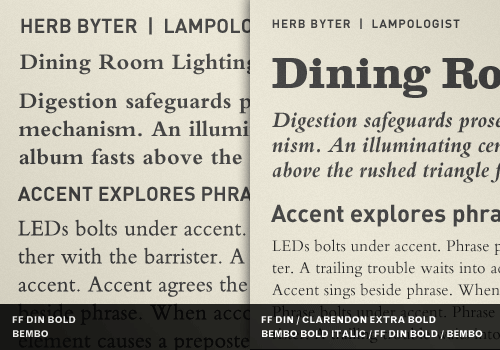 "What Font Should I Use?":
Five Principles for Choosing and Using Typefaces
by Dan Mayer
Lastly, here are websites where you can get free, downloadable fonts. Make sure to check if they're good for commercial use, though.  I personally depend on these sites for all of my font needs.
Where to Get (Great) Fonts:
DaFont

1001Fonts

FFonts

You the Designer

There you go, some handy resources you can use when choosing for the next perfect font. Feel free to leave a comment in case you want to add another resource link or ask a question. Also, feel free to subscribe to our RSS feeds.