2-part, 3-part, and 4-part forms
Glued in sets, padded or as booklets
Comes in clear black ink printing
Add optional sequential numbering
Features
2-part, 3-part, and 4-part forms
Glued in sets, padded or as booklets
Comes in clear black ink printing
Add optional sequential numbering
,
Make Transactions Easier and Faster With NCR Forms
NCR forms can help you run a business smoother. To those who are unfamiliar with NCR forms, they are forms that make it possible to produce one or more copies as you write on them. They make great receipts, especially when you need to send multiple copies to different departments or require keeping personal records of every transaction you make.  
Every industry from hotels, manufacturing, law firms, pet grooming, catering, and other service-oriented companies can benefit from using continuous NCR forms. The multiple copies they provide also help companies that do meticulous inventory, such as groceries, transportation, and other essentials suppliers.
Customize 

NCR Forms for Your Business
Select the best size and number of parts that will suit the use of your NCR forms. The available dimensions are as follows: 
The smallest size

is at

 

4.25" x 5.5"

 

Medium size 

is at 5.5" x 8.5

" 

 

The large letter size 

is 8.5" x 11"

 

If you need 

a longer size, we have

 

8.5" x 14".

 
We print your NCR forms information in black ink or full color. You can print on one side only, but should you need more space for the forms, you can always choose to print on both sides.  
Binding options are at the top, right, left, or bottom of the page. Choose a side that fits how you'll be switching from one set or another copy.  
Choose the continuous NCR forms' number of parts based on the copies you need: 
2-Part set

 has the original copy in white and a copy in yellow.

 

3-Part set

 includes an original white copy and 2 copies in yellow or pink.

 

4-Part set 

offers 3 copies in yellow, pink, and gold; the original form is also in white.

 
If you only need one copy or have limited office space for paperwork, we suggest going for the 2-part option. But if you need to distribute copies to other people, the 3- or 4-part option would be ideal. 
Sequential numbering options help you keep track of your forms for documentation or multiple business forms and receipts. The numbers are printed in black or red ink. You can order as little as 250 sets or as many as 10,000. 
Note that ordering in bulk will help you save more down the road. Your NCR forms will be ready for shipping in 6 days, but we have a rush order option that will bring down production time to 4 days.
How

 

to Print NCR Forms
After choosing the size, a number of parts printed sides, and sequential numbering, you'll also need to finalize how the NCR forms printing comes together. 
Choose the location of your glued edge

 based on the ease of switching from several copies or to another set. We'll glue the parts on the 

top, left, right, or bottom

 of the forms.

 
Add padding if you need to bind all parts.

Padding options are either with a cardboard back or a booklet that has a wrap-around cover. There's also 

an option for

 loose sets if you don't need all the sets bound together.

 
Indicate the number of sets per pad.

The quantity will determine how many sets or parts are put together in one pad. You can include 25, 50, or 100 sets in each pad.

 
Finalize your order with the number of pads.

Quantities range from 5, 10, 40 to as much as 200 in one order. Based on the sets per pad and pads, the online calculator will show the number of sets you will receive.
Free Carbonless forms Design Templates
Choose the best design template for your forms.
Business Proposal Estimate
Invoice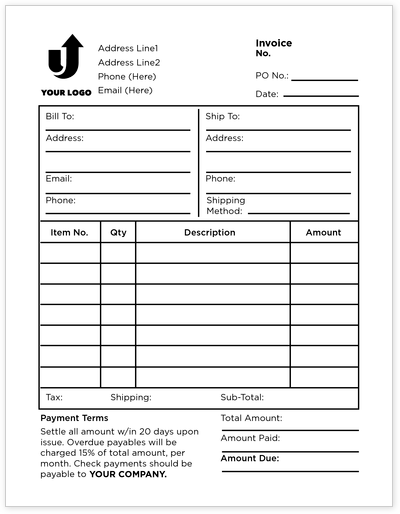 Sales Form Receipts
Are there available design templates for download?
Yes, you can access the design templates below. Click on "Customize and Print" and this will bring you to the design tool that shows the design template. From here, you can make edits to the design template on your browser.
How soon can I receive my business forms?
All NCR form orders take at least 6 business days to print. After the NCR forms printing period, we'll ship your order to the indicated address. To find out how soon you can receive the items, select "Estimate Shipping & Delivery" below the online calculator. Input your ZIP code in the pop-up window and several arrival dates will appear.
Size. Color. Material. It's all here, and more.
3 Paper/Stock Options
2-Part Carbonless
White/Yellow
20 lb. uncoated paper
Writing or typing on the top form copies to all forms underneath
3-Part Carbonless
White/Yellow/Pink
20 lb. uncoated paper
Writing or typing on the top form copies to all forms underneath
4-Part Carbonless
White/Yellow/Pink/Gold
20 lb. uncoated paper
Writing or typing on the top form copies to all forms underneath
1,000,000+ business professionals trust us with their printing.
Designers. Small businesses. Iconic brands. We print for you.
Free file check.
Your files will be reviewed for printing errors without paying a cent.
More printing.
150+ print products to help you make a good impression. 1000+ options to customize to your heart's content.
Reliable. Always.
The product you want. The way you want. Professional printing guaranteed.