Metallic Save-the-Date Cards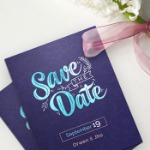 Dazzling finish
16 pt. glossy cardstock
Spot UV optional
Matching envelopes available
Features
Dazzling finish
16 pt. glossy cardstock
Spot UV optional
Matching envelopes available
Luxe metallic save-the-date cards for your wedding.
Announce your upcoming wedding in style with metallic save-the-date cards. Printed on glossy cardstock, these elegant cards are stamped with metallic foil ink for a dazzling finish.
Our custom save-the-dates also come with an optional spot UV coating to make your artwork stand out even more. Perfect for special occasions like your forthcoming wedding day.
Want thematic prints for your wedding? Get the complete package by also ordering metallic wedding invitations.
Build Anticipation and Intrigue Your Guests
Unlike wedding invitations, save-the-date cards offer only a few information about the event. Just enough to build excitement for the wedding.
Traditionally, save-the-date cards usually include the following information:
Name of the couple
Date of ceremony
Location
But why should you choose metallic save-the-date card printing?
Formal invitations are usually sent out a couple of weeks before the wedding day.
Prior to that, you'd want your guests to block out their schedules as people's calendars tend to fill out rather quickly.
Save-the-date announcements are perfect for letting friends and family know that you want them to come to your special day.
Through online save-the-date printing, you can send the cards ahead of the wedding invitation to give advance notice to guests. Save-the-date cards are especially helpful when you are having a destination wedding and guests need to plan their travel ahead of time.
Not Just for Weddings
Although save-the-date card printing is often used for weddings, you can customize the cards to match any occasion:
Birthdays
Anniversary celebrations
Baby showers
Corporate parties
Company or product launches
For events that do not require traveling, you do not need to send the cards months in advance. But make sure to follow up with a formal invitation weeks before the event.
Q&A
Can I print the cards on matte paperstock?
All our save-the-date cards are printed on a 16 pt. glossy cardstock.
Do you offer custom sizes for the cards?
We currently do not have custom sizes for save-the-date cards. But we have five size options that you may choose from.
Are the cards printable on one side only?
The cards are printable front and back. You will see this option on the calculator above.
Do the cards come with envelopes?
Yes, you may include envelopes in your order. You need to select this option from the calculator when ordering.
Metallic save-the-date card templates.
Save time by using our free templates. Our templates have been setup with proper bleeds and margins, assuring your print job turns out accurate. To download, select a file type and click on the size below.
1,000,000+ business professionals trust us with their printing.
Designers. Small businesses. Iconic brands. We print for you.
Free file check.
Your files will be reviewed for printing errors without paying a cent.
More printing.
150+ print products to help you make a good impression. 1000+ options to customize to your heart's content.
Reliable. Always.
The product you want. The way you want. Professional printing guaranteed.