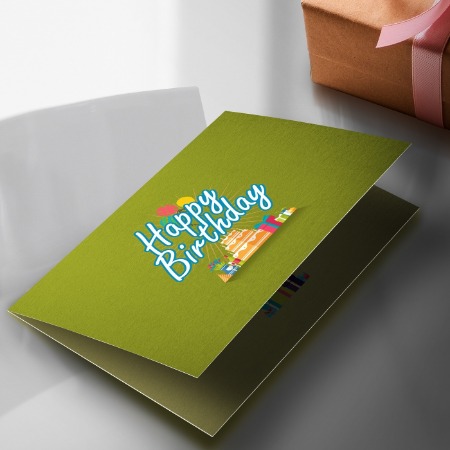 Silk lamination for a classic look & feel
Thick 16 pt. cardstock
A range of sizes
Writeable with permanent marker
Features
Silk lamination for a classic look & feel
Thick 16 pt. cardstock
A range of sizes
Writeable with permanent marker
Create Lasting Memories With Silk Greeting Card Printing
Silk greeting card printing elevates your classic folded birthday cards, Christmas cards, and wedding invitations to a grander state.
These custom folded greeting cards are laminated with a thin layer of plastic for protection that mimics the texture and look of luxurious silk. It also protects your greeting cards from rough handling and moisture.
Soft to the Touch, Made to Last
These custom cards are printed on a heavy 16 pt. cardstock with a gloss finish and can be ordered with spot UV to add extra vibrance to a specific part of your design.
Silk greeting cards can be ordered in sizes from 4.25" x 11" to 8.5" x 11", with the longer side folding in half.
So Many Ways to Use Silk Greeting Cards
Silk greeting cards are popular as gifts and souvenirs to loyal customers and VIP's. Silk folded greeting card printing can also be used for specially personalized birthday cards and custom Christmas cards.
Silk greeting cards adds another component that regular business cards simply don't have. And that's incredible texture. Customers love the smooth surface and would run their fingers across over and over. That's the magic touch that silk brings to the party.
We highly encourage you to print silk greeting cards today and feel the difference for yourself.
Note: Silk greeting cards are writeable with a permanent marker (we recommend leaving them to dry for a few seconds to avoid smudging).
Size. Color. Material. It's all here, and more.
1 Paper/Stock Options
16 pt. Cardstock
Slightly thicker than the 14 pt. cardstock
Laminated with a thin layer of plastic that increases cardstock thickness to 18 pt.
Silk laminate appears smooth and matte, a nice contrast to the optional spot UV application
Silk greeting card templates.
Save time by using our free templates. Our templates have been setup with proper bleeds and margins, assuring your print job turns out accurate. To download, select a file type and click on the size below.
1,000,000+ business professionals trust us with their printing.
Designers. Small businesses. Iconic brands. We print for you.
Free file check.
Your files will be reviewed for printing errors without paying a cent.
More printing.
150+ print products to help you make a good impression. 1000+ options to customize to your heart's content.
Reliable. Always.
The product you want. The way you want. Professional printing guaranteed.