News
UPrinting News
Online Printing Company, UPrinting Sponsors Reef Check Foundation EcoExpedition
Los Angeles, CA (July 6, 2009)— UPrinting, the online printing company that specializes in small business marketing, announced that they will be sponsoring the Reef Check Foundation through their U-Community sponsorship program by donating free printing services. The donated materials will be used to promote the Reef Check Foundation's "EcoExpedition", a program that invites everyday citizens to "become a marine biologist for a week" and to join them in their dive expeditions to help preserve underwater ecosystems.
The Reef Check Foundation is currently seeking fellow enthusiasts for their up-coming EcoExpeditions: Puerto Galeras, Philippines (October 11 − 18) as well as Isla Natividad Baja California, Mexico (October 29 − November 5). Cost vary by destination, starting as low as $999.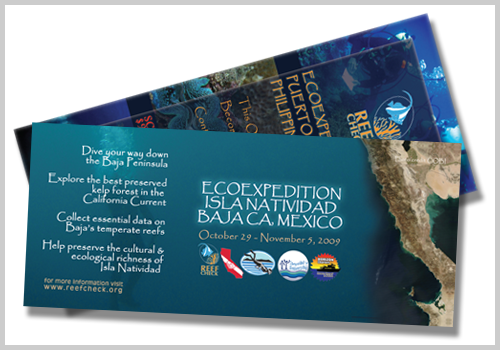 Reef Check recently said this about their experience with UPrinting.com's poster printing and rack card printing service, "When we contacted UPrinting.com about the little time we had to get some materials printed for an event; they worked with us to have everything printed on time. The materials were of very high-quality and the service excellent. In addition, UPrinting.com's support of a wide range of non-governmental organizations such as Reef Check speaks very well of the company."
For more information on the U-Community program and different sponsorship levels, please visit the website at https://www.uprinting.com/About-Community.html
About Reef Check Headquarters:
Founded in 1996, the Reef Check Foundation is an international non-profit organization dedicated to conservation of two ecosystems: tropical coral reefs and California rocky reefs. Based in Los Angeles, Reef Check teams in more than 90 countries and territories create partnerships among community volunteers, government agencies, businesses, universities and other non-profits. The goal is to educate the public about the value of reef ecosystems and the current crisis affecting marine life as well as to create a global network of trained volunteer diving teams who regularly monitor and report on reef status in support of science-based conservation.
About UPrinting.com:
Every day, UPrinting serves thousands of on-demand printing orders online, allowing customers to design their own brochures, postcards, business cards and other printed materials. Using high-quality printing presses and a robust, yet simple and easy-to-use, online ordering system, UPrinting is able to provide high-end printing at low costs. Key customers are businesses, organizations, individual consumers and independent designers.
For more information, press only:
Shane Springer, 310-575-4440, blog.uprinting.com
For more information, visit UPrinting.com:
https://www.uprinting.com