Design
Using ALL of Your Business Card to Sell Your Company
Previously, we've discussed the way that your business cards can become part of your corporate branding. In that article, we discussed how much of an asset the business card is in establishing your personal or corporate brand and how many people do not put the effort to get the full use out of the business card as a form of advertising. Today, the Wall Street Journal agreed with that argument.
One interesting point was the following:
"The back side of the business card is just undeveloped real estate because it's blank 90% of the time," insists Kevin Donlin, a professional résumé writer and job-search author in Edina, Minn.
The article goes onto note that all of that space can be used to give the recipient data about you and/or your company beyond the simple name, address and phone number that everyone puts on the front of their card. As an example, the business cards we use at the U-Printing Network have the following on the back: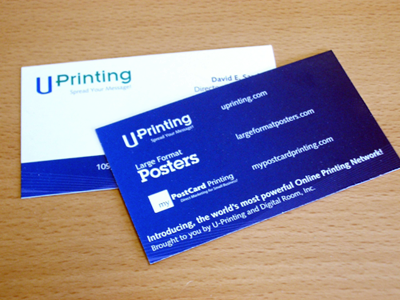 As you can see, we've used the back of the card to present the three primary sites in the U-Printing Network. By doing so, we've used the back of the card as an additional way to get information about our company out to potential customers. Not only have we given the customer our contact information on the front, but with the back, we've introduced our network of sites as well.
What can be taken from this is that there is so much more you can do with a business card than the name, rank and serial number format of the traditional, bland business card. With a little forethought and work, you can take advantage of the business card as a way not only to give people your contact information, but to give them that extra information that may be the difference between a proforma exchange of business cards and a business relationship.