News
UCommunity News
UPrinting's Corporate Citizenship Programs in Full Stride
Los Angeles, CA – In an effort to instill a more socially-responsible mentality in its operations, UPrinting started the UCommunity Program.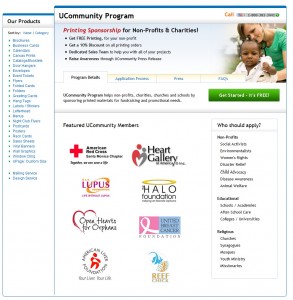 The program was launched as UPrinting's way to give back to the community by reaching out to nonprofit organizations from all over the country. The 501 (c) 3 determination letter-bearing members of the UCommunity are eligible for 10% permanent discount on all online printing orders. Along with the reduction on printing rates for the charities, they can also receive printing sponsorships.
The said sponsorships have four different levels: Platinum ($1000.00), Gold ($500.00), Silver ($250.00), and Bronze ($100.00). The awarded amount can be used towards UPrinting's printing services.
UCommunity partners also receive the same commitment as UPrinting's regular clientele that is, "a simple, very easy-to-use interface, free proofing service, great customer service, and affordable quality printing." Member non-profits organizations are assisted by a dedicated account manager to assist with the order process and the sponsorship details.
UPrinting's founder and CEO Ronnie Mesriani explains the program saying "UCommunity is a way for us to give back to our community and the communities of our clients. We truly believe in social responsibility and this is a way for UPrinting.com to show our support." "
The LA-based nonprofit MOSTE (or, Motivating Our Students Through Experience), a group that works to keep girls out of gangs, in school, and bound for college, is one such member of UPrinting's UCommunity. The group's Development Co-Chair, Rikki Boyle says of the experience, "As a 100% donation based organization, we work to keep our costs down by reusing as much as possible. We require placard printing yearly for our fundraisers, but the quality of [UPrinting's] banners have been so nice that we are able to reuse them time and time again."
Boyle adds, "Highlighting deserving non-profits is a great way to give back to the communities. It is nice to see a company that cares about their clients and is invested in how they help their communities. "
Along with MOSTE, UPrinting also counts groups like The Heart Gallery of Americas, Kids and Cars, AIDS Walk New York and Stop Child Trafficking Now among the members of its UCommunity – a community that continues to grow as days go.
UCommunity, Mesriani explains,"is an initiative that extends our products and services to organizations that otherwise might not be able to endure without these vital marketing tools that help spread their messages."
________________________________________________________________________________________________________________
To learn more about UPrinting's UCommunity, you may visit this page:
https://www.uprinting.com/non-profit-sponsor-program/
For any inquiries, feel free to speak to a UCommunity representative by calling 1800-381-3441
---
Check out our custom printing options.
---