News
UPrinting News
UPrinting Sponsors the Crystal City Pentagon Rotary Club's Annual Golf Charity
Los Angeles, CA (July 9, 2009) — Through their U-Community sponsorship program, UPrinting, announced that they will be sponsoring the Rotary Club of Crystal City Pentagon by donating 500 printed brochures. The donated materials will be used to help raise awareness of the Rotary Club's 13th Annual Charity Golf Tournament. 
The Rotary Club of Crystal City Pentagon is currently seeking donations on behalf of the charity golf tournament taking place on September 19th, 2009. Donations range from $150 for an individual golfer to $2000 for a foursome with many additional benefits.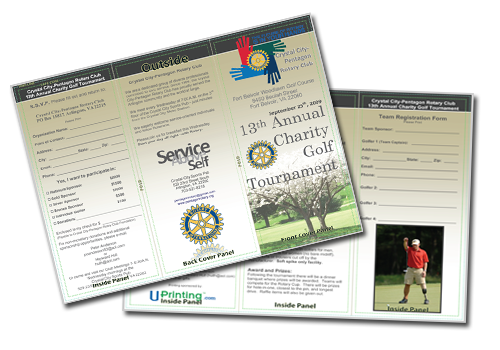 Anupam Kumar, from the Rotary Club of Crystal City Pentagon recently said this about their experience with UPrinting.com's brochure printing services, "Our experience with UPrinting has been stellar.  In product, service, sales, and marketing, they've exemplified how a business should run. Their website is a breeze to navigate; their sales team takes account of how best to create a win-win relationship; their service is always available, knowledgeable, and courteous; and finally, the end product looked fantastic! I hope to find creative ways to work with U-Printing again. "
For more information on the U-Community program and different sponsorship levels, please visit the website at https://www.uprinting.com/About-Community.html
About The Rotary Club of Crystal City Pentagon:
Rotary is a worldwide organization of more than 1.2 million business, professional, and community leaders. The Rotary club's main objective is to be successful in four avenues of service– community, vocation, international, and club service. Not only do we raise funds for and contribute to world-wide initiatives, we conduct and complete local and international service projects. The Crystal City Pentagon chapter meets every Wednesday at 7:00 A.M. on the 3rd floor of the Crystal City Sports Pub – just minutes from the Crystal City Metro Station.
About UPrinting:
Every day, UPrinting serves thousands of on-demand printing orders online, allowing customers to design their own brochures, postcards, business cards and other printed materials. Using high-quality printing presses and a robust, yet simple and easy-to-use, online ordering system, UPrinting is able to provide high-end printing at low costs. Key customers are businesses, organizations, individual consumers and independent designers.
For more information, press only:
Shane Springer, 310-575-4440, blog.uprinting.com
For more information, visit UPrinting.com:
https://www.uprinting.com