News
UPrinting News
UPrinting Sponsors Die-Cut Business Cards for ElephantMan
Los Angeles, CA (August 10, 2009) – The Online printing specialists, UPrinting, has added another nonprofit organization to its U-Community Sponsorship Program. Through donating printing materials and services, U-Community helps NPOs promote their organizations. UPrinting has just donated custom die-cut business cards to the ElephantMan Foundation enabling them to increase awareness and visibility.
The ElephantMan Foundation is currently seeking donations for Public Service Announcements and sponsors for an upcoming fundraiser. Donations and volunteers are needed and would be greatly appreciated. The foundation can be contacted directly via email, info@elephantman.org, or by visiting their website at http://www.elephantman.org/.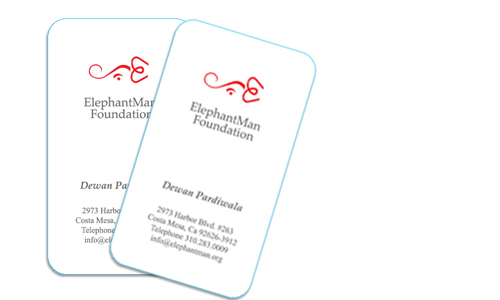 Dewan Pardiwala had this to say about his experience working with UPrinting, "It's wonderful to find an eco-friendly online printing company in Los Angeles that believes in social responsibility by giving back to the nonprofit community. Not only was the UPrinting website clean and efficient, they had printing options for custom sizes and shapes – just what we were looking for. The personal attention I received with our printing project was exceptional, even after we had to make additional changes. We are proud to have partnered with UPrinting and look forward to working with them again."
"We had custom sized die-cut business cards made for the ElephantMan Foundation to promote the foundation and its project in the communities. And we have already gotten compliments on the cards. Since we were pleased with the business cards, we plan to work with UPrinting again for an upcoming fundraising event."
For more information on the U-Community program and different sponsorship levels, please visit the website at https://www.uprinting.com/About-Community.html
About ElephantMan Foundation:
The ElephantMan Foundation is a grassroots nonprofit organization with a mission to raise awareness of a beautiful mind, body and spirit in the communities. The foundation promotes, embraces, and campaigns for inner beauty awareness (self confidence with a fashionably healthy & eco-conscious lifestyle). Working collaboratively with industry professionals, businesses, and community organizations to create visionary art/multi-media Public Service Announcements along with sponsoring and organizing inner beauty awareness themed events are the major ways in which the foundation strives to achieve its goals.
About UPrinting:
UPrinting provides online printing with custom sizes for an affordable price. Innovations such as free PDF proofs, eco-friendly printing and a powerful online design tool have set UPrinting apart in the industry. For more information on printing and mailing services, visit https://www.uprinting.com/.
For more information, press only:
Shane Springer, 310-575-4440, blog.uprinting.com
For more information, visit UPrinting.com:
https://www.uprinting.com
Comments