News
UPrinting News
UPrinting Promos
UPrinting Offers 25% Off EVERYTHING this Thanksgiving Weekend
Los Angeles, CA (November 24) Black Friday is traditionally the time when businesses around the United States offer their biggest discounts. UPrinting will do one better by slashing 25% off prices on all of its products starting  Thanksgiving, (Thursday, November 24) all the way through Sunday (November 27).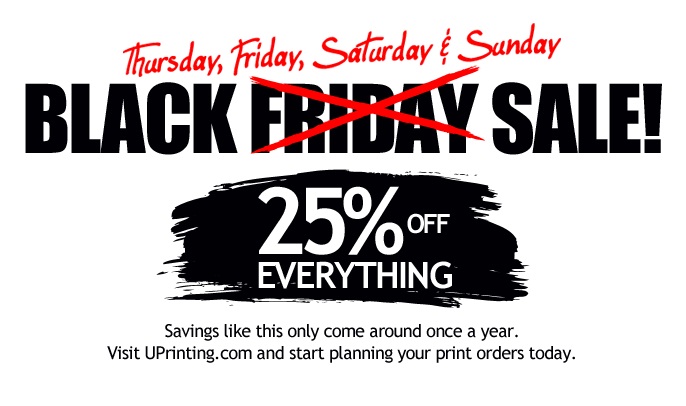 These price cuts are a welcome development for budget-conscious entrepreneurs. With the current concerns about the state of the US economy, small businesses in particular are looking for ways to cut down on costs and maximize their resources. This offer comes just in time for those looking for materials for their holiday campaigns, from Cyber Monday, all the way through the end of the year.
The promo covers all of UPrinting.com's product range, from smaller items such as business cards, flyers, stickers, and postcards, all the way to large format products like vinyl banners, posters, wall graphics, and yard signs. Discounts of up to $350 available throughout the promo period.
Watch out for our other exciting offers! Visit our site for details.
---
Check out our custom printing services here.
---