Design
How to Choose Booklet Design Options
Booklets are one of UPrinting's more popular offerings for larger businesses and institutions. Choosing the right booklet design options to match your brand and design is slightly more involved than a flyer or a poster, but still pretty simple. We put together this how-to guide to help you choose the right options for your booklets.
---
1.) Stock Weight and Thickness
---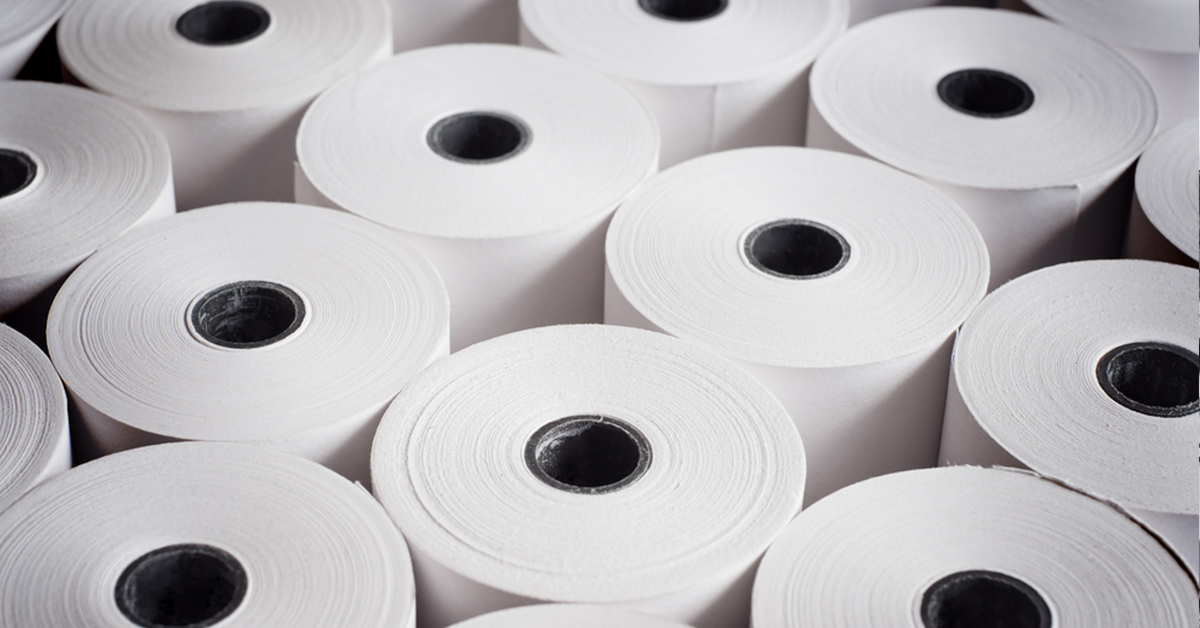 Not all booklets are made for the same purpose. Booklets intended for regular use (such as manuals, for example), will need to be designed differently from booklets that will only see occasional use, such as promotional booklets and event programs.
For most intents and purposes, thicker stocks might not be at all necessary. Choosing thinner stocks will allow more booklets to be printed for the same price. Another advantage of thinner stocks is that you may be able to carry more booklets in your bag or box, which can be a consideration if you travel to conferences or other businesses when passing them out.Thicker stocks however, will be heavier and feel nicer making them a better choice for reports and presentations as well as for promotional materials.
---
2.) Finishes
---
Whether you choose gloss, matte, or uncoated finishes, there is no inherently "better" choice. Some may feel glossy finishes add more class to their prints, while others feel the same thing about matte. Matte finishes however, are better at hiding fingerprints and are more readable in direct light. For that reason, matte and uncoated inside pages and gloss covers are a popular combination. Whatever your choices, your finishes should be the ones that work best for your brand and your design. To find out which stocks and finishes work best for your design, be sure to order a free sample kit.
---
3.) Color or Grayscale
---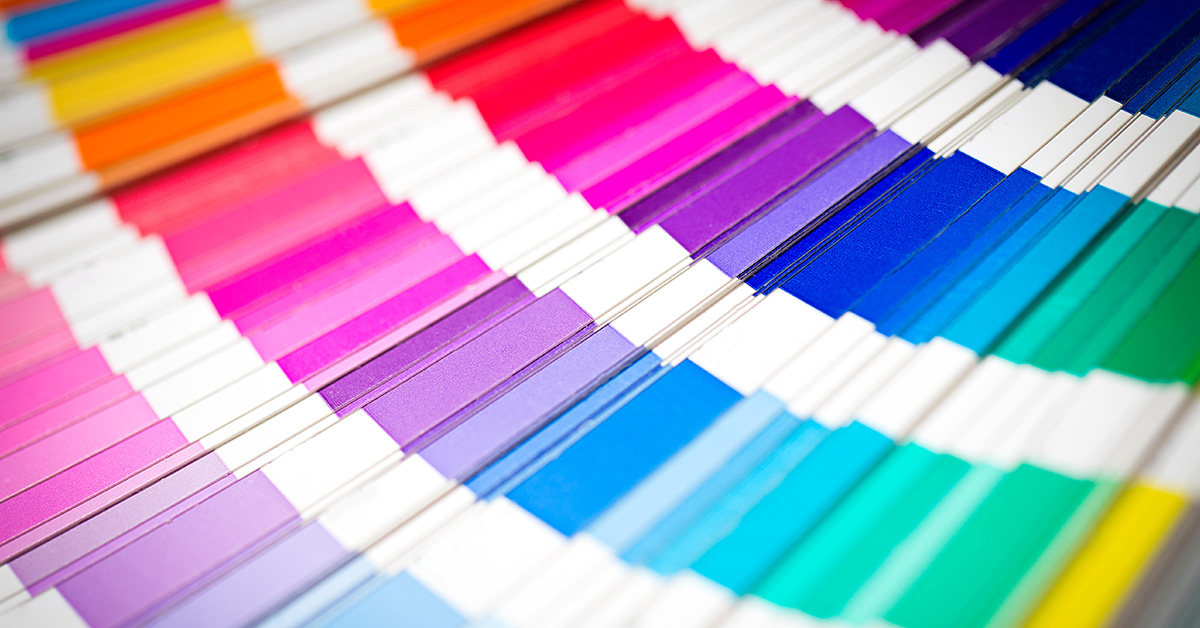 The choice of full color or grayscale printing for your booklet's inside pages should be based on both economic and design rationales. Grayscale printing brings down printing costs, but also tends to make images less compelling. Color printing may cost slightly more, but it will let you do so much more with your text and visual design.
---
4.) Size
---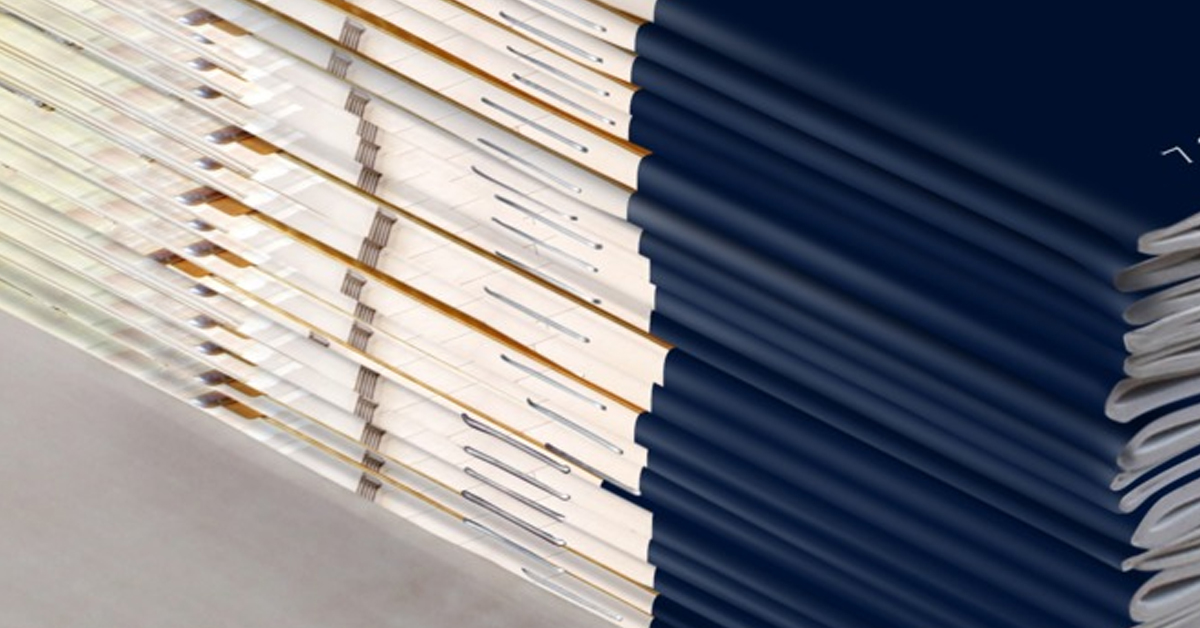 Booklet size will need to be chosen according to intent and function. Things like event programs are usually in smaller sizes, while manuals tend to be much larger.
Smaller sizes tend to be more portable. Now this might not seem to be a huge deal, but in certain situations, smaller sizes work better. Booklets intended for handouts for instance, might work better in smaller sizes, so that they will be less of a hassle to carry.
Larger sizes however, allow for more visual variety. To use other types of print products as an example, vinyl record album covers tend to have more of a visual impact over CD or (if you remember them) cassette covers. However, you will be able to print fewer copies with larger sizes.
---
5.) Binding
---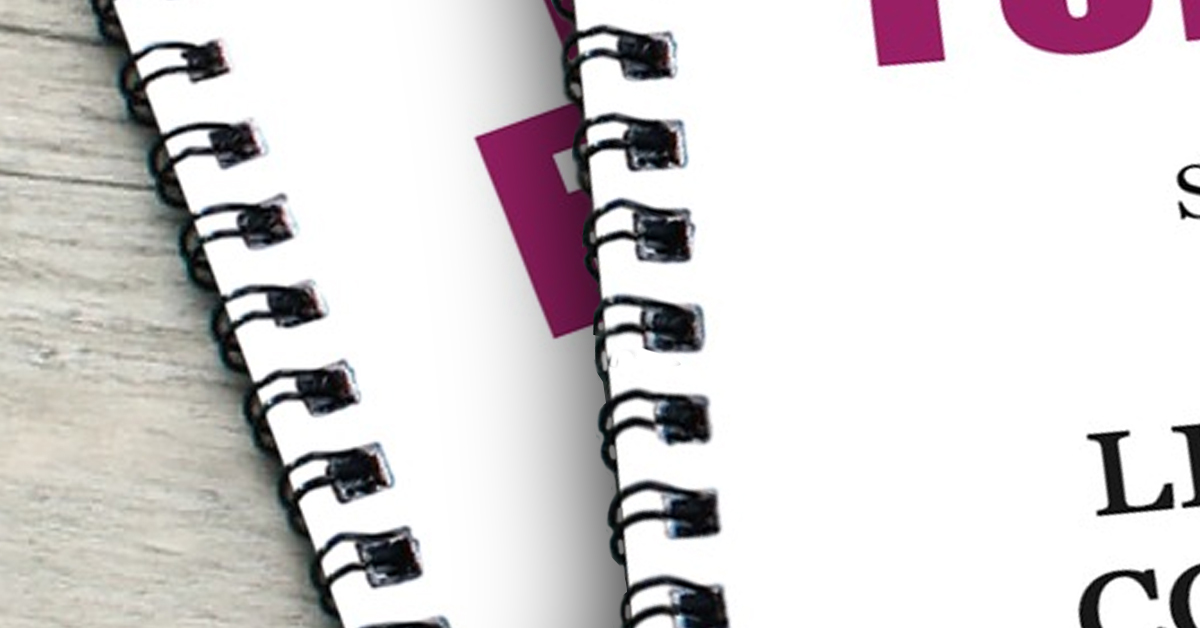 Saddle Stitching and Wire-O both allow for a cost-effective yet durable way to bind your pages together. The price difference between saddle-stitching and Wire-O is minimal. However, saddle stitching makes for a permanent, neater-looking booklet, while Wire-O binding allows pages to be detached more easily. This makes Wire-O preferable for manuals or other applications where you might want want to detach pages occasionally.
---
6.) Proofing
---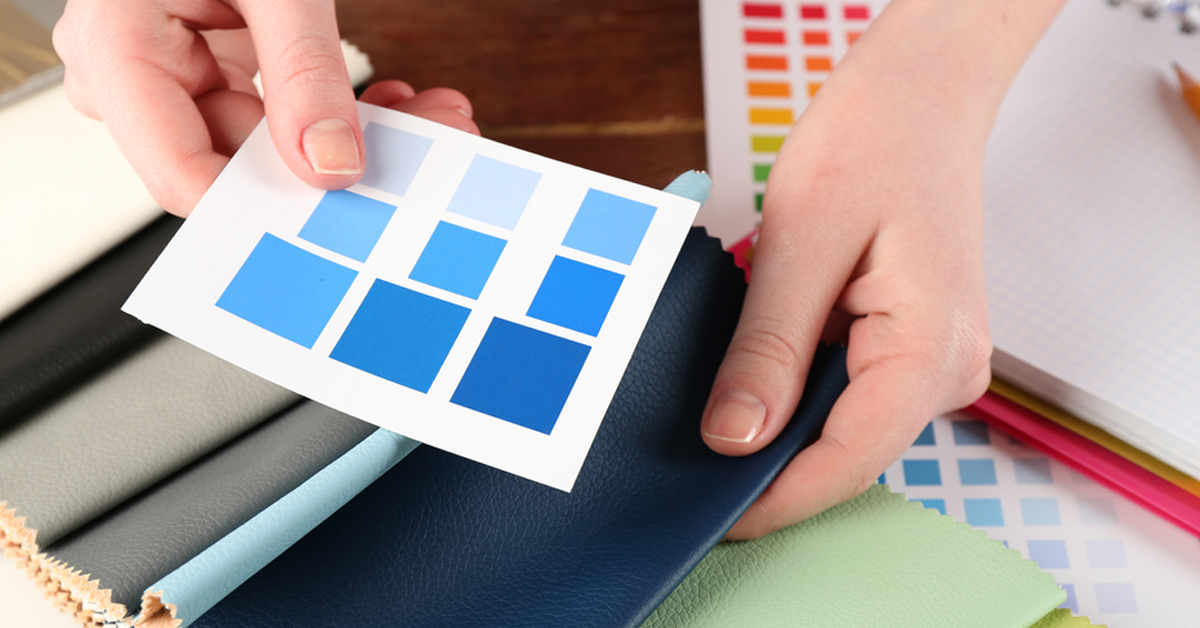 Regardless of design and regardless of who you print with, it's best to have your design manually proofed before printing. Compared to other print products, booklets are a bit more complex since you'll need the pages and their content aligned properly for a better-looking end result.
Proofing can be done automatically, but manual proofing is still better for helping avoid critical errors. This helps to ensure images are placed correctly inside trim, and therefore results in fewer cutting errors.
Booklets represent a fairly large investment for most people, so it makes sense to take extra precautions to ensure that your booklet designs come out the way you intend. Take all the time you need and match your designs with what you intend to achieve, and you're well on your way to better, more effective booklets.
---
7.) Quantity
---
Ordering bulk booklets presents a higher upfront cost per order, but is cheaper per piece. Short-run booklet printing on the other hand, has a much lower cost per order, but each individual booklet tends to be more expensive. Bulk booklets are a great choice for mass distribution and direct mailing, thanks to their lower cost per piece. Short-run booklets are better for situations where you need fewer copies though. It's best to understand what you will need the booklets for before placing an order to get the best possible rates for your prints.
---
Other booklet design factors
---
Resolution
---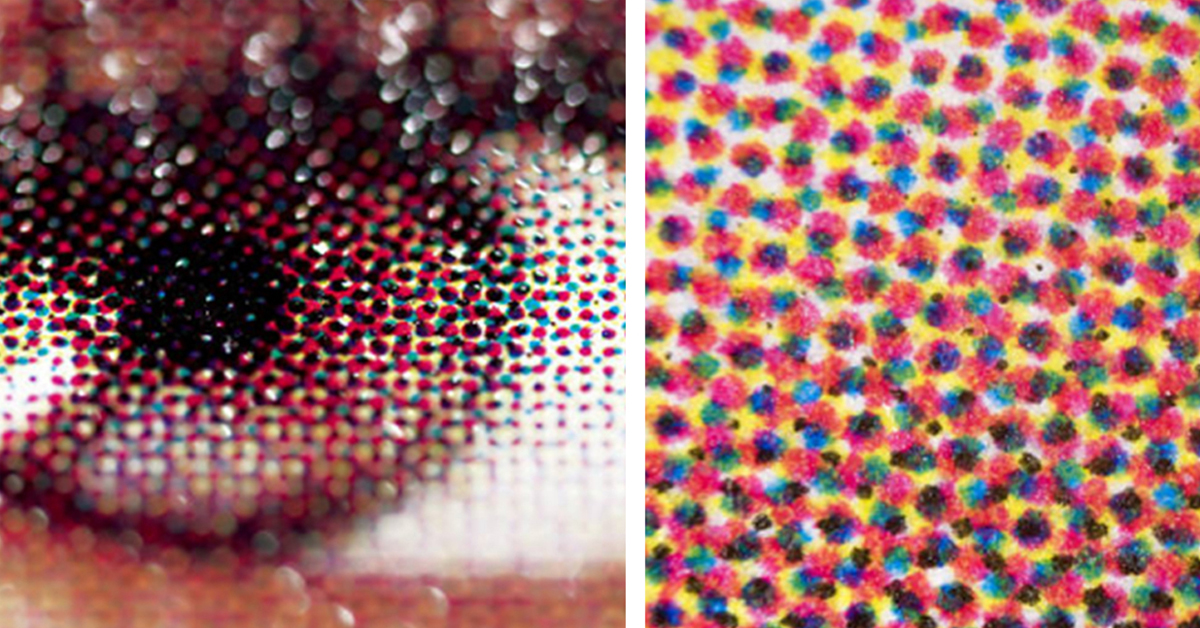 As booklets are read at arm's length, any low quality images will be readily apparent. For this reason, we recommend a DPI value of at least 300 or better. This is especially important for foreground text and images. This will allow most images to come out without pixelation. Having a higher resolution won't hurt at all. Text and brand elements should also be vectors to prevent pixelation and blurriness.
---
Readability
---
Booklets are of course, meant to be read. Make sure to use appropriate background images and colors to contrast your text appropriately. It is important to keep to only one or two colors for your main text to maintain unity.

Serifed fonts (font styles with small lines trailing from the edges of letters and other characters, such as Georgia, Palatino, and Times New Roman) tend to be more comfortable to read as small text. Sans serif fonts (without those lines we mentioned, such as Arial, Futura, and Helvetica) tend to look better as headers. Please note however, that this isn't a hard and fast rule.
---
Other multi-page print materials
---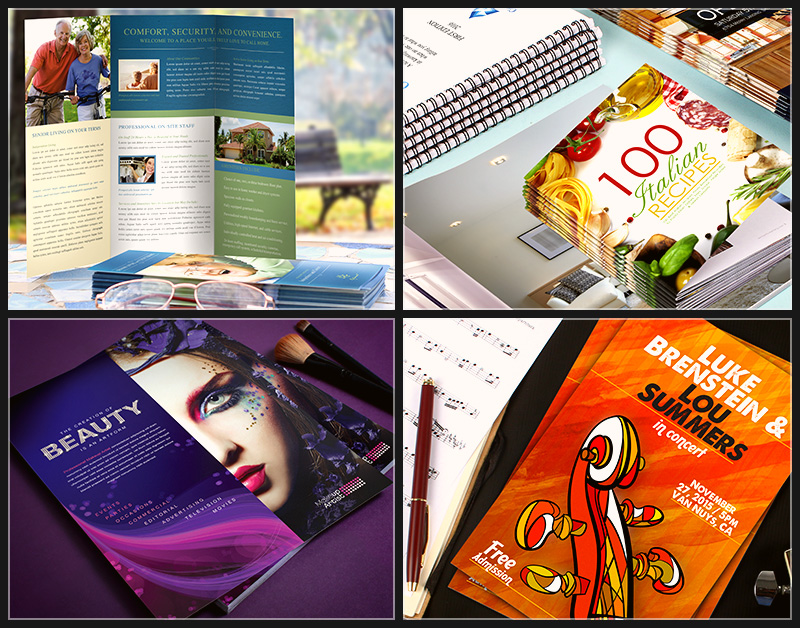 Sometimes, booklets aren't what you need. In some cases, flyers and brochures might be more appropriate for your specific application. There might also be some confusion between the different kinds multi-page materials. In a previous post titled The Difference Between Flyers and Leaflets… and Booklets, Pamphlets, and Brochures we explain the subtle yet important differences between these often-confused products.
---
Inspiration
---
Choosing the right booklet design options can be easy. The tricky part is usually finding a design that works for your intended purpose yet isn't boring or predictable. Check out these amazing booklet design roundups:
---
Questions? Insights? Comment below. We'd love to hear from you.
---
Arthur Piccio is a feature writer and subject matter expert for theUPrinting Blog.