News
UCommunity News
UPrinting.com's UCommunity Sponsors 2010 Brentwood Grand Prix
LOS ANGELES, CA (September 22, 2010) – On August 8, 2010, the Velo Club La Grange, one of California's largest and oldest cycling clubs, hosted the 3rd Annual Brentwood Grand Prix.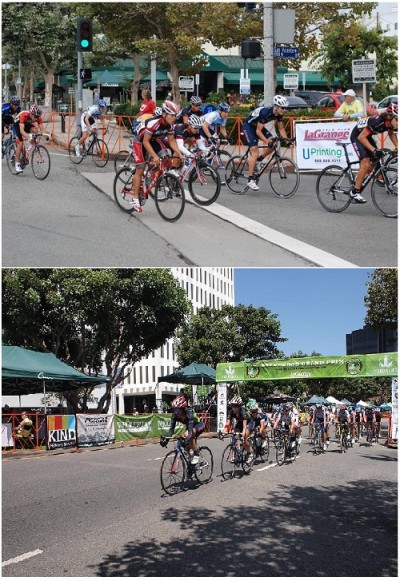 The annual competition was originally held at the VA center for three consecutive years. At the time it was called the Cedar Sinai Grand Prix. The Velo Club then transferred it to the West LA College for another three years before finding its current home in Brentwood.
This year's event, which was organized with the help of officials at USA Cycling, boasted a field of 660 racers competing in nine (9) categorized races that included both men's and women's events for amateur and professional level racers in addition to two (2) kids' races, and a cycling expo. One of the race's notable participants, Dave Zabriskie, is a professional cyclist who also rode the Tour de France and the Vuelta de España this year.
As means of offering support to the Velo Club La Grange, a group that holds events to encourage more people to bike for exercise and for an eco-friendly means of transportation, the UCommunity awarded the cycling club $2,500 worth of vinyl banner requirements for this event and 20% off all their offset orders.
Brian Pera, a member of Velo Club La Grange, is certainly grateful for all the help the UCommunity has extended to them. He says, "UPrinting is one of the reasons why our event was a success this year. UPrinting handled all of our banners, posters and flyers and produced all of these print materials on a very short schedule and without error. In addition to this, the final product was of outstanding quality as well."
Aside from promoting cycling as an essential element to the well-being of the community, the Velo Club La Grange also supports such causes as Meals on Wheels and the Multiple Sclerosis Society. And as a nonprofit organization, Velo Club La Grange appreciates whatever assistance they can get so they can continue doing the work that gets their message across.
Pera says, "We greatly appreciate the discounted services we received as part of their non-profit sponsorship program as well- especially this year when our budget was smaller than normal. We look forward to doing more work with UPrinting moving forward."
Even the process of working with UPrinting.com on printed materials for their highly-anticipated annual racing event is very convenient. Pera attests, "Working with Rachel Go was a pleasure and key to meeting our deadlines. Thanks to her help and the UPrinting web site, where we were able to upload files and review and approve proofs, the printing process was streamlined, efficient and saved a lot of valuable time."
UPrinting.com's Corporate Social Responsibility Manager, Rachel Go, has this to say about the partnership with with the esteemed cycling club, "UPrinting is proud to support the Velo Club La Grange, a local organization, for 2 years in a row. At UPrinting, we believe that it's always a good idea to reach out in your own community first. Also, their belief in setting examples for living healthy and ecologically-conscious lifestyles is something UPrinting.com stands for as well."
—-
Velo Club La Grange is one of California's largest and oldest cycling clubs with over 400 members nationwide. The club was founded by Raymond Fouquet in 1969 and fields one of the top amateur racing teams in the United States. Past members include a Tour de France stage winner, an Olympic gold medalist, and numerous U.S. National and California state champions. La Grange is the recipient of the USA Cycling 2007 Club of the Year award.
—-
You can read more about the 501(c)3 organization at http://www.lagrange.org/.
Or learn more about the 2010 Brentwood Grand Prix here :  http://www.brentwoodgrandprix.com/
To apply for UPrinting's nonprofit sponsorship, please visit: https://www.uprinting.com/non-profit-sponsor-program/
---
Check out our custom printing options.
---
Comments