Design
The Everywhere Girl and the Art of Stock Photographs
With the U-Printing International Poster Design Contest in full swing, I found myself thinking about exactly how omnipresent stock photographs have become. For those who do not know, a stock photograph is a photo taken and then licensed for advertisers to use in their advertisements. This line of thought was also prompted by stumbling across the story of Jennifer Anderson, the Everywhere Girl. For a point of reference, here is a picture of the Everywhere Girl: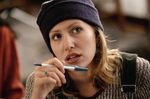 So why is she the Everywhere Girl? Because pictures of Ms. Anderson from the same photo shoot for Gateway computers in 2004 have appeared hundreds of times for a wide variety of purposes. It is very likely that most of you reading this article will have seen a picture of her at some point in the last few years.
So how does this tie back to the U-Printing contest? It ties in because iStockphoto is a sponsor of the event and is supplying the stock photos that are being used by the talented designers in the contest. The story of the Everywhere Girl speaks to the utility and effectiveness that a very well designed stock photo can have. The right stock photo company, like iStockphoto, with its community based approach to the photo approval process, can provide you with high quality and memorable stock photos to improve your own ads, website or printed marketing materials.