Design
The 4 Cardinal Rules of Infographic Résumés: Practical Real-World Advice For Creative Jobhunters
A lot of our readers are experienced freelance graphic designers and software developers, and are probably no stranger to infographic résumés. For those who haven't tried them on for size, they're a fun and catchy way of displaying otherwise dry data into a form that's easily understood. Infographic résumés not only tell potential employers about your experience- they also give a taste of what your work would be like.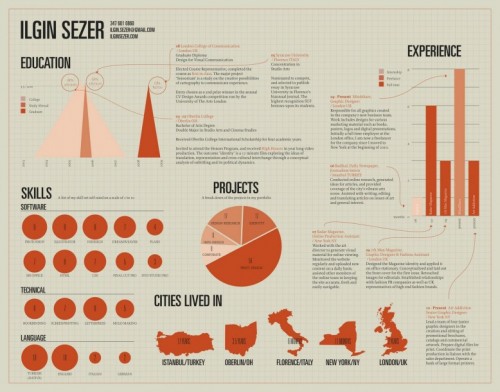 (Source)
However to be effective, they need to follow a few general guidelines.
4) Proofread Everything!
This doesn't just apply to spelling errors, but to logic and numerical errors as well. Few employers expect candidates for graphic design jobs to be great at everything, arguably grammar and math included. But your resume is one place where you should never slack off.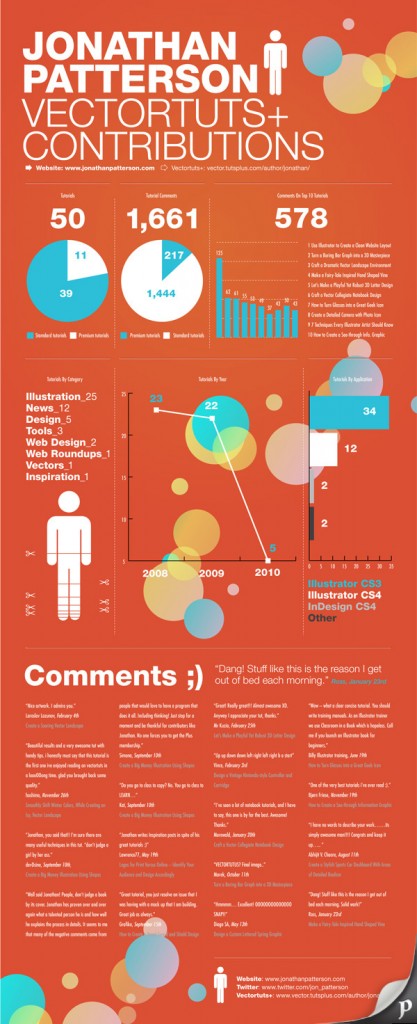 (Source)
If you need to put figures in your resume, make sure that not only do the numbers add up, but the visuals you use to represent them are proportional as well. Of course, it would also help if you didn't lie on your résumé. Online portfolio sites such as Github (for developers) and Dribbble or Behance (for designers)  as well as a whole bunch of verification and background check services make it all too easy to find out who's been fibbing.
3) Make it Understandable
This is perhaps the most challenging part. There are thousands of ways one can choose to visually present data, but not all of them make perfect sense in a résumé.  Some designers might be a bit too eager to show off their technical and artistic chops – at the expense of a reader-friendly presentation. Many recruiters for large companies spend only a few seconds on each resume – and if they can't figure out what you're all about, you'd be at a very severe disadvantage.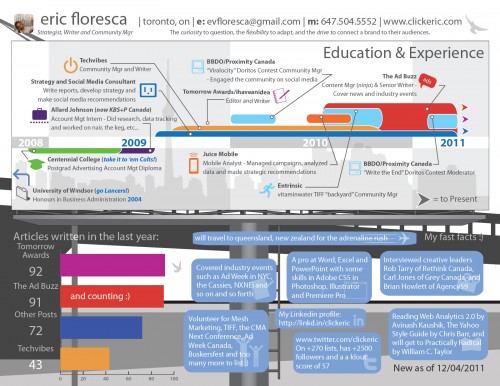 (Source)
If important data (like your name, experience, and contact details) can't be figured out by a layperson right away, then it might be time to go over the next point:
2) Keep it Simple!
If you plan on submitting a printed infographic résumé, you might want to make sure that it's no larger than would be reasonably expected from other ordinary résumés – your potential employer might need to file it with other more normal submissions. You should probably also keep it to one page, or a convenient multipage format (brochures are one option) for the convenience of whoever's hiring.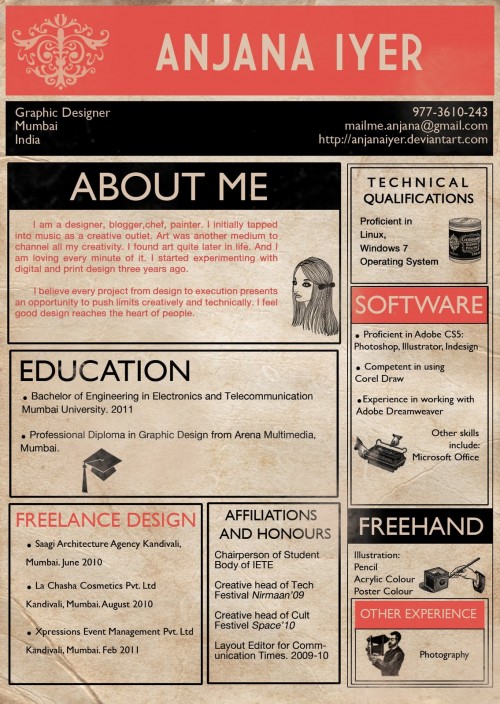 (Source)
If you can submit a purely electronic résumé, great! But while you may have more creative freedom (you can make 'em as long a you want) if you're allowed to submit an résumé online, point #3 (Make it Understandable!) is still in effect. Don't get too carried away!
Stick to a unified theme and be extra careful with how you use colors – more colors doesn't always make for a better infographic. When in doubt, remember that even monochrome infographics can be effective at getting your point across.
Like in other résumés, your infographic generally should not contain your entire curriculum vitae (CV). It should only contain data that your employer might be interested in. If you're applying as software developer or a graphic designer and did a stint as a lifeguard or as a mechanic, details and skills related to these won't have to be fleshed out as much as other more relevant kinds of experience.
1) Know When NOT to Use Infographic Résumés
Infographic résumés are not appropriate for all settings, and some good judgement is needed. You should in any case, always have a traditional master CV or résumé ready for editing into a specialized résumé when it's time to snag a specific contract. A business card might also be handy in these situations.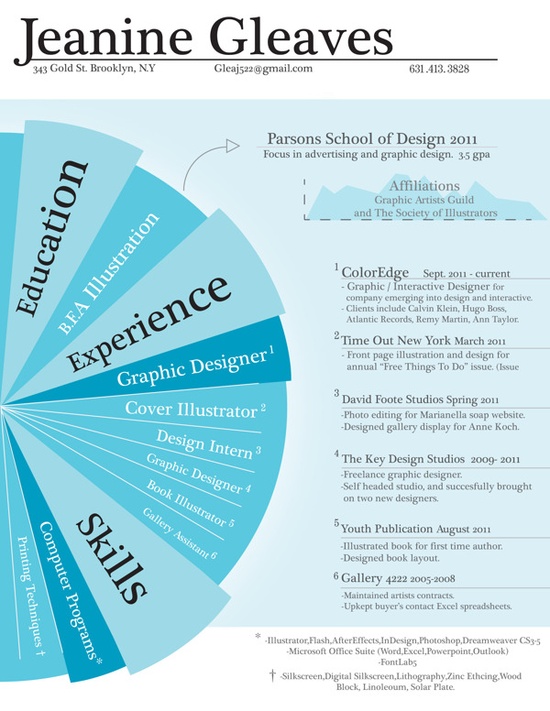 (Source)
Another alternative is to submit an infographic résumé anyway- but as part of your portfolio or as a cover to a traditional résumé. The plus side of this is that your potential employer can readily see how well you are able to transform data into something interesting and simple to understand, which should always be a good thing. If your potential employer doesn't really care about that, perhaps it's time to keep looking.
We hope you enjoyed these practical tips. Do any of these spark an idea?
Follow us on  
 for additional tips and up-to-the-minute updates.
Love/Hate this article? Questions? Insights? Just head over to the comment section below. We'd love to hear from you!