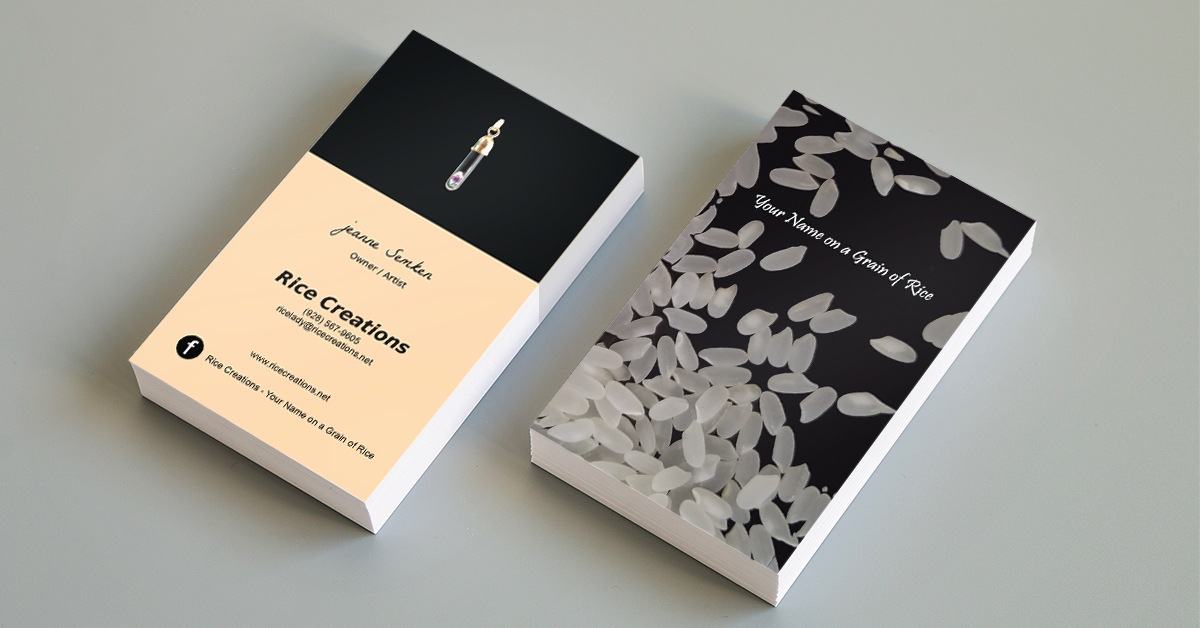 UStory
UStory: Meet the Rice Lady
In 1995, Jeanne Semken entered the rice business. Jeanne, however, is neither a reseller nor a distributor. And she certainly doesn't spend her days in a field. Jeanne—otherwise known as the Rice Lady—is an artist. So what does Jeanne do exactly? She is the owner and artist behind Rice Creations, a company that specializes in personalized rice grain art.
The concept is simple: you give them a name or a message (there is a 15-character limit) and they'll write it down on a grain of rice. They can also add designs to your grain.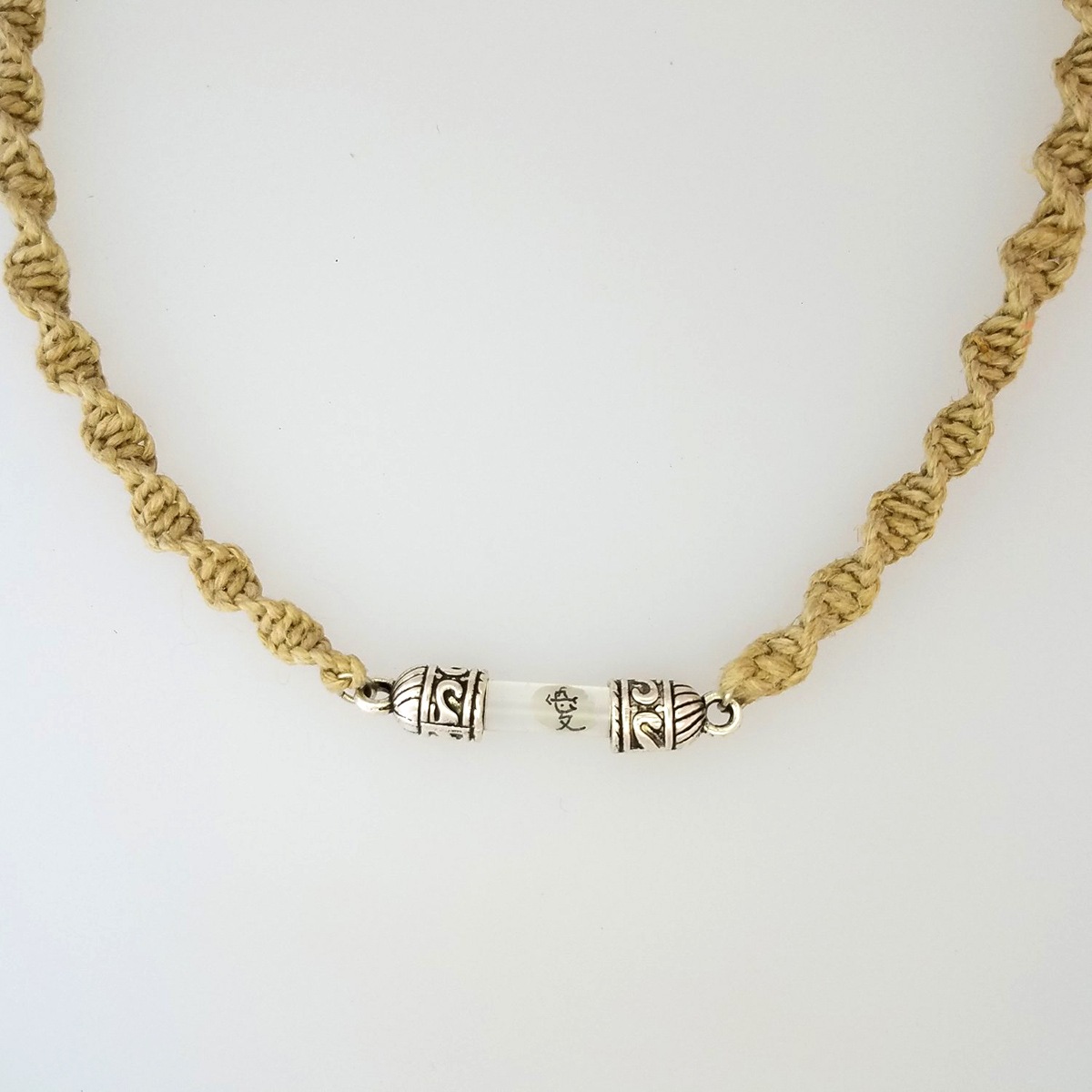 The grain is enclosed in a vial filled with mineral oil that preserves and magnifies the grain for easy viewing. Each vial is attached to a necklace, bracelet, choker, anklet or earrings.
Finding Motivation and Starting the Business
Jeanne's story starts with a search for purpose. After leaving the army in the mid 90's, she sought a degree in Interior Design. But while she excelled in class, she knew there was something missing.
"My heart just wasn't in it," says Jeanne. It was as if there was a yearning for something greater. Something inside was pushing her to take another path in life.
Jeanne's mother-in-law encouraged Jeanne to set up a rice writing business in the Southwest. The idea piqued her interest.
"I loved the idea of having my own business, being creative and traveling around the country," Jeanne admits, "and so, I started Rice Creations."
It was Jeanne's chance to live a life of travel and excitement while doing something she was passionate about. So with that, Jeanne signed up for a variety of arts and crafts festivals in the Southwest. And just when things couldn't get better, it did. The Arizona Renaissance Festival invited Rice Creations to join. Frequent festival goers can attest to how different these gatherings can be. Jeanne fell in love with the patrons and the ambiance. She loved it so much, in fact, that she would work every renaissance fair she could book for the next ten years. She found her niche audience.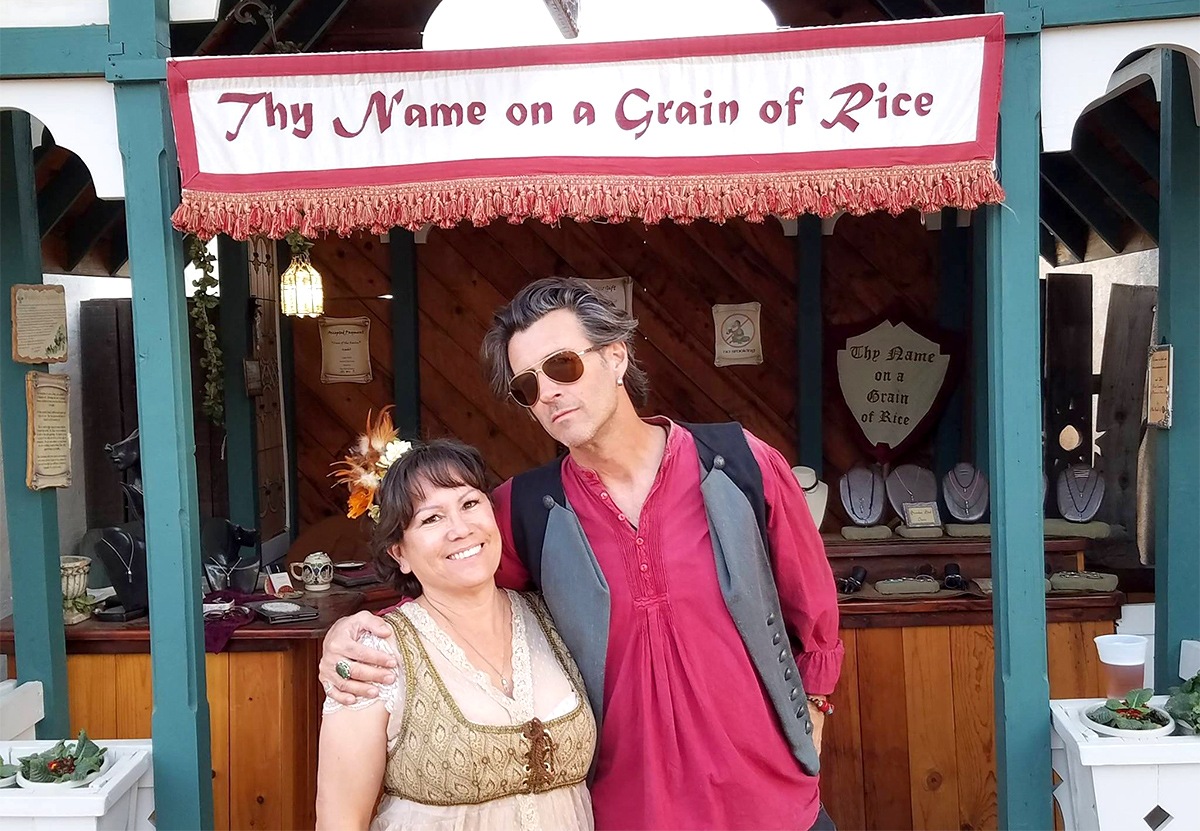 Rice Creations Goes Online
Life on the road can be daunting. But for ten years, Rice Creations pushed on from one festival to another all while providing high-quality fashion accessories to anyone interested. After all, the demand was always there and for customers, seeing Jeanne do her art is always amazing. As Jeanne explains, "For the rice part of my creations, I am very transparent as I write and draw on the rice in front of the customers at the festivals." She further adds, "[Customers] are often surprised that I create the rice art right in front of them in only a few minutes." Unfortunately, a sudden change in family dynamic forced her to attend less festivals and stay closer to home.
Jeanne, however, turned this setback into an opportunity to bring her products online. She built her website and Ebay page and continued her business from there. Today, Jeanne still does e-commerce and is back working festivals. She even found a new venue to promote and sell — Comic Con. She has rebranded her business and updated her website to be more competitive than before.
"Orders placed on the internet or by phone are generally sent within two business days, so it is always a quick process to get the Rice Creation."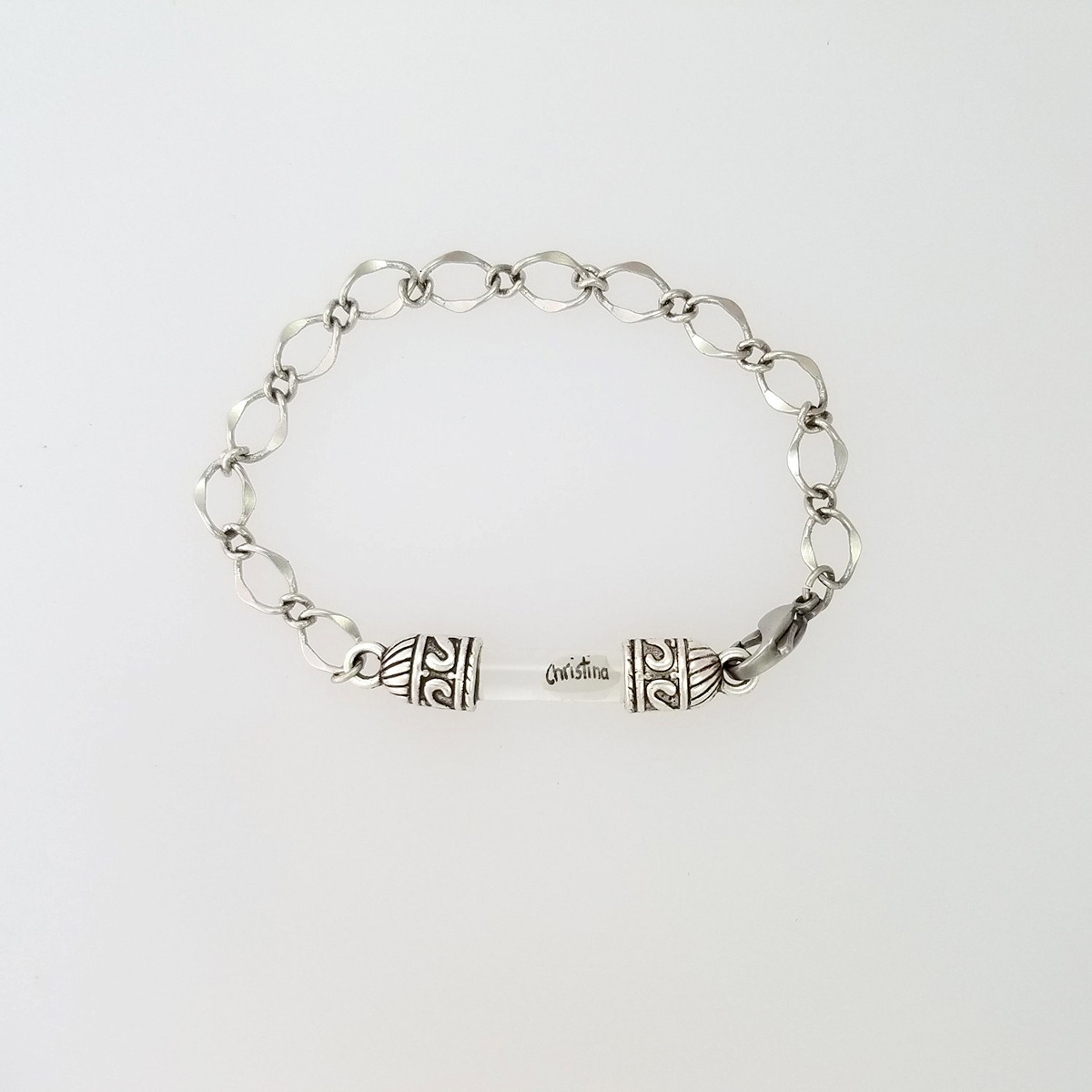 The Challenge
Any business will have its own set of difficulties. Asked what challenges Rice Creations had to face in the past, Jeanne said it had to do with the brief period she had to return to the everyday grind of a normal office job.
"My biggest challenge came when I stopped doing my Rice Creation business full time and had to pick up a regular 9-5 job too. It has been difficult to motivate myself to dive into all the aspects of trying to get back into doing Rice Creations full time and dropping the office job."
Asked for advice for fellow entrepreneurs, she said they should "trudge through the difficulties of full time artisanship rather than placing that on the part time burner" and that if she were to do it over again, she'd rather do her passion full time.
Customization Is King
"I am inspired by artisans whose artwork is unique rather than something you can find anywhere," Jeanne shares. "I am especially impressed by Carmen Almon whose amazing metal plants look realistic down to the discolored leaves and/or bug bites from the leaves."
Customers choose from a wide range of products and options. They can customize a grain to include a message or design that reflects their personality. "I carry necklaces, chokers, bracelets, anklets, earrings and key chains. The materials for the setting range from cords in leather, cotton, hemp, base metal, plated sterling silver, and gold, as well as my favorites: solid sterling silver and solid 14K gold."
Jeanne's penchant for the unique shines through in every piece she produces. No two items are ever the same. "I actually put all those pieces together myself including tying every knot for the macramé necklaces, chokers, and bracelets. It is very time consuming but I want to ensure the customer has the highest quality product that I make myself."
Jeanne goes on further explaining, "This is what I love most, the personalization. Let's say 3 Marias walk into my booth. One may want her name with a heart and her husband's name as well as their wedding date. The second one may want her children's names. And the last one may want her name with a purple rose. So every grain is different. Then, of course, they are free to choose from all the settings I offer to have the grain set in. I measure wrists to ensure they get the size that is perfect for that particular person. I'm surprised at how differently people like to wear bracelets, some like it tight, others like them to dangle, etc. Same with chokers and anklets. So along with the grain of rice being personalized, even the settings are [made] specifically as requested whenever possible."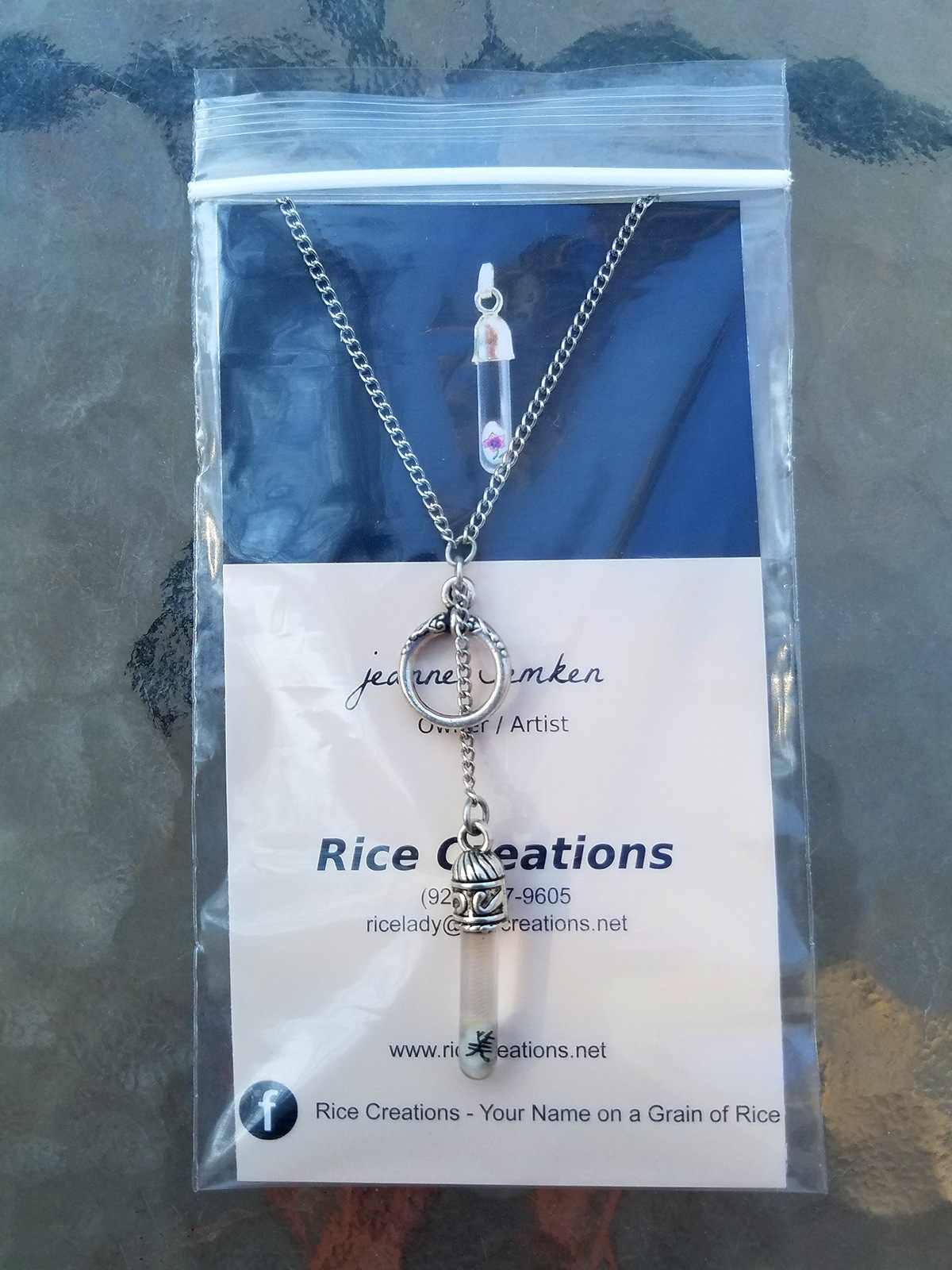 Custom Printing Helps to Rebrand Rice Creations
Times have changed and rebranding was inevitable for Rice Creations. Customers mostly order online now. Jeanne explains the old process and how she changed her approach.
"So inside of the 3×5 clear bags that I placed the completed Rice Creation in, I would put a brochure with my contact information and an order form for the ability to place orders through the mail. That entailed printing, perforating, cutting, folding, and stuffing into the bags. Not such a bad thing when I was a full-time Rice Lady."
With less time to dedicate to the effort, Jeanne knew she had to change the way she packaged her products. "I wanted to upgrade my packaging by eliminating the paper order form. I designed a new insert with my contact information to stuff in the bag." There was a problem though. Her usual printer was unable to provide the new cards in the size she needed.
Enter UPrinting. Jeanne designed custom business cards on UPrinting.com that were the perfect size to fit in her bags, and created especially for her business. There are no other cards exactly like them.
"Having always been a loyalist, I have had my business cards printed with the same company all these years and I contacted them first for my idea for the new inserts. However, they did not print odd sizes, so in my online search I found UPrinting who made the custom size items I wanted."
And based on her reaction, it seems Jeanne is happy with her new promotional materials. "I am more than satisfied with the quality and speed in which I received my order… The photograph of the Rice Creation necklace is clear and the clarity of the grain of rice inside the vial is as I expected."
If you want to learn more about Jeanne Semken and Rice Creations, you can visit her site at ricecreations.net
Are you a UPrinting customer? Do you have a business story to share? Email us at blog@uprinting.com
Rafael is a writer for UPrinting and has spent years creating articles about online printing. If you're weirdly obsessed with print product design just like he is, you should definitely follow his work.
Outside of work, Rafael likes lying on his couch and getting the most out of his Netflix subscription.