Print Tips
Printing Promotional Door Hangers
Printed door hangers are a great way to grab someone's attention as they're the first thing they see when they arrive home and they're much less likely to get lost in the shuffle of the daily mail.
Will Promotional Door Hangers Work Best For You?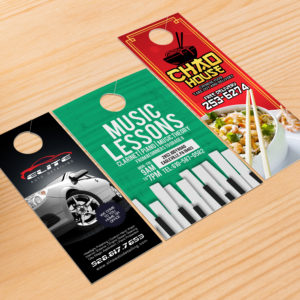 Cost of Labor vs. Cost of Postage
Of course, door hangers bring with them the added cost of labor – you'll have to pay someone to hand them. Done right though, a targeted printed door hanger campaign can be small, but focused and effective.
You're also saving on postage. It may only cost $0.22 each to send out postcards, but a fast canvasser can easily hit hundreds of homes in an hour in a densely populated neighborhood. So, before you make the decision between promotional door hangers and direct mail, consider the size of area you need to cover, the density of that area and the purpose of your campaign.
If you want to hit your best customers who happen to be spread all over town – use direct mail. If you want to target a specific neighborhood – consider printing door hangers instead.
Types of Promotional Door Hangers
Here are a few example of our most frequent promotional door hanger printing customers:
Real Estate Door Hangers
Whether a real estate agent wants to announce a new listing in an area or make their services known, the door hanger is perfect for targeting that nice neighborhood. And since UPrinting offers cheap color printing and generous size options (8.5″x3.5″ up to 11″x4″), you'll have lots of space to feature your current listings.
Political Advertising
Door hangers are an integral part of many political campaigns and make the perfect calling card to leave behind. And since you or your volunteers are already out canvassing, there's no need to spring for the extra cost of labor.
Restaurant Menus
If you do delivery or takeout, door hangers are a great way to get your menu into the hands of customers. Instead of hoping your print flyer doesn't get lost in the mail or your carefully folded paper menu doesn't blow away, invest in a quality, heavy cover stock menu that's designed to hang on a door and stay there.
Home and Garden Services
The biggest portion of our promotional door hanger printing business is the home and garden industry – landscapers, house painters, plumbers, contractors, driveway pavers, etc. Because location is so critical and these industries know which areas and even which homes they want to target, the door hanger can actually be significantly more effective than direct mail.