Design
Print Tips
Pocket Folders Printing & Designing Tips
Your pocket folders' print and design quality decides how capable they are as marketing tools. But don't strain your budget too hard to achieve these qualities. Simply remember these key pointers in folder printing and design so you can ensure your presentation folders' effectiveness, whether you print them yourself or hire another to do the job.
Practical Pocket Folder Print and Design Advice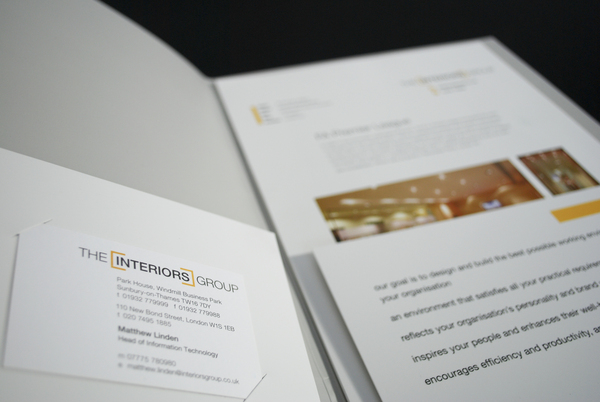 Remember the bleeds: Your file must be built to the final trim size, and include 1/8″ bleeds on all sides to allow for cutting. Don't use any crop or printers' marks while producing the proper format since this will increase your design file's dimensions. For convenience, you can download free file setup templates at UPrinting's Pocket Folders product page. A file preparation checklist is also available onsite.
Think outside the folder: Your pocket folders have the potential to become powerful marketing materials, but only if they attract enough attention for potential customers to examine their contents. Use the most of your folder design to achieve this effect without sacrificing usability; for example, consider the possible effect of displaying your folders' cover text tilted at an angle, with parts of the letters exceeding the cover size. Feel free to deviate from standards in a calculated, effective way.
Form follows function: Your pocket folders' purpose will dictate how they will look best. As press kits, your presentation folders' primary goal is to promote your business efficiently. Make sure they do that job first, then meet other considerations, like appearance and layout, second.
Work in the CMYK color space: A quality printer like UPrinting will use a four-color offset printing process for your print folders to ensure high image and color quality up to the last run. Because of this, we recommend you to work in the CMYK color space so the colors you see on your screen will be closer to the colors you'll see on your printed folders. If you're particular about how you want colors to appear in your pocket folders, you may also request for a hard copy proof from our team.
Lastly, entrust your pocket folder printing to a printing company that provides not just affordable quality printing, but also quality customer and business services. Get reliable, high quality printing, free professional design help, and press-ready proofs with no upfront payment now by visiting UPrinting.com.
Comments