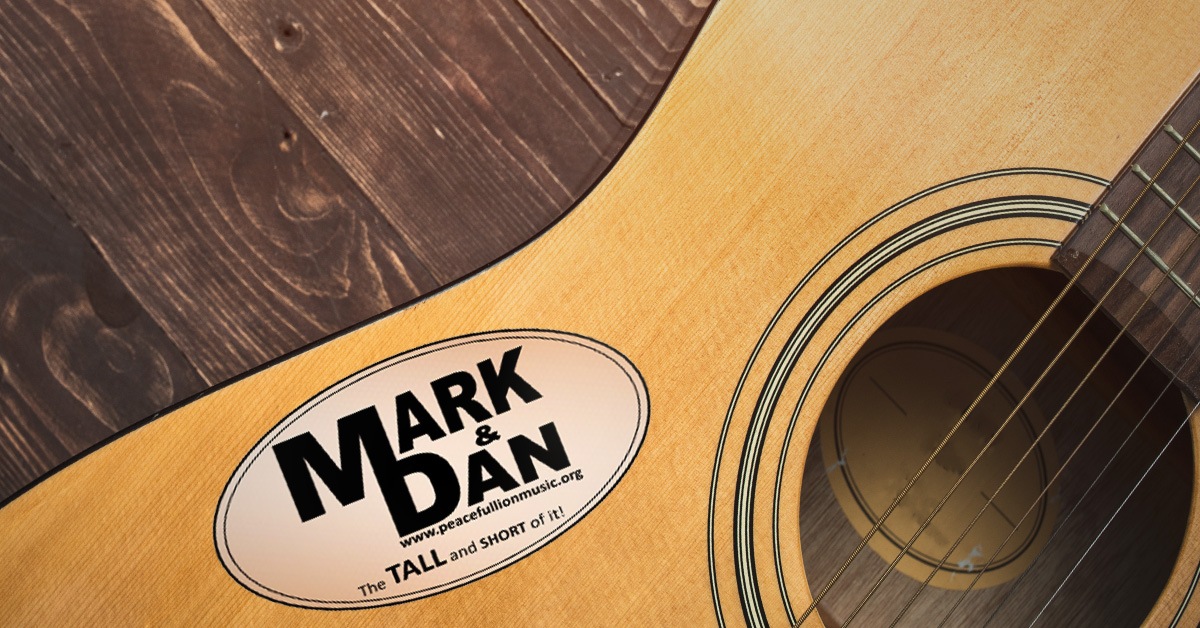 UStory
UStory: Mark and Dan Peaceful Lion Music
A musician can feel empty without an audience — a community to back him up. Mark Pacileo of Mark and Dan Peaceful Lion Music had to claw his way towards that goal. And after some time, the band has found its place.
So how did they do it? To answer that, we'd have to take a few steps back and discover how the band came to be.
Peaceful Lion Music consists of Mark Pacileo and Dan Calabrese, an acoustic duo performing in and around Edinboro, PA.
Mark originally started as a solo performer after retiring from teaching. The newfound freedom from the daily grind gave Mark a chance to pursue a new path. "I started playing by myself originally," says Mark. "[I] set up everything as Peaceful Lion Music, which is the actual translation of my name (Pacileo) from Italian."
It wasn't long before he was joined by Dan, a fellow church musician. On one of their gigs, the two were introduced as Mark and Dan and the name stuck with people. Since then, they were Mark and Dan Peaceful Lion Music.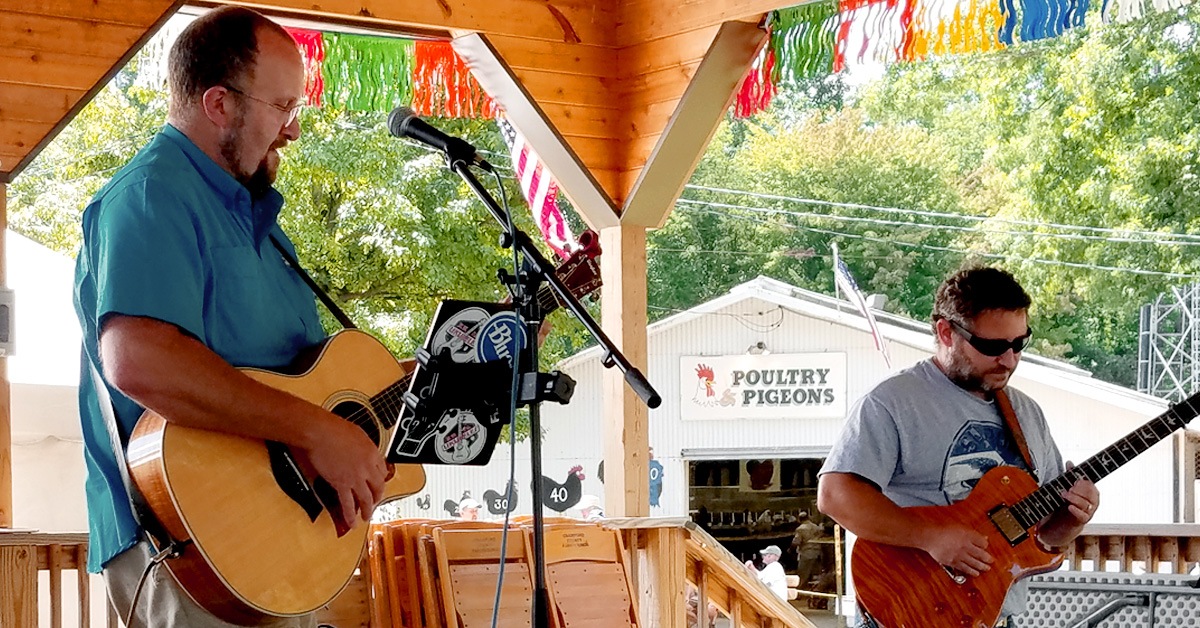 Mark Pacileo on the left with Dan Calabrese on the right.
Family-Friendly Music
The group does covers and occasionally throw in a few originals here and there. They advertise themselves as "family friendly", meaning parents can bring their kids along and enjoy a profanity-free set.
"When people ask us what kind of music we play, I usually say, 'Songs that I like!'… We always put our own spin and interpretation on every song we play and like to keep a clean, simple sound."
Mark and Dan, like any musician, will play where they are welcomed. As of late, the duo had found bookings in breweries and wineries. It's a welcome change of pace and they find that the experience is more their speed. As Mark puts it:
"We do a lot of happy hours around the area and enjoy playing at the wineries and breweries. I really enjoy playing benefits around the area."
Performing for No One
I've often felt bad for musicians who have to soldier on and continue performing despite having no one pay attention. But that's the reality for most musicians like Mark and Dan. Not every gig is what Hollywood has made it out to be. "The times that have stuck out the most are the times when we felt we weren't connecting with the people," says Mark.
But one night stood out for him.
"We played 3 hours to mostly the backs of people sitting at the bar… The neat thing was… even though they acted like we weren't even there, they stayed and listened and we kept them there until we were done."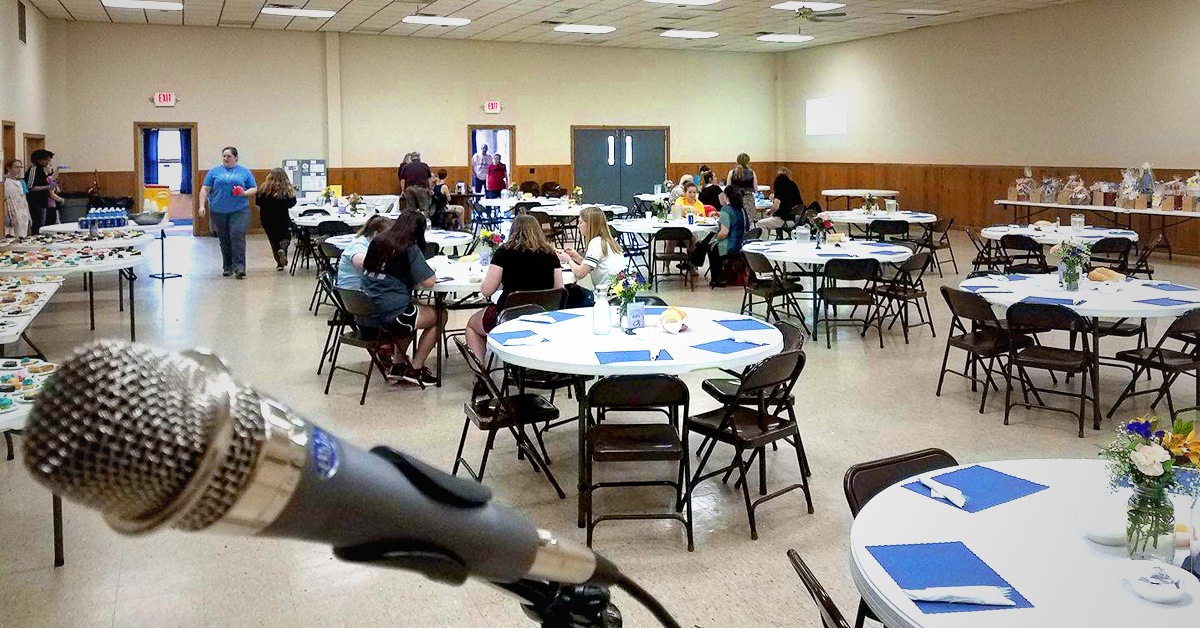 A view from Mark's standpoint
I guess the trick is to play your hearts out even if nobody seems to care. Because a performer will always connect with the audience when they stand on stage exuding confidence. Talent will always shine through a tough crowd.
"[We were] getting little to no applause between the songs and again wondered if we were connecting… [The waitress] commented how much everyone seemed to like us because of the applause… Those times showed me, regardless of [the] size of the crowd or the clapping, always play like you have ten thousand people cheering wildly for you."
Always play like you have ten thousand people cheering for you. - Mark Pacileo
Click To Tweet
The Pain of Rejection
There are certain periods when getting booked becomes a real challenge. For Mark and Dan Peaceful Lion Music, it's one of their major pain points.
"My biggest challenge is what I call my monthly time of rejection, ego deflation and loss of self-esteem… I don't have the salesman gene so I am always pushing myself to get out there… and sell the product that is Mark and Dan."
But should you find yourself in a similar situation to Mike's, always remember to keep pushing forward. It will all come to pass.
"I had to [remind myself] that this is a journey and not a destination. I did meet my booking goals for this year, so I am pleased about that."
As for practical advice for anyone who's dreaming of making it big and become full-time musicians themselves, Mark had this to say:
"Good luck! I think I know two or three local musicians who support themselves through music alone. Fortunately, both Dan and I have other sources of income which takes the pressure off of us… If you were to do it full time, you have to be disciplined with your time and money."
Stickers: Binding The Music Community
Peaceful Lion Music, through sheer talent and hard work, was able to gain the respect of the music community. And you know what else helped: Band stickers.
"We have the stickers out at every gig for folks to take… A few of the venues put up band stickers. I like that it makes us feel like we are part of the music community."
I like how (stickers) make us feel like we're part of the music community. - Mark Pacileo
Click To Tweet
Did you know you can also use band stickers to mark your equipment? "It also serves as a great way to label our equipment and that also helps promote us", Dan explains.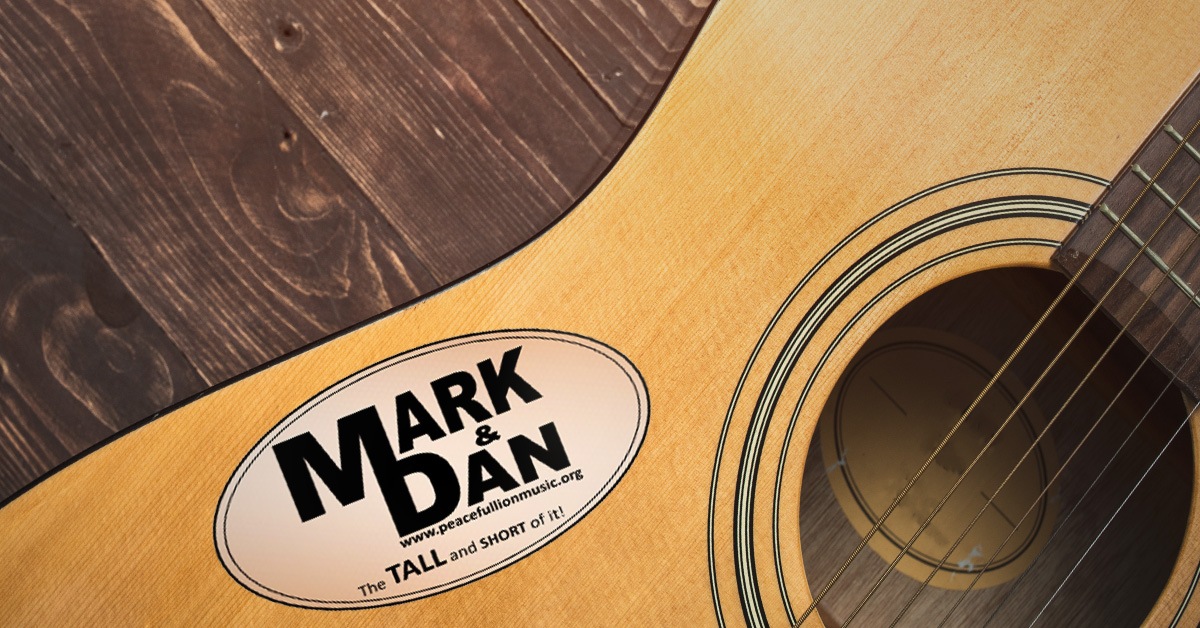 Mark and Dan's UPrinting Stickers
Mark is happy working with UPrinting and was amazed by how the stickers turned out. "You folks did great work at a great price and were very quick with the shipping", says Mark. "I am surprised when I talk to other musicians who have stickers and hear how much they paid for their stickers."
Print your very own band stickers at UPrinting
Final Thoughts
Mark and Dan Peaceful Lion Music was not afraid to follow their passion. Even later in life, people can pursue their dreams and make them a reality. The two have an intense passion for what they do and are quickly carving a space in the music industry.
"One of the side benefits of becoming a gigging musician is the music community I've become a part of. I have met some really great people along the way. People who love music and are more interested in promoting music in the community than promoting themselves."
Do you have a UPrinting story to share? Tell us! Email us at blog@uprinting.com
Learn more about Mark and Dan Peaceful Lion Music on Facebook (@peacefullionmusic).
Rafael is a writer for UPrinting and has spent years creating articles about online printing. If you're weirdly obsessed with print product design just like he is, you should definitely follow his work.
Outside of work, Rafael likes lying on his couch and getting the most out of his Netflix subscription.