Design
Panel Canvas Prints: Good Things Come in Threes
"A set of three," it's a common expression, but why? In interior design, grouping like items together into groups of three is a tactic intended to create both impact and balance. The evenly weighted grouping is both eye-catching and aesthetically pleasing.
Using Panel Canvas Prints to Make Your Own Sets
With UPrinting, you can use our affordable panel Canvas Prints to make your own custom artwork sets. With prices starting at just over $70 for an 11" x 14" mounted print, you can create art for your walls that's both contemporary and personal. But where do you start? Well, with canvas print sets, there are typically three types of groupings: series, themes and continuations. Here are some examples:
Series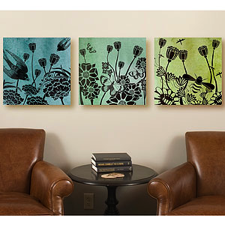 This series of prints groups together three different images in three different colors that are all connected as part of a series. The style is consistent, as are the tulip heads that appear in each image.
Theme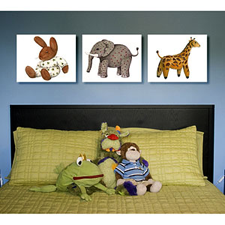 Like a series, each of these images is clearly done in the same style. But, each one is different from the other, though they all fall into the same theme. In this case, the theme is illustrations of stuffed animals – a darling choice for a child's bedroom.
Continuations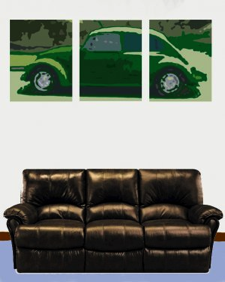 Here is one image spread out over three canvases, it's a continuation. The effect is both unique and eye-catching. Splitting an image up into three files can easily be done in most image editing programs. However, if you need help, simply give us a call at 1-888-888-4211 and we'd be happy to either walk you through the process or assist you in prepping your images for Canvas Printing.
Mounted panel canvas prints are available in six different standard sizes up to 24" x 36." We also offer free 3-business day turnaround and affordable, but fast shipping options. Please visit https://www.uprinting.com/Gallery-Wrap-Canvas-Posters.html for more information.
Comments