News
UPrinting News
UPrinting Promos
Low-Cost Printing News: New Postal Incentive for Bulk Mail Senders
Looking for bargain printing deals? UPrinting has great online printing services that are easy on the pocket all year round. We've even got some discount promos right now for our most popular products. And since we just got word of another promo you can use with ours, we just had to let you know. It's a chance you mustn't miss out on: save a bundle with two promos in one go!
30% Off USPS Postage + 30% Off UPrinting Postcards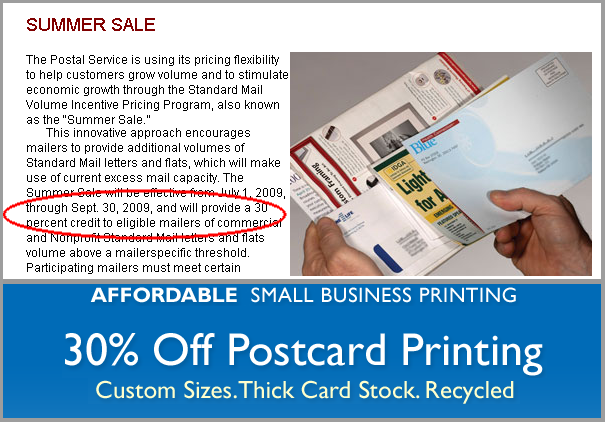 Starting on July 01st, 2009, the USPS launched its new incentive program for high-volume mail senders. Officially called the "Summer Sale," the program lets you get a 30% rebate back on postage costs spent over a certain time period.
To qualify for the rebate, you must:
Be the owner of a permit imprint and advance deposit account, or own a deposit account through a mail service provider.
Have mailed a minimum of one million direct mail pieces between Oct 01st, 2007 and Mar 31st, 2008.
If you qualify, you should have received a letter from USPS indicating your status. If you qualify, but haven't received your letter, you can drop them an email at summersale@usps.gov.
Save even more money on your direct mail costs by opting for our affordable printing packages! Right now, we're offering 30% off postcard printing and that includes custom sizes done on thick, recycled card stock. You can order 1,000 4×6" cards for as little as $40, which is incredibly low-priced printing any way you slice it.
Hurry though, because this 30% off deal is only good until July 31st, 2009!
Comments