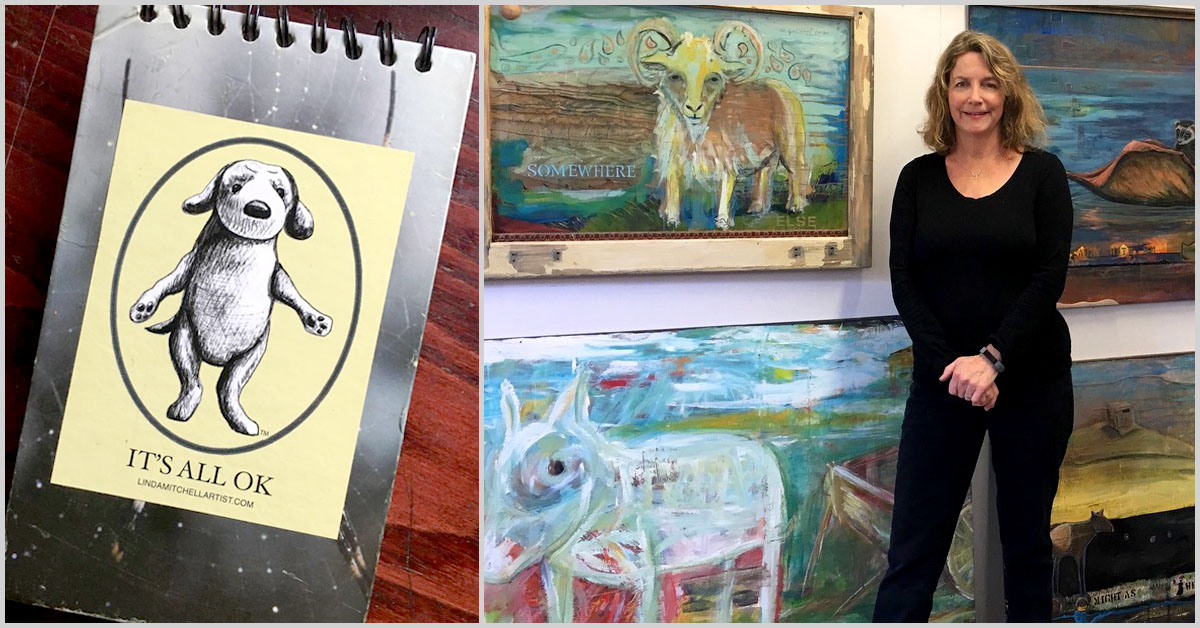 UStory
UStory: Linda Mitchell Art
We all toyed with the idea of becoming artists when we were kids. But only a handful was brave enough to follow through and live out that dream. Linda Mitchell is one of the luckier ones.
Miss Art
Linda Mitchell's journey started at a very young age. She always made it a point to draw or paint something, earning her the nickname "Miss Art" from her sister.
The need to create followed her all the way to college and graduate school where she studied—you guessed it—art.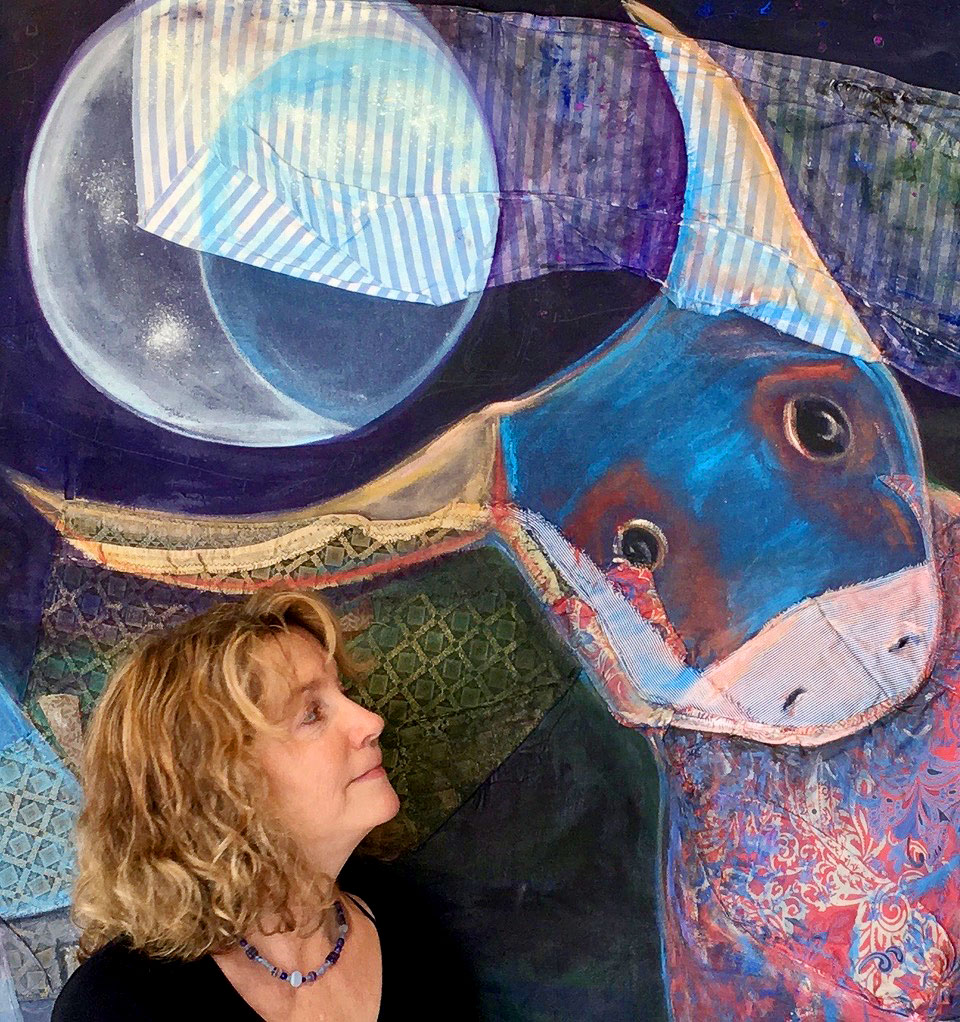 Today, Linda's works can be found in exhibits for everyone to see. "I have been exhibiting my work in galleries and museums for the past 30+ years," Linda shares. "And this year, I wanted to bring my art to everyone, so I began leaving free art everywhere I go – hoping to spread positivity to my world."
Telling Your Story
You'll find a common theme throughout Linda's artwork. The use of animals is hard to ignore as they are the focal point of each painting. So I just had to ask Linda about her inspiration.
"I find my own personal truths by using animal figures to tell my stories. I paint and sculpt both real and imagined creatures and find them to be compelling surrogates for human beings and their emotional lives."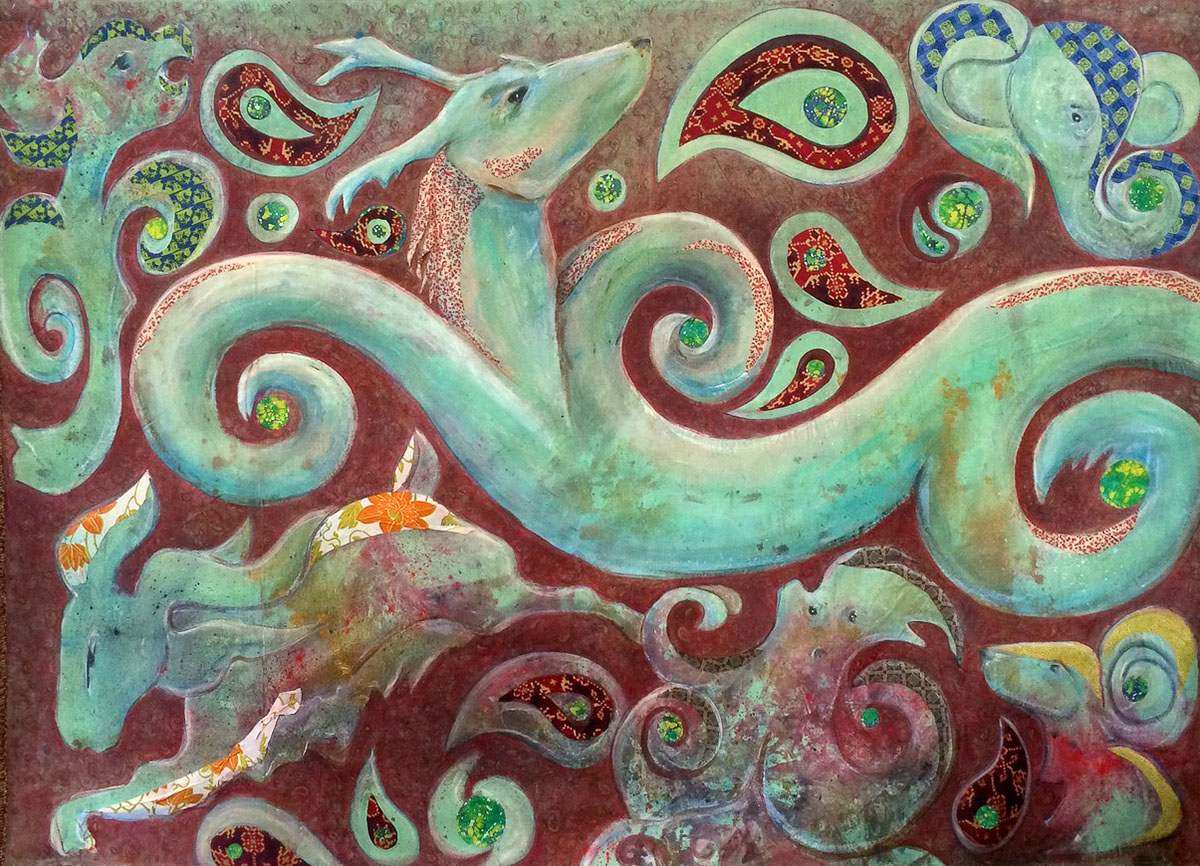 Linda further explains.
"I find the variety of shape, size, color, and pattern to be most enjoyable to depict. I also use the inherent traits of the beasts to portray genuine emotion and personality. I appreciate the sincerity and lack of guile in the animal kingdom."
The Painting Process
My conversation with Linda revealed something interesting: the idea that painting is a delicate dance between proper planning and spontaneity.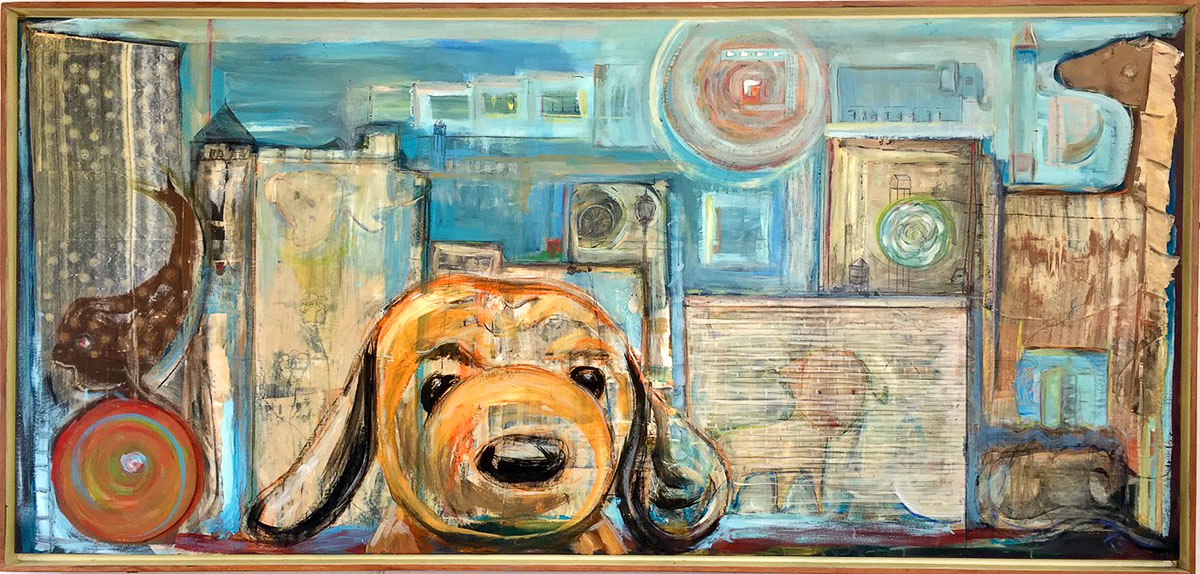 An artist needs proper planning because works of art, especially larger pieces, require forethought to execute effectively.
"After 30+ years of creating, my process has become much more intuitive. If I am creating a large installation or painting, I work on concept and logistics beforehand."
But when it comes to the art itself, Linda tends to let spontaneity take over.
"I start with a process I call 'Embrace the Messy.' It involves throwing paint and pigment on a surface, spraying with water, and seeing where the suggested imagery leads me. These days, I am much more into letting the universe and the creative process take over and just going along for the ride."
Fight for Your Dreams
Being an artist is no cakewalk. When times are tough, you should be ready to step up your game to survive. Artists like Linda are unable to live on art sales alone. That's why they find ways to supplement their income.
"The biggest challenges of being an artist are money and diligence. To support myself and my work, I have had jobs as [a] waitress, graphic designer, and teacher."
And that is why some artists understandably don't make it far. But there's no stopping Linda Mitchell Art.
"Sometimes it is hard to keep producing when you are not selling, showing or progressing in your work. I think many people give up on being an artist when there is no external validation. I need art in my life, so could never give it up."
Sticker Therapy With UPrinting
Linda enjoys the creative process which is why being an artist never feels like work. She likes spreading her work with as many people as she can. And Linda's UPrinting stickers are the perfect medium to spread her message.
"UPrinting has done an excellent job printing my stickers. I have developed a new concept, which I call 'sticker therapy' to help me and others with some difficult issues in life. When life hands me lemons, I make stickers!"
I have developed a new concept, which I call 'sticker therapy' to help me and others with some difficult issues in life. When life hands me lemons, I make stickers! --@LindaMitchell5
Click To Tweet
Print your own stickers.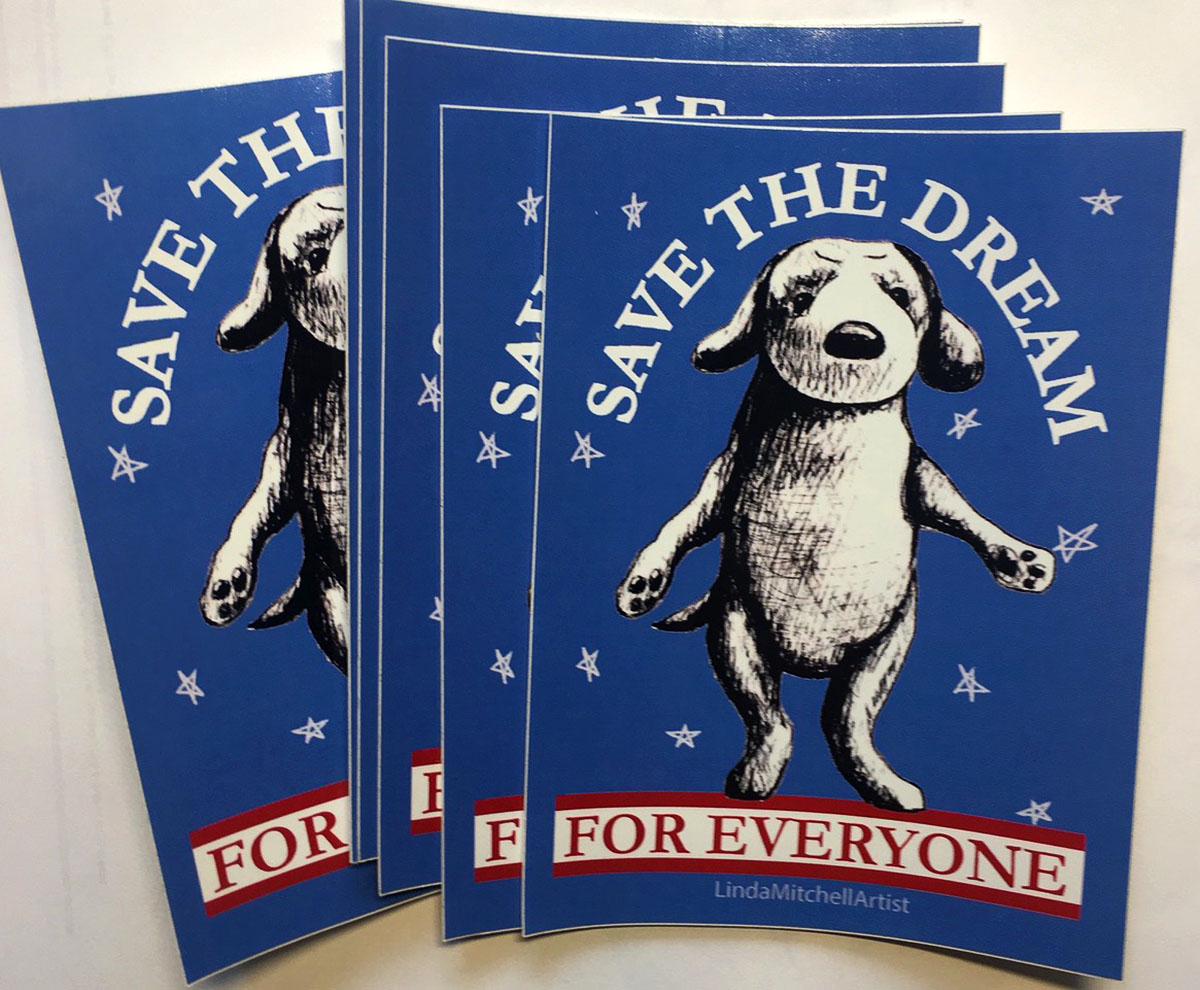 Linda used her stickers to spread cheer and positivity. She wanted to let everyone know that despite trying times, it's all going to be okay. Pupper—one of Linda's many creations—became a mascot of sorts, being a constant fixture in her inspirational stickers.
"I decided to make a sticker that would bring some positive energy to the world. I designed my first sticker, 'It's All Okay', using my Pupper image… I found it necessary to create the 'Save the Dream for Women' sticker with a female Pupper to give out at the Atlanta Women's March [2017]. As far as my work and stickers [goes], I'm a firm believer that art can save the world!"
As far as my work and stickers, I'm a firm believer that art can save the world! - Linda Mitchell
Click To Tweet
Words of Wisdom
Linda Mitchell Art is here to stay. Not only does Linda enjoy her work, but she also loves being an art teacher and being able to ignite the spark of creativity in young people.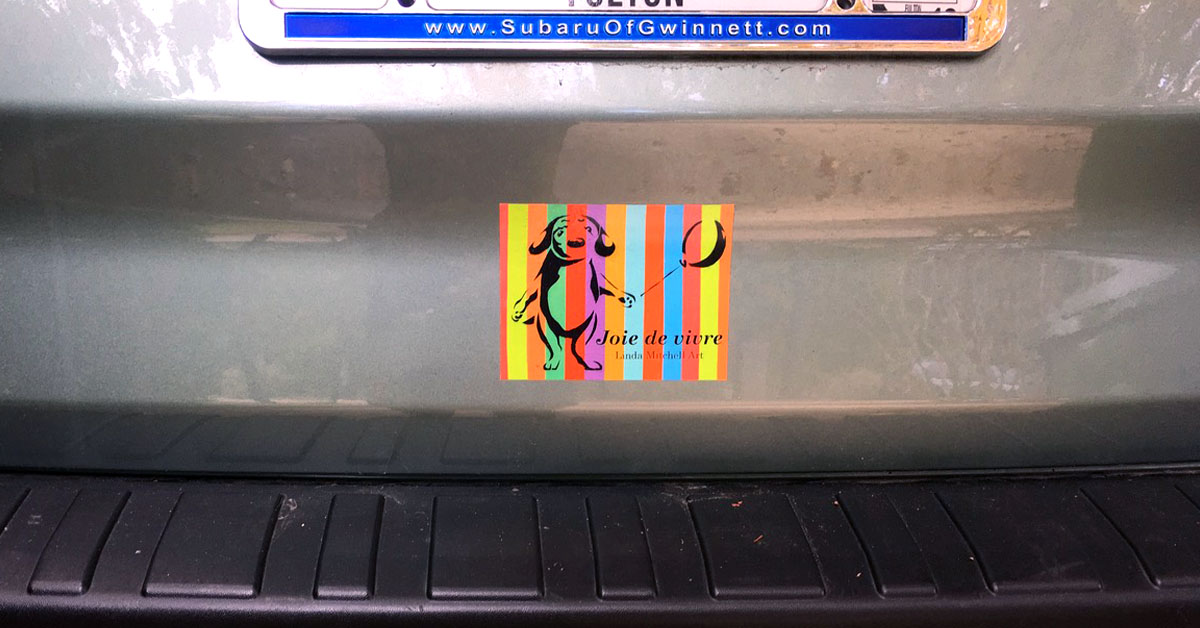 Asked what advice she could share with emerging artists, Linda had this to say.
"My advice to other artists is to show up, make some art, show up tomorrow, make more art, and so on. You will find your way if you don't give up. "

Learn more about Linda Mitchell Art on social media.

Facebook – @Lindamitchellart
Twitter – @LindaMitchell5
Instagram – @lindamitchellart
Do you have a UPrinting story to share? Tell us! Email us at blog@uprinting.com
Rafael is a writer for UPrinting and has spent years creating articles about online printing. If you're weirdly obsessed with print product design just like he is, you should definitely follow his work.
Outside of work, Rafael likes lying on his couch and getting the most out of his Netflix subscription.