Design
Japan Earthquake Posters: Remembering How the World Reached Out to Tōhoku
On March 11th, 2011, Japan was hit by the most powerful earthquake in at least 100 years at 8.9 magnitude, the fifth largest in history. The earthquake triggered powerful tsunami waves that reached heights of up to 40.5 meters. As if the devastation caused by the earthquake and tsunami weren't enough, the following day, a reactor at the Fukushima Daiichi Nuclear Power Plant melted, exploded, and released radioactivity into the atmosphere.
People from a variety of backgrounds in all parts of the world worked together to help Japan recuperate from this triple disaster. The design world was definitely in the middle of the action, as this post will aim to demonstrate. To commemorate the anniversary of this tragedy, remind us of the uncertainty of life, as well as celebrate the goodwill of our fellow people all over the world at the same time, here's a compilation of earthquake posters, canvas prints, silkscreen prints, and the like (as well as links to efforts/exhibitions that encouraged their creation) made to benefit Japan during that difficult time.
Japan Earthquake Relief Efforts, Powered by Design
The following posters are a collection of prints that may be available for purchase or submitted as part of exhibitions to benefit relief efforts. Check the descriptions and links below each image to learn more about them.
Adam Chang – Japan Earthquake Relief Series Print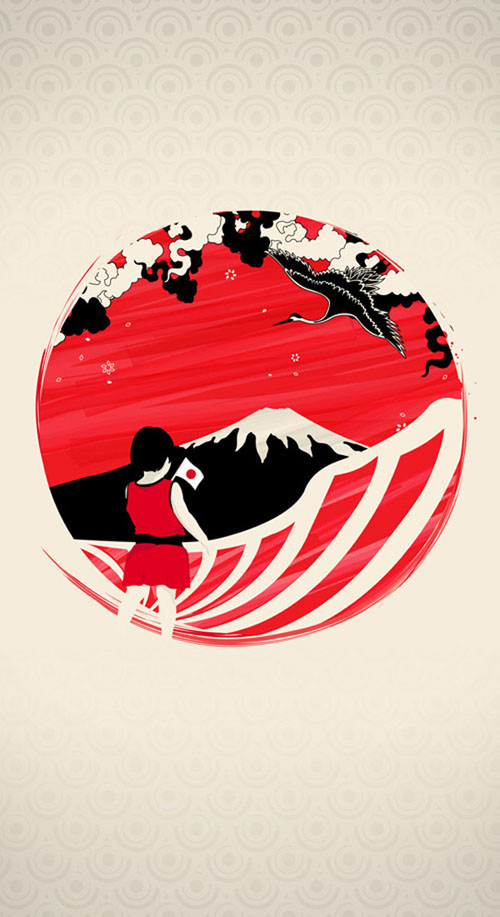 This is one of a series of posters The Poster Cause Project is selling, with 75% of profits allocated to support the Doctors Without Borders earthquake and disaster relief efforts for Japan.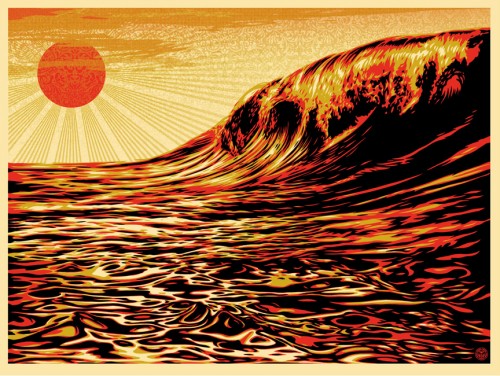 This is a variation of Shepard Fairey's original
Dark Wave
made in response to the tragedies created by the tsunami in Japan. Profits from this screen print will go to the Japanese Red Cross.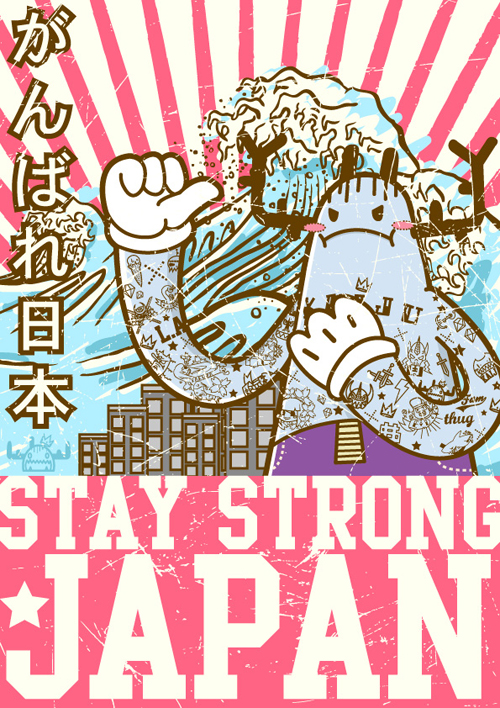 This print is available for purchase from DeviantArt, made available independently by the artist.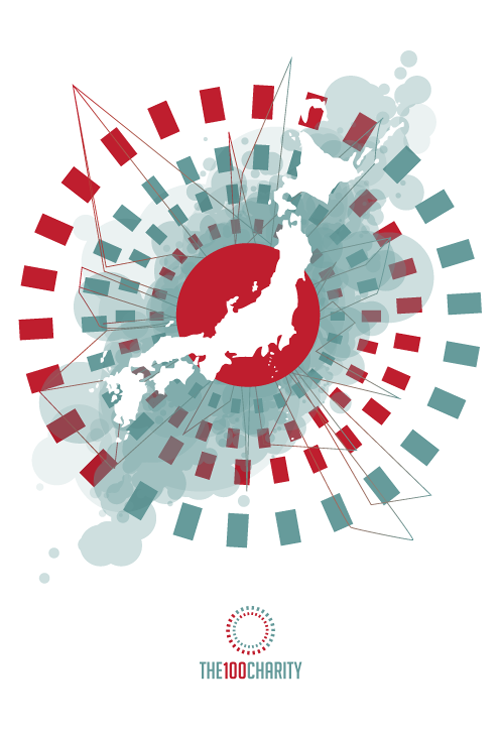 The 100 Charity is Peter Gutierrez's personal project. All the money made will be donated to the American Red Cross for Earthquake/Tsunami Relief in Japan.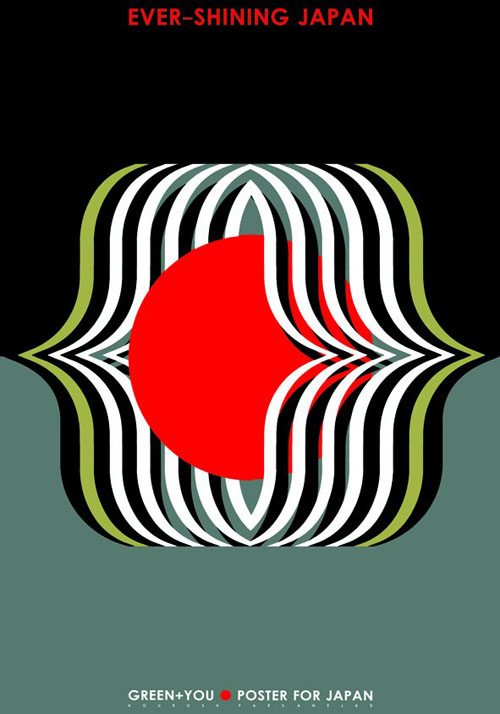 This is a contribution to an independent South Korean nonprofit called Green+You's Japan earthquake initiative. More designs are available in the Green+You: Posters for Japan open Facebook group (around 2,000 submitted photos) and this
web poster exhibition
.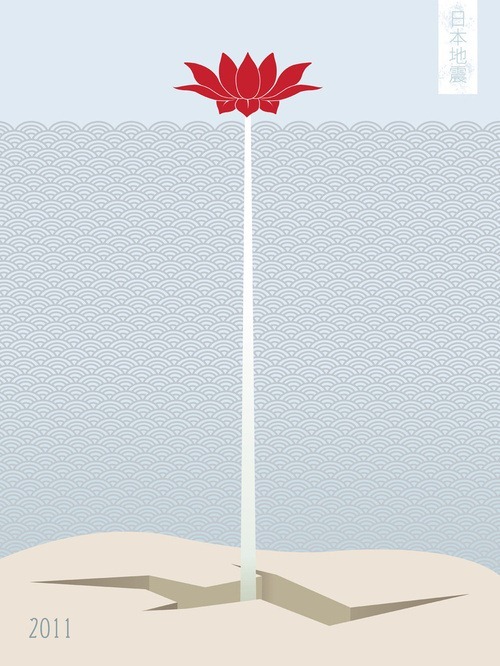 In the creator's own words, this poster represents the resilience of the Japanese people. The lotus symbolises birth and rebirth, and the red lotus in particular represents love, compassion, and passion.
Linda Nakanishi also organized To Japan with Love, all proceeds from which were donated to the Canadian Red Cross.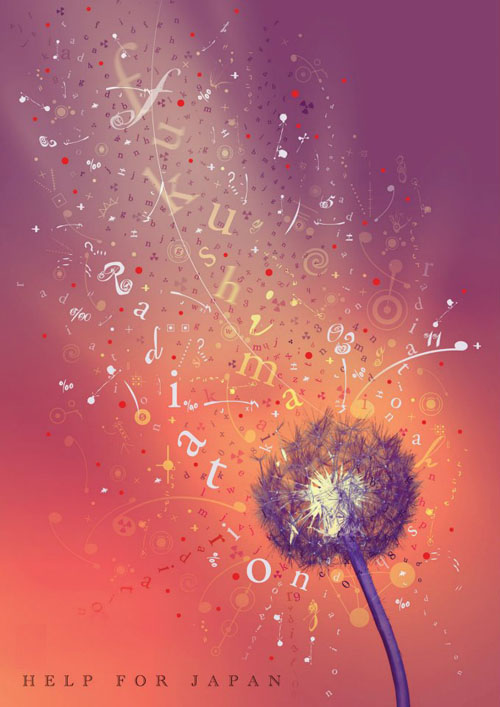 This is one of the 100 selected best posters from
Project Sunshine for Japan
, a group of artists, graphic designers, and art connoisseurs who have organized international poster competitions and auctions to raise money for donations to the Red Cross.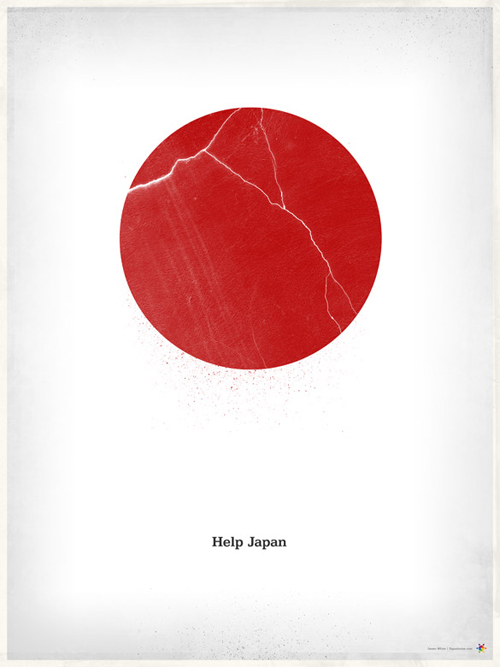 James White, aka
Signalnoise
, also donates proceeds from sales of this poster to the Canadian Red Cross.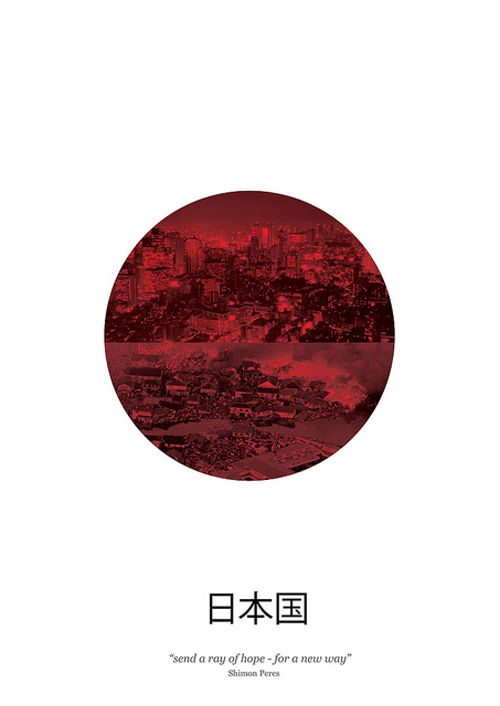 This was one of the featured posters in an exhibition called
Designers Love Japan
organized by Designed.rs. 20 out of 275 submitted works were chosen for the exhibit. Proceeds were to benefit the Red Cross of Serbia, which has facilitated financial assistance to Japan amounting to approximately $1,600,000.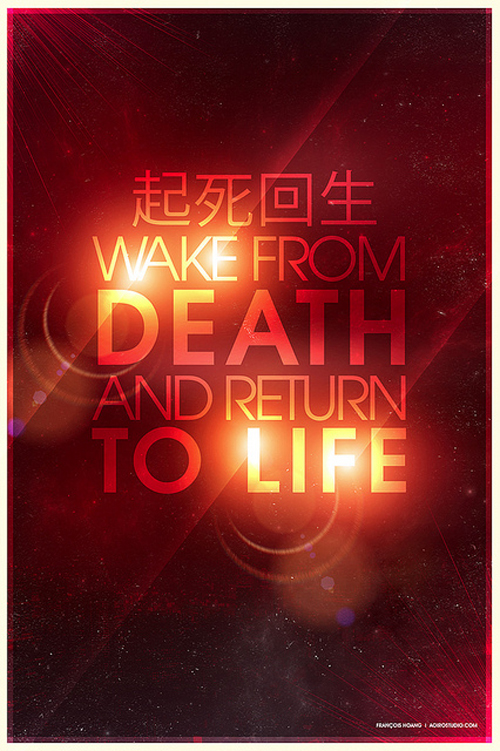 This is available as a poster print at the
Aorio Studio online store
. "Wake from Death and Return to Life" is inspired by a Japanese expression, "kishi kaisei", which means "to come out of a desperate situation and make a complete return in one sudden burst."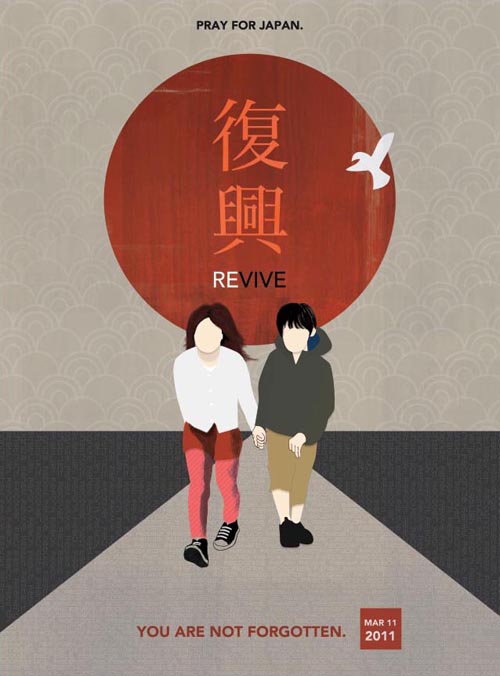 The first version of a poster for a Japan benefit art show.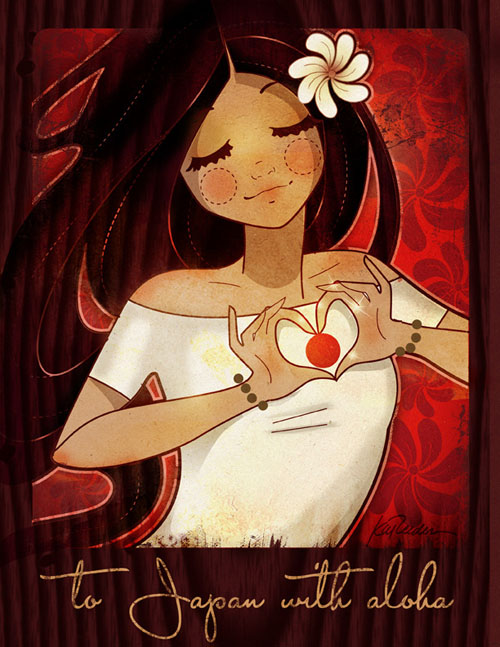 A tribute design with a decidedly Hawaiian twist. Proceeds also go to Red Cross.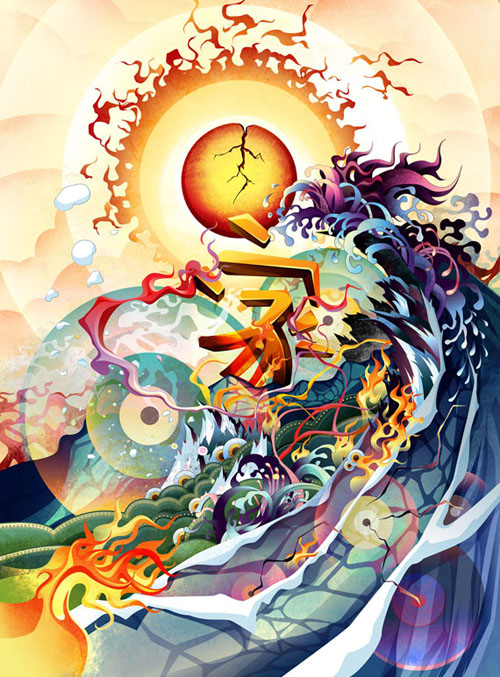 Aside from this poster being available for purchase at
Society6
, it's also downloadable for free in several sizes, so you can use it for your iPad or iPhone too.
These next posters may or may not be available for purchase or submitted as part of competitions or exhibitions to support Japan, but are heartfelt expressions of the desire to help as creative people all the same.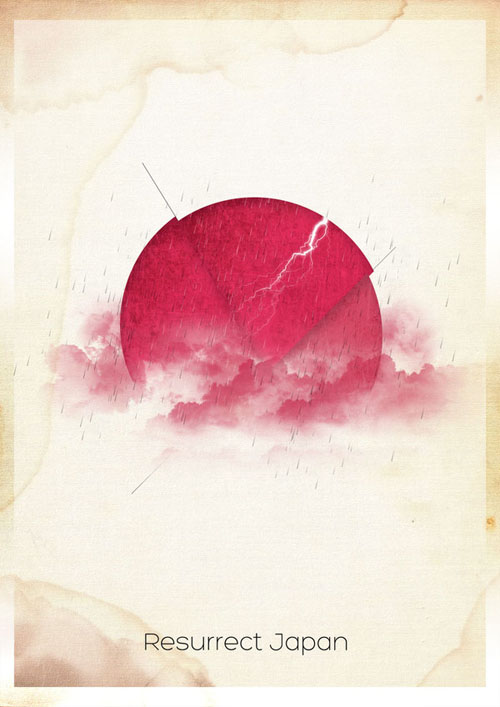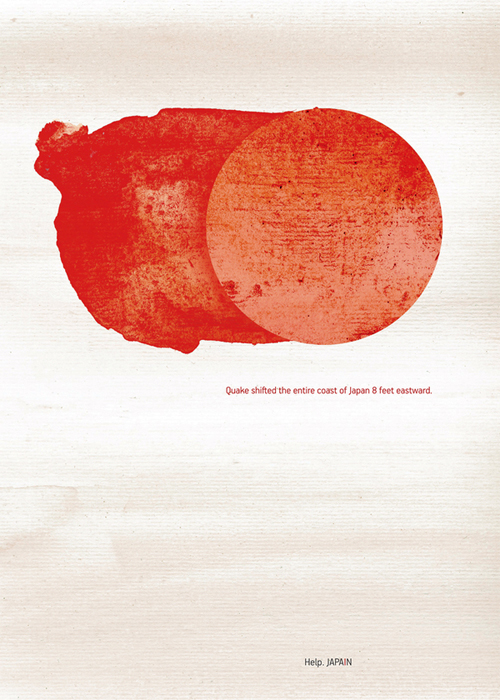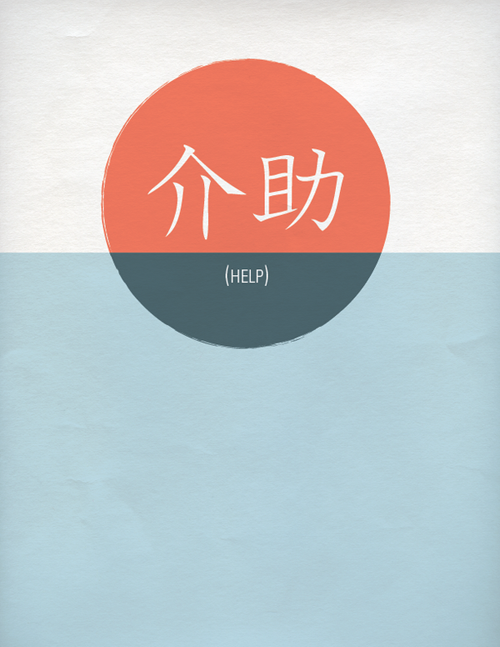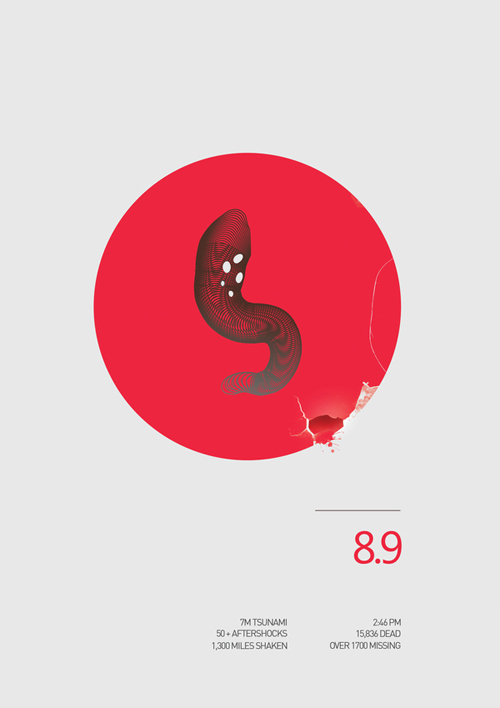 This is one of a series of posters Muhammad Haroon designed based on various major earthquakes around the globe. He designed artificial characters that act like living organisms, portrayed them as symbols of fear and danger, and named them after the magnitude of the earthquakes they were inspired from.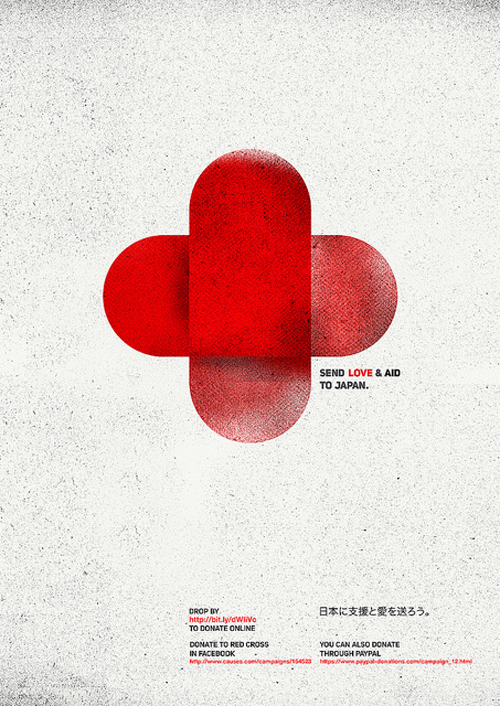 Twistedfork / Dan Matutina created this poster illustration to inform people how to donate.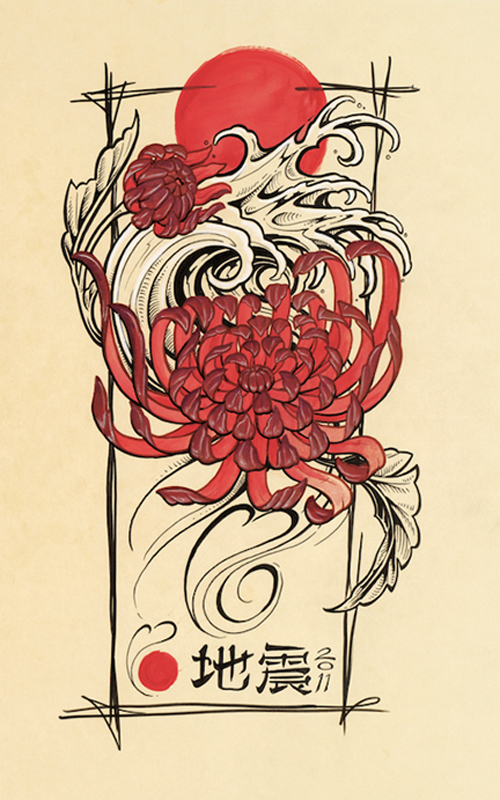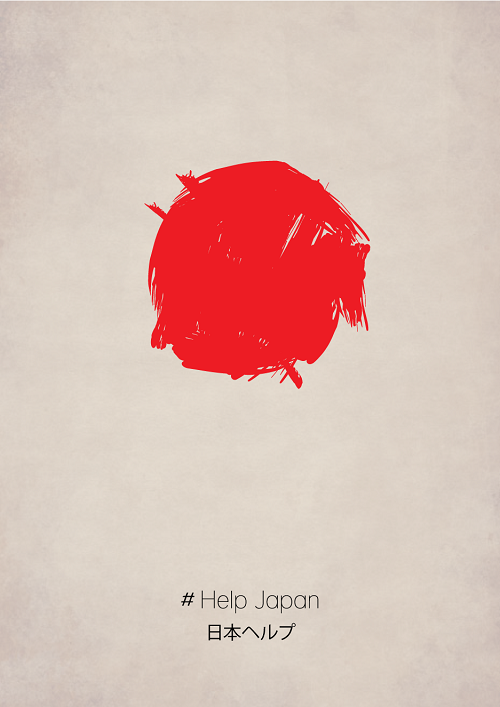 To wrap this collection up, here's a video exhibiting a collection of posters made for the relief effort, with directions on how to help at the end. (If you're reading this post via RSS, you'll have to go to the post page to see and play the video.)
Japan Earthquake Relief Posters from Overcup Press on Vimeo.
Past posts on other blogs that documented the staggering amount of art being created to support Japan mere days (or even hours) after the disasters occurred can be found on Abduzeedo, Inspiredology, AIGA Houston, and Neversaycool.
For more poster designs, check out this series of tribute designs on Dribbble.
In case you're seeing all this cynically, I also found an interesting post commenting on possible accidental insensitivity, as well as potential underlying motives of increasing sales and improving branding, by initiatives like these at the time on The World of Y.
The beauty of having art that supports a cause is that you have a way of remembering the event even after everyone else has forgotten about it. It may be true that it would benefit the victims of this disaster better if we skipped making these designs and just gave our money. But what about those who wouldn't? And what about the victims themselves, who need more than just our money, but also encouragement and messages of hope from others who genuinely care but may not be able to contribute much except for making design that promotes awareness and informs other people how to help instead?
If you know of other related designs or artwork, feel free to share them with the other readers in the comments.