Design
Interview With Mauro Ramalho
Mauro Ramalho is a Brazilian Art Director based in San Francisco. Before coming to United States, Mauro Ramalho worked in São Paulo, Brazil, for agencies like Mccann Erickson and AgenciaClick. After that, he was invited to go to Toronto, Canada to work at Organic.
At the start of this year, Mauro Ramalho started at AKQA – San Francisco. Up till now, he has worked for clients such as: Coca-Cola, MSN, McDonalds, Sprite, Xbox 360, Jeep, Dodge, Chrysler, Adidas, General Motors, and many others.
How many years have you been a designer?
Professionally for 8 years. But I can say that all my life I lived beside a woman that helped in so many different ways. My mother, was a painter and It was wonderful to share her experiences within the Art Direction/design world.
What inspired you to become a designer?
The Internet literally opened up a world of new ideas and new thinking, and most importantly, more ways of sharing those ideas with people you would never had been exposed to before. It's a big, new collaborative space to play in, and that community aspect has influenced the real world as much as the online world.
Billboards, games, mobile, video, and so much more has become interactive in ways we could not have even imagined. I believe, all this interactivity inspired me a lot and kept inspiring to achieve the best design every day.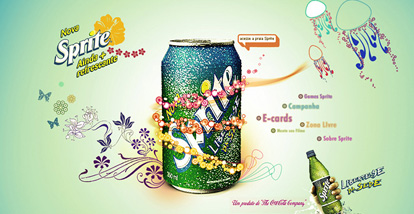 What is our favorite aspect about your career?
One point that is interesting about my career and it's something that I always pursued is the fact that you have to get beyond the expected, and really think about new ways of approaching every little thing you do. For each project I like to try and come up with a new unexpected technique, to push the boundaries and move beyond my familiar comfort zone.
That is how good ideas can become great executions: When everything comes together, including different color palettes, typographical exploration, etc. It's all about trying something new, and most importantly, having fun.
What is the coolest project you ever worked on?
That's a tough question. We designers get so passionate about each project that we're taking care of, almost like a child that's it's difficult to say which one is cooler than other. I would say that the launching of XBOX 360 in Brazil last year was gratifying.
The whole team was focused on the best results and I as a creative had the opportunity to design not only for internet but for billboards, mobile, magazine, projections on buildings, cinema and TV as well. Another interesting aspect was the idea of coming up with a new character for the campaign called "Element X". Imagine all the effort it took to create all his graphics, personality and attitudes. It was amazing!
The campaign was a national success: 617 thousand individual users, 35 thousand daily hits, 98 videos created by users on YouTube, 25 thousand hits to the profile of Element X on Flickr.
Do you think the field of graphic design is becoming more competitive?
I wouldn't say more competitive, I would say more interesting and rich. With new designers coming up every year, it's obvious that experienced designers have to think beyond the trivial. But that's what motivates me, have to reinvent the wheel every day and always surprise the clients with fresh and cool ideas.
If so, what advice could you give to aspiring designers?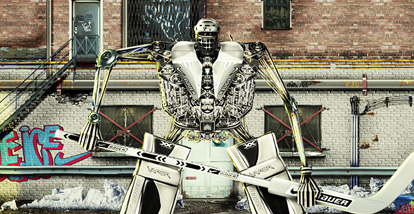 Remember that technique that you believed wouldn't work and you saw a friend that made it really well? Next time, do it! You may end up with a not so good solution, but at least you tried.
What do you think is the best way for a designer to find new clients?
Be creative and rock on the projects that you already have. New clients and future projects will be consequence of these amazing works.
Can you think of any important business tips a designer should know?
Be a designer is one of those professions that you have to immerse in culture. That's where your ideas come from. In a meeting it's always good to know what's new on TV, what's the latest technology, why the war in Iraq happened, even who is the most pop singer of 2008. Filling the client with information will give you a huge platform to work with and you will feel naturally comfortable.
How often should a designer's portfolio be updated?
I would say always, but I'm not a good example, since my portfolio is not updated. Don't follow me on that 😉
What do you think is a popular trend in design right now?
New media and mixed media are the most exciting and trend channels in my opinion. In these places you can express yourself in more than one place rather than just magazines and posters.
Any final words of wisdom for designers?
When you get to a higher level never forget to look back and help people who are starting their career.
Visit Mauro Ramalho's Portfolio Site