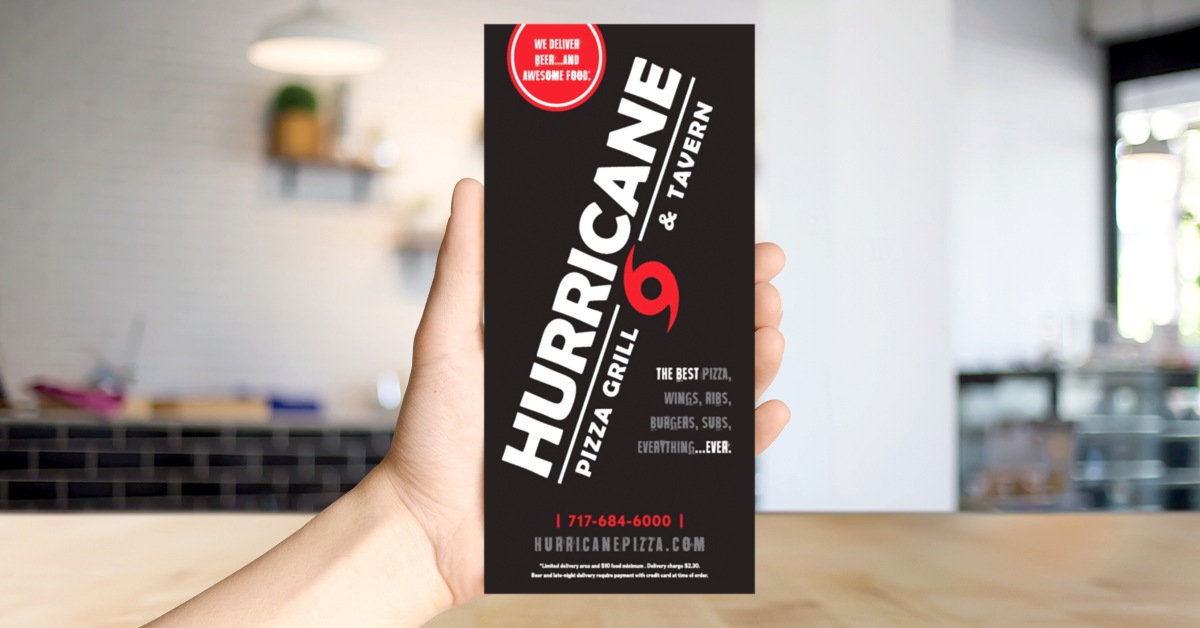 UStory
UStory: Hurricane Pizza Grill and Tavern
Columbia, PA — Drive along Columbia Avenue and you'll find a local favorite, Hurricane Pizza Grill and Tavern. Chris Giffen, owner and all-around fun guy, believes in customers getting their money's worth. Every visit to the restaurant is an adventure waiting to happen.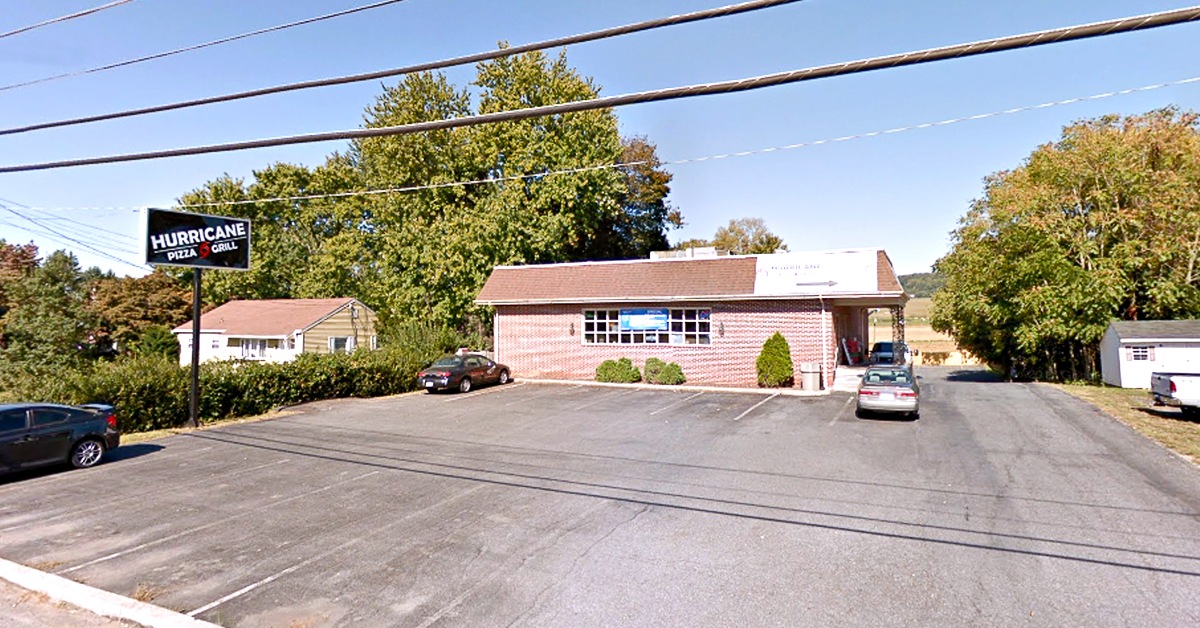 Hurricane Pizza Grill and Tavern from the outside
Chris says it best:
"From bull riding to karaoke and dueling pianos. We like to change things up frequently so the guests don't get bored and we don't get bored. No one can [label us as] a specific type of bar. You just gotta come and see what's going on for yourself!"
How It All Began
Chris and his wife spent decades in the automotive dealership industry. But both of them wanted something more fun and fulfilling. They wanted to run a business where people actually looked forward to dropping by.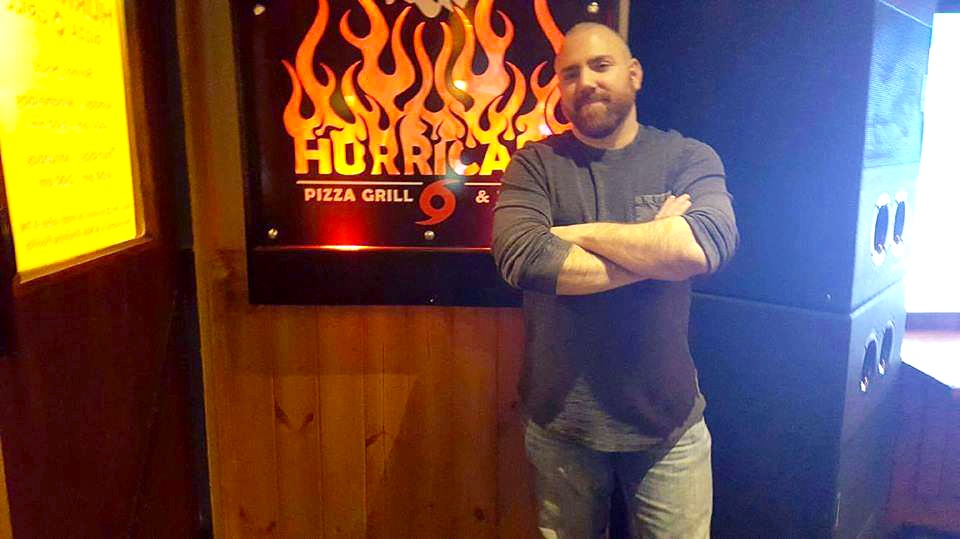 Chris Giffen
One night while having dinner, Chris was looking at restaurant listings online. He was surprised to find the restaurant he was in was up for sale. He called the manager over to ask if it was true. The manager suggested that Chris call them the next day. Before he knew it, Chris was in the restaurant business.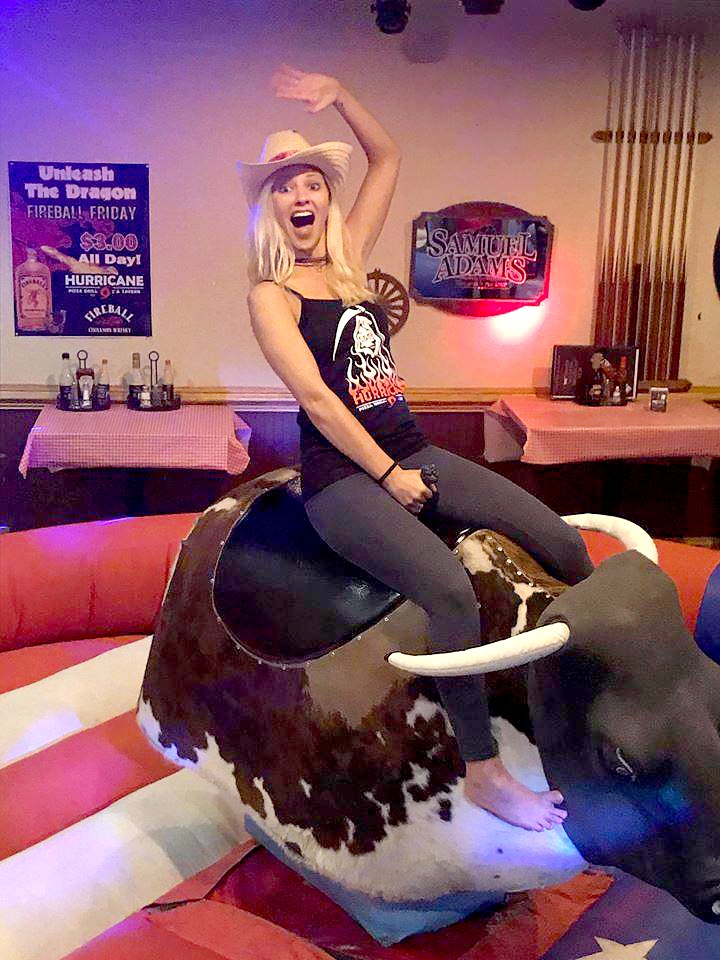 A mechanical bull found its way into the restaurant
A Slice of Reality
Running a restaurant business is no cakewalk. And as Chris learned, not everything will go according to plan.
For starters, the Hurricane Pizza Grill and Tavern was originally set to have a theme. They had to scale back, however, since Columbia, PA (or at least their neck of the woods) isn't exactly a tourist destination. And given that Chris and his wife never ran a business like this before, the idea scared them to no end.
"80% of all restaurants go out of business in their first year… honestly, we were not expecting it to go too well!"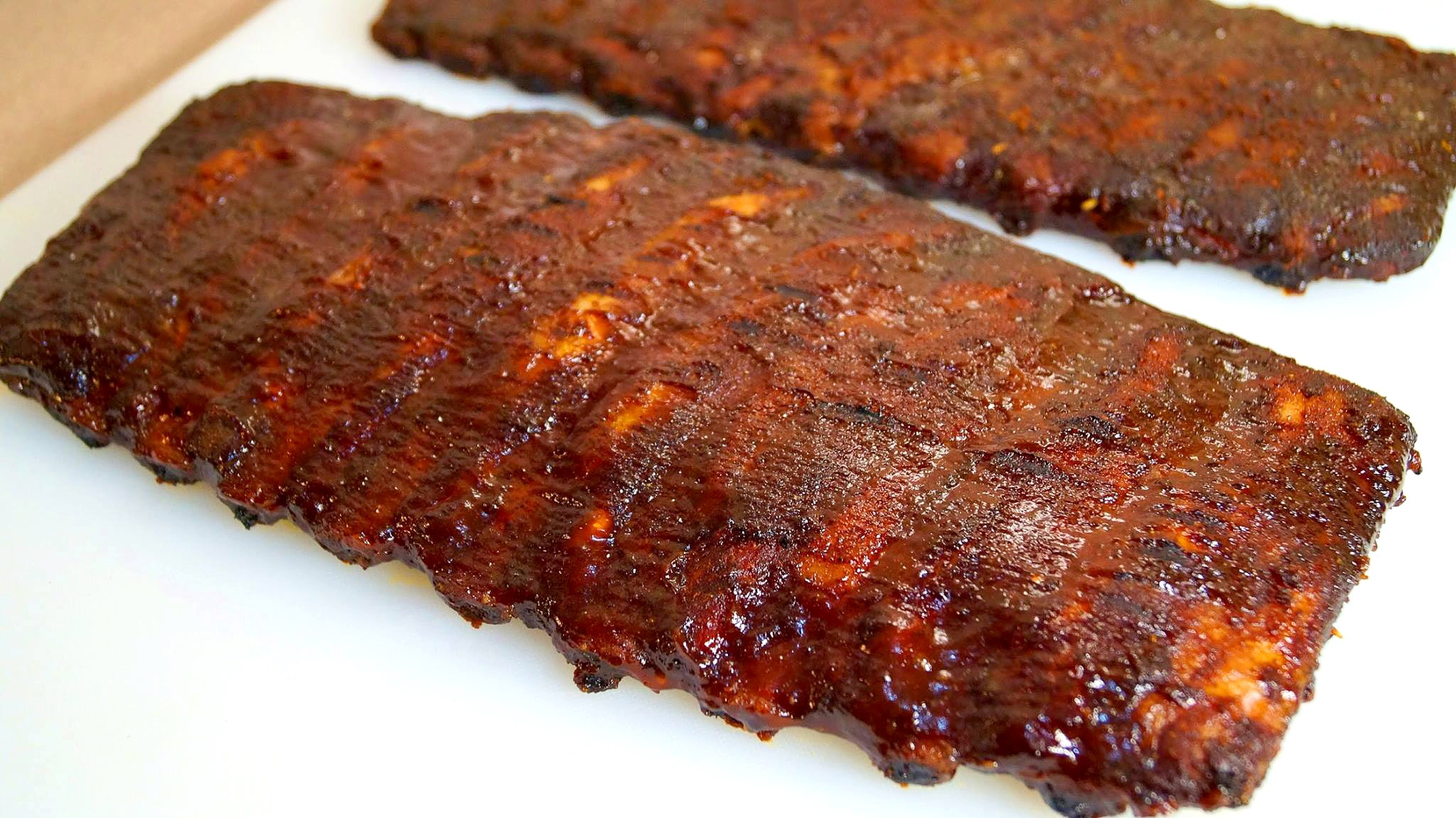 The restaurant's famous ribs
Chris thought that at the very least, he'd have some say in the menu items but even that was met with resistance.
"Originally when I bought the restaurant, I didn't like the fact we were selling ribs at a pizza place so I was going to take it off the menu. The ribs are from a family recipe the previous owner gave to me when I bought the place. The team members and guests revolted against me! LOL!"
It all worked out in the end though. Not only were they voted the Best Ribs in Lancaster in 2016, the ribs remain a crowd favorite to this day.
With Everything on Top
So far you've read that Hurricane serves pizza and ribs but their menu goes way beyond that. They have pasta. They have ribs. They have subs, wraps, burgers, and sandwiches.
"If you think our menu is diverse now, you should have seen it a year ago! We had Mexican food, Greek food. It was like taking a trip around the world!"
Mouth-watering pizza with beer always hit the spot.
Chris says the diverse menu stems from their creative team who find new ways to incorporate the fresh, locally sourced produce they source. This allows them to create exclusive dishes.
"We do our best to have something for everyone. Yet don't spend a lot of time looking for the fringe type of clientele (We're not #1 on the vegan or gluten-free list!)."
Even Chris pitches in — offering his own creation he dubs The Perfect Pineapple. A rum-based drink he's worked on for 10 years and the recipe for which he guards as much as "Sanders guarded his 11 herbs and spices."
The Secret Sauce
Chris knows a thing or two about sauces. He does, after all, sell in-house specialty wing sauces on top of everything else. But what's the secret sauce to running a successful business?
"Hands down this is the easiest question to answer and it will sound so cliche! We have the very best customer service. Turns out the only reason you find poor customer service in restaurants is because the owners or leadership accept it."
The reason you find poor customer service is because the owners accept it.
Click To Tweet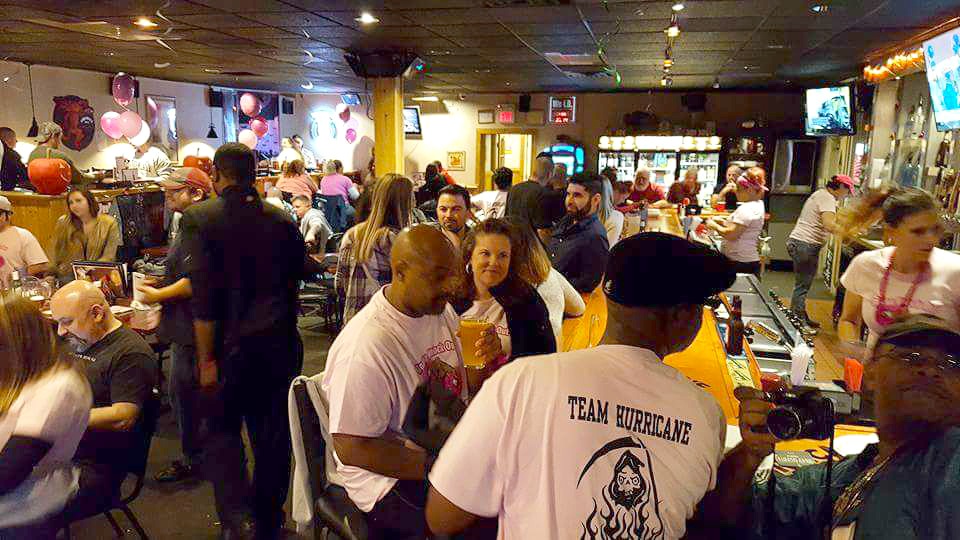 A packed house
Chris believes that in order to keep customers happy, you have to find top-tier employees who put the customers above all else. And he was willing to pay more to get that.
"We don't pay restaurant wages. While other places pay servers $2.83/hr plus tip, we pay $8/hr plus tips so we attract a higher level team member. And we also demand a higher level of customer focus from our team members."
Hurricane Pizza Grill and Tavern Prints With UPrinting
Chris uses UPrinting to print his menus but has also used the company to print labels for his hot sauce and pizza boxes. He shares that he had no intention of using UPrinting in the beginning but was referred to by people he used to work with.
"I was perfectly happy using my graphic design company and they were using you for their final products. After years of working with the them, they said 'Chris, we love your business but think we could save you some time and money if we show you how we get estimates and arrange the printing!'"
See for yourself how easy it is to print takeout menus at UPrinting.
Chris goes on to say:
"I honestly didn't want to do it myself. I never expected it to be so easy. But they walked me through what they do and showed me how easy it was to reorder supplies as you run out and I have never left. So, in some ways, I was a customer of yours for years but never knew it."
I honestly didn't want to do it myself. I never expected it to be so easy.
Click To Tweet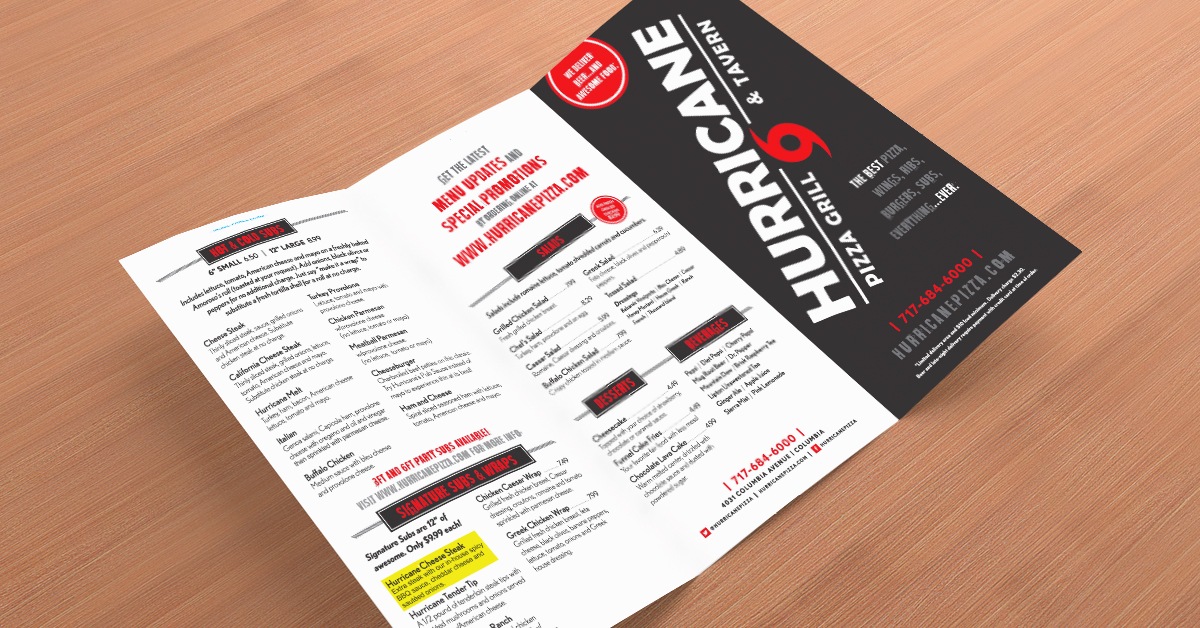 The Hurricane Pizza Grill and Tavern Menu
After Chris used UPrinting himself, he didn't want to do it any other way.
"I plan on using UPrinting even more down the road now that I am comfortable with how incredibly easy and user-friendly the website is! I would highly recommend your service to anyone that currently uses any type of printed media."
I am comfortable with how incredibly easy and user-friendly UPrinting is!
Click To Tweet
Chris prides on keeping Hurricane Pizza Grill and Tavern a hidden gem. Something that caters to locals and anyone else. They even proudly describe their place as "The best tavern you never knew existed". But if you'd like to learn more about Hurricane Pizza Grill and Tavern, you should go and visit their website.
How has UPrinting helped your business? Let us know! Send us an email at blog@uprinting.com.
Rafael is a writer for UPrinting and has spent years creating articles about online printing. If you're weirdly obsessed with print product design just like he is, you should definitely follow his work.
Outside of work, Rafael likes lying on his couch and getting the most out of his Netflix subscription.