Print Tips
How We Achieve Fast Online Printing
Looking for fast online printing? UPrinting can do it and here's why:
Print Fast Online with UPrinting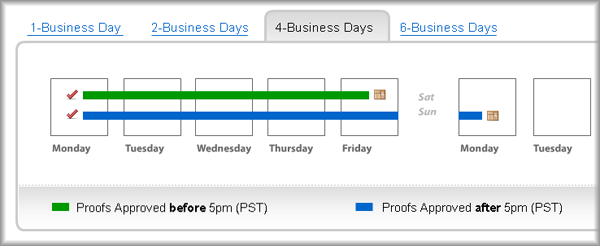 Customizable Turnaround Times
On most of our products, we offer a range of production turnaround times, letting you balance between price and speed. For example, if you want fast online printing for 500 postcards, you can opt for 4 business day turnaround at $52.35, 2 day at $64.82 or even 1-day at $74.79.
Not all of our products offer a 1-day production turnaround option, but most will offer at least a 2-day option for fast online printing.
Shipping Options
We know how important speed can be, which is why we offer multiple shipping options including UPS Ground, UPS 2nd Day Air and UPS Next Day Air. Depending on where you're located, the prices will vary, but our simple postage calculator can give you the prices instantly.
Easy-to-Track Shipping Times
If you want to know how long a UPS Ground order will take to get to you, simply input your zip code and you'll get a transit time estimate. Once you order, you'll also be able to track your shipment, ensuring that it's on time and on its way.
24-Hour Tracking
All of our orders include 24-hour tracking, meaning you can track the status of your print order in real time, from the proofing stage to production and right on to shipping. No more guessing when an order will be ready.
Automated Presses
How do we run such a fast online printing company? The answer is in our top-of-the-line, fully automated Komori offset printing presses and CREO direct-to-plate. With these systems, we've reduced human error and increased our production time exponentially.
So, if you've got a print job that you needed done yesterday, give us a call. We offer fast turnaround times (as quickly as one-day) and fast shipping (UPS overnight available) for some seriously fast online printing.