Archive
How to Promote Your Business on StumbleUpon
FIRST POSTED: Oct 28, 2008
CONTENT UPDATED: May 22, 2012
Using StumbleUpon (SU) to promote a business site (or a specific page within) helps increase traffic and sales. StumbleUpon's unique and user-centric platform makes it stand out from all other social media sites out there. And with its increasing number of members and easy-to-use interface, StumbleUpon may be the best way to share content with the right people.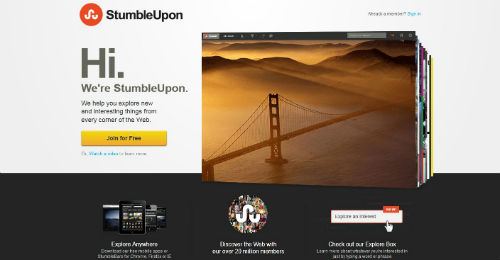 In order to make the most of SU, you'll need to know how it works. First, you'll need to register with the site, install the SU toolbar, and then select categories based on your interests. Once done, you can start stumbling through sites by clicking the Stumble button on the toolbar. After clicking, you'll be shown a user-submitted page relevant to the categories you've chosen earlier. Alternatively, you can Stumble by inserting a keyword in the SU toolbar. You can then choose to give the page a thumb up or a thumb down – depending on whether you like what you see or not.

The more thumbs up a post gets, the better the chances of other Stumblers have of seeing your page when they click the Stumble button. If you want an idea of what kind of sites do well on StumbleUpon, pick a category and keep a close eye on the pages that pop up. StumbleUpon usually shows the most recent and popular first. Use the pages that people like the most to determine what kind of content you should submit to the site.
Writing a Great StumbleUpon Post
SU users stumble through websites at a very rapid pace looking for interesting and useful content, so you need to capture their attention as soon as the page stops loading. User behavior varies but content with lots of images or videos usually do well (provided they're relevant to the category they're in).
Even e-commerce sites have a chance of succeeding using SU. However, you need to remember that most SU users are tech-savvy. That means blatant advertising will definitely not work. Users should be supplied with rich content to get their votes.
StumbleUpon Social Bookmarking Button
If you want to make it easier for users to rate your posts on SU or other social bookmarking sites, you should consider adding social bookmarking buttons at the end of your post. These buttons make sharing easier for readers. In addition, there are other SU tools you can utilize such as StumbleThru, badges, and widgets. Here's a video to help explain and differentiate the three.
StumbleUpon Networking
Networking is an important part of StumbleUpon if you want to get your posts off to a great start. You may have a beautiful post but without a large reader base, you may find it hard to get the votes needed to get phenomenal traffic. However, adding friends with common interests into your network will help push your pages to the top. Slowly build up your friends in SU in a manner that's neither annoying nor aggressive. The rewards will be worth the effort.
Paid Discovery
Paid Discovery (PD), formerly known as StumbleUpon Ads, is SU's way of profiting off their site. While the service isn't free, it's still cheaper than using banner ads such as those in Facebook or Google. With PD, advertisers can promote an entire page for $0.05 per engaged user.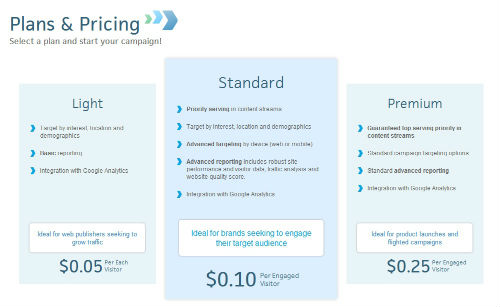 There are other pricing options available; basically, the higher the price, the higher the priority. It's worth noting that only the Standard ($0.10 per engaged user) and Premium ($0.25 per engaged user) have advanced reporting included. Here's a video to help better explain what PD can do for you.
If you aren't on StumbleUpon yet, you should be creating a profile right now. SU really is a great way to promote your products and services online. However, you should also consider promoting around the neighborhood. For different promotional materials such as business cards, flyers, postcards, posters, and even calendars, you can check out UPrinting.com.
Like us on Facebook and follow us on Twitter to be updated with graphic design news and marketing ideas.
Comments