Print Tips
How to Design and Print Business Cards
Did you know that you can design and print Business Cards right on the UPrinting website? We offer two ways to do it – using a premade template or starting from scratch with an empty canvas.
Starting with an Empty Canvas
When you choose the "Start with an Empty Canvas" option, you're taken to U-Design, a special area of the UPrinting website where you can design and print your own business cards.
First, you choose a size. The standard size for most business cards is 2×3.5", but you're free to choose from a large variety of size combinations. Now comes the fun part. You'll be taken to a blank canvas that looks like this: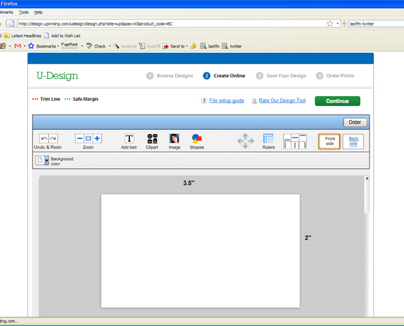 From here, you can add text, choosing from a wide range of fonts, sizes and styles; access our vast clipart library, which is organized by industry and style; add custom shapes; upload a picture in gif, jpg, png or svg format; alter the background color; or edit both the front and back of your business card.
Once you're done, you can save your design for later, go back and edit it, email it to a colleague or friend, view the PDF printing proof or proceed to get pricing and eventually order. Prices start at under $25.00 for 250 cards.
Using a Premade Template
At UPrinting, we also offer a massive catalogue of pre-designed business card templates. These are organized by both industry and style, like so: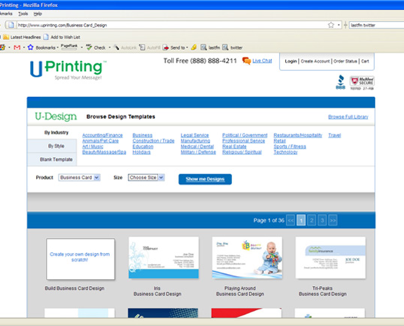 Once you've chosen a template, you can choose a plain backside, appointment reminder or 2009 calendar. From there, you can now edit your design on the U-Design platform: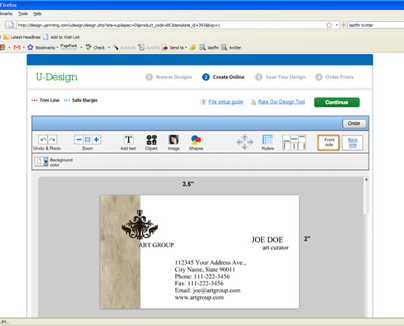 Simply click on a field like "Name" or "Address" and edit the text to include your own personal details. Once you're done, click the Continue button and your design will be exported and made ready for live preview. You can now view it as a print-ready PDF proof, save it to your account, email the design to a colleague or friend, or simply order.
Simple and Painless
Here at UPrinting, we're very proud of our Business Card Printing U-Design software. We've tried to make it as simple, straightforward and painless as possible. If you have any questions on how to design and print business cards using our online tools, or even a suggestion, please don't hesitate to call us at 1-888-888-4211, or use our live chat feature at https://www.uprinting.com/contact_us.html.