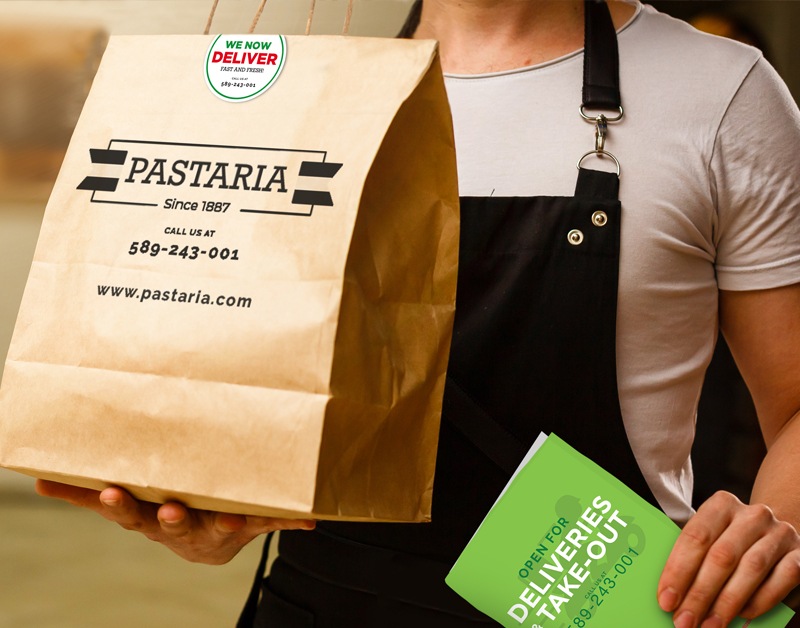 Marketing
Your Community's Role in a Time of Take-out and Delivery Restaurant Services
Restaurants are shifting their services from dine-in customers to take-out orders and deliveries. The adjustment is necessary considering the preventive measures that local governments are taking all over the country. In the San Francisco Bay Area, for example, six counties have a shelter-in-place mandate. Los Angeles is under lockdown until the end of March wherein restaurants can only serve and prepare food via take-out or delivery. The same limit is being required in New Jersey, New York, and Connecticut, and the majority of other cities. All these precautions are necessary given the coronavirus or COVID-19 cases in the US. The isolation and lockdown measures prevent the virus from spreading person to person.
The uncertainty of the situation can be overwhelming for restaurant businesses. Small businesses need to operate at a loss, while their staff faces a huge drop in income while the lockdown lasts. Nevertheless, this is an opportunity for the food and beverage industry and the community to work together to ensure the public's safety and well-being while keeping the economy running.
Support Neighborhood Restaurants
These mandates and restrictions don't necessarily stop businesses and customers from enjoying neighborhood fares. Food delivery companies such as Uber Eats, Grub Hub,, Postmates, and Door Dash are helping restaurants deliver your favorites at a healthy distance from your doorstep.
Tech Crunch reports that Uber Eats waived its delivery fees for all independently-owned restaurants on the app. Grubhub CEO Matt Mahoney also announced in an email that they will be deferring commission fees for all affected independently-owned restaurants. Small and medium restaurants save a significant amount of money, enable them to operate at a lower cost, and maintain the salaries paid to employees.
Community members can do their part by ordering from local restaurants close to home. Staying at home does not stop your customers from enjoying their favorite meal. Delivery lets you serve more customers nearby, while take-out balances the demand and without overwhelming your staff. At the same time, you're able to build a relationship even with limited movement and distance. And your employees can still have income despite the limited orders.
Promote Your Restaurant's Take-out and Delivery Services
Since you're still operating at a different level, you'll need to get the word out in real-time. Send email updates that convey you're running "business as usual" or continue to provide services in a new and safe way. But once you've convinced them to order from you, the communication continues in every take-out or delivery. Print marketing materials such as take-out menus and stickers will help to sustain and remind customers about your restaurant. These promotional tools establish and sustain the restaurant's reliability in providing customers delicious yet nourishing meals while keeping customers safe within the limits of a quarantine.
1. Attach a take-out menu to every order.
Take-out menu printing helps promote your restaurant even after the first transaction. Your customers can easily post this on their fridge and refer it to it the next time they are hungry and crave your specialty.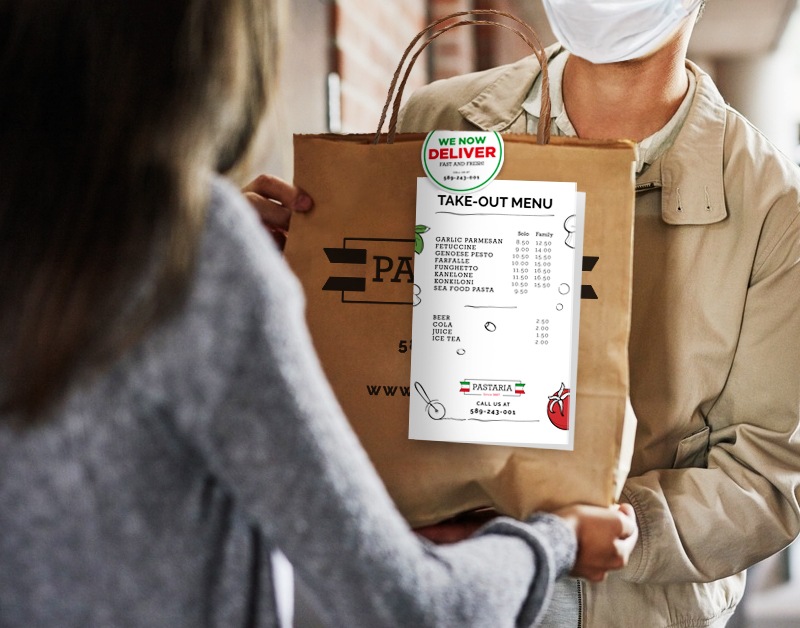 2. Create stickers and paper bags with your restaurant's branding.
Keep your restaurant marketing consistent with every sticker and custom paper bag carrying your deliveries or take-out orders. Make sure the delivery packaging is consistent with your other marketing tools in terms of color, font, and other visual branding elements.
On the promotional sticker, you can emphasize that deliveries are made easy with Uber Eats, Grub Hub, Postmates, or Door Dash. These third-party apps save you time and money as you operate without dine-in services for now.
3. Announce your services on a vinyl banner.
Remember that people who can't work from home still have to travel from their homes to their workplace. Much love and respect especially to our healthcare frontliners. Help them maximize their trips with vinyl banners that announce your take-out and delivery services. Place the banner in front of your restaurant and let them know you're open for business.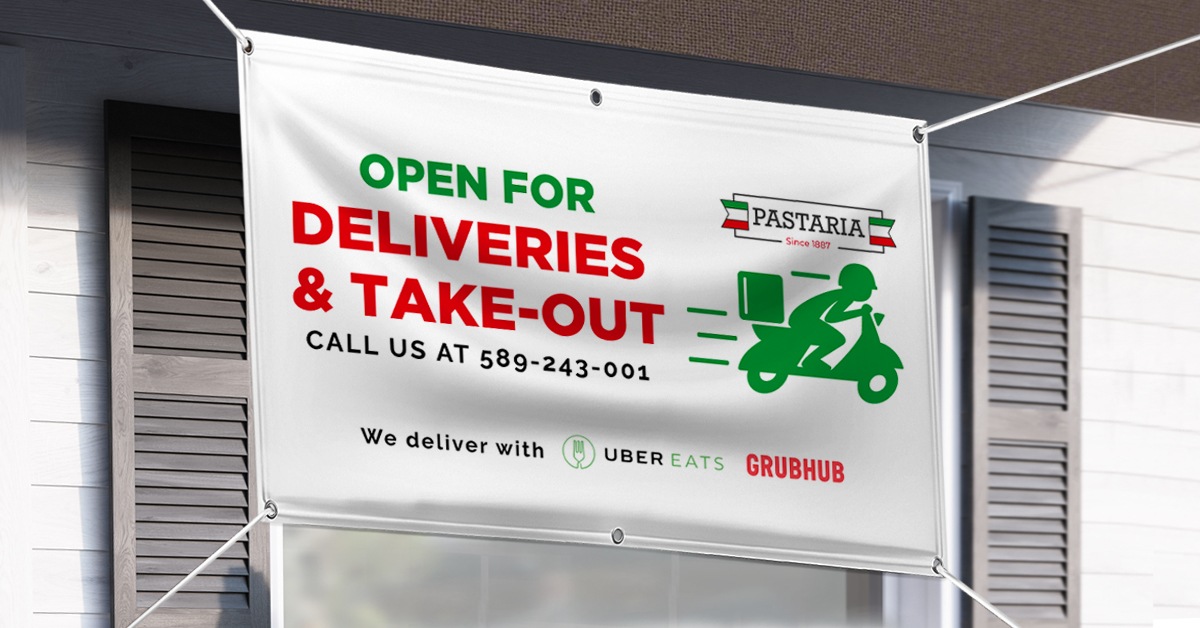 4. Go local with EDDM® postcards.
Remind customers you're a business they can rely on during this quarantine. Show them how you're operating with delivery and take-out services through personalized EDDM® postcards. Send these out to postal routes near your restaurant. You can even select a specific demographic, such as senior citizens, to target those who'll need your services the most.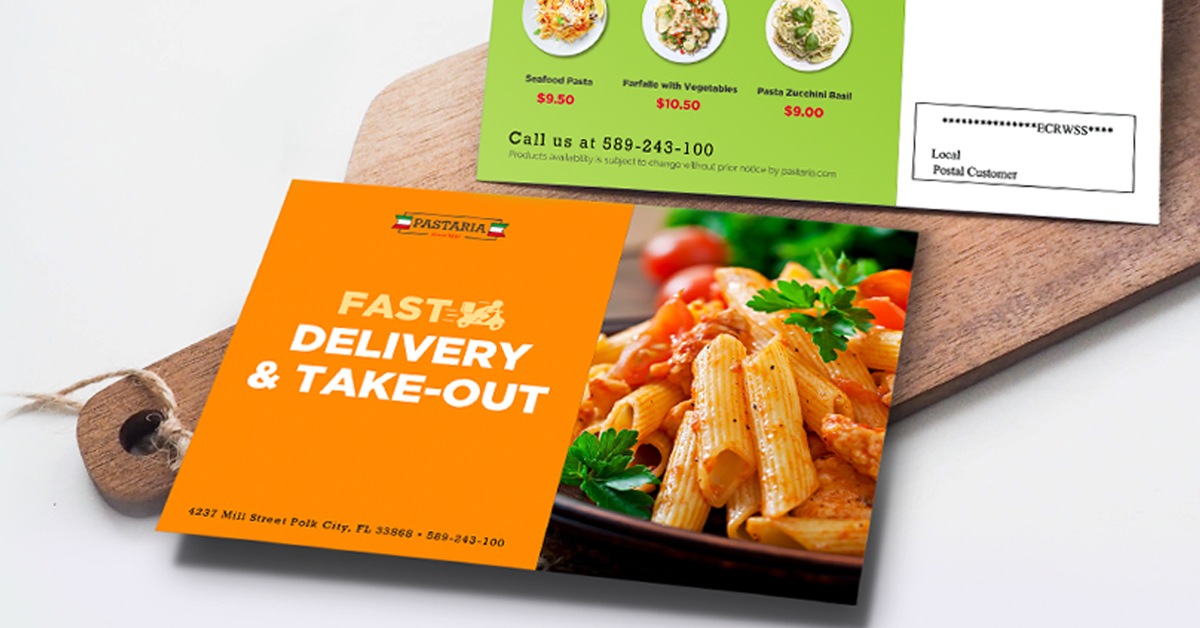 This is the best time to send out promotions such as discounts and special deals. Because you're operating rather differently, you can encourage customers to support your business but with a win-win situation.
Continuing restaurant operations today is quite a challenge, especially for independently-owned businesses. But it's also the perfect time for everyone to come together and support each other. Business owners can also check out some of the US Small Business Administration's guidance and loan resources for any help they can get.
You can also display informative posters to remind staff of the proper sanitation guidelines and safety precautions against COVID-19? Download any of the free CDC templates available here and you can display it easily in your kitchen or bathroom.

Angela's first love is food but her second love will always be the written word. She loves discovering new ways to tell stories and reads everything from YA to memoirs. Her time away from words is spent either with her three dogs or catching up on her favorite Netflix shows.