News
UCommunity News
UPrinting News
Central Penn Adobe User Group To Host Event on Responsive Web Design
The Central Penn Adobe User Group is holding their Creating a Responsive Web Design seminar on February 25, 2013, from 6:30 PM to 8:00 PM (EST). Megan Fister, CPAUG manager and freelance website designer, will explain the basics of responsive web design, including planning, multi-platform functionality, and much more.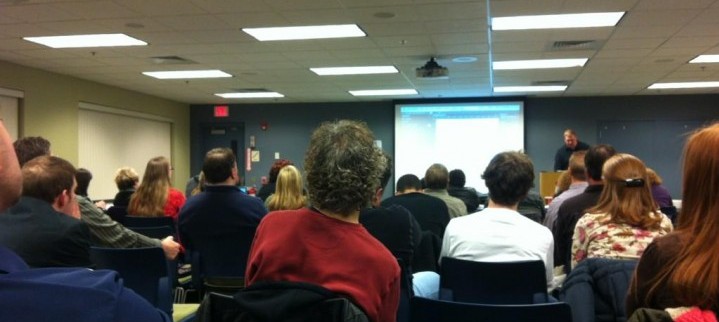 CPAUG monthly meeting – via Twitter.com
The Central Penn Adobe User Group (CPAUG) is a free, official Adobe User Group for people of all skill levels and professions who use Adobe software in the Central PA region. The CPAUG includes print and web designers, developers, photographers and freelancers of all ages though most are young adults and college students.
UPrinting.com has recently sponsored the CPAUG by giving its members a 10% discount on all UPrinting products. "I'm happy to announce that UPrinting has decided to become a CPAUG sponsor!" says Megan.
Each attendee will receive one free raffle ticket. Prizes include:
For more details, visit the (CPAUG) home page.
Creating a Responsive Web Design
Central Penn Adobe User Group (CPAUG)
East Shore Area Library – Room A – 4501 Ethel Street – Harrisburg, PA 17109
Monday, February 25, 2013 from 6:30 PM to 8:00 PM (EST)
Harrisburg, PA
Comments