Print Tips
Carbonless Form Printing: Why Use NCR Forms
Businesses had always relied on using carbonless forms (sometimes referred to as NCR forms) and continue to do so today. While most companies are now opting to store their data digitally, there are small-scale operations that still prefer to use carbonless forms because of their ability to duplicate a document effortlessly.
Haven't heard of carbonless forms before? Well, here are a few facts on how carbonless forms can help your business improve.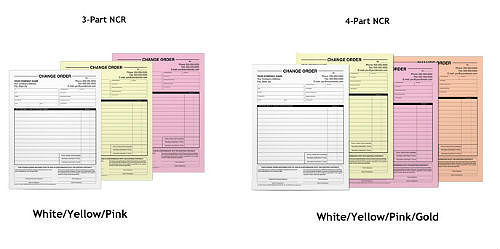 Why Should I Use Carbonless Forms?
There are different reasons why you might want to print NCR forms. They can be used as legal forms, medical forms, shipping forms, or receipts. Carbonless forms are easier to use, especially if your employees aren't computer-savvy. In fact, NCR forms can replace the computer and printer you use for issuing receipts which reduce office clutter.
Using carbonless forms can also help cut down your store's energy consumption. If you only have to issue a couple of receipts a day, using carbonless forms will be a wiser alternative to using computers during transactions. And because carbonless forms can make one, two, or three copies at a time, proper documentation of office records is never a problem.
2-Part, 3-Part or 4-Part Carbonless Forms — Which Should I Choose?
Choosing between 2-part, 3-part, or 4-part forms depends on what you plan on using your NCR forms for. 2-part forms are usually used for receipts while medical forms and other sensitive documents usually use 3- or 4-part forms. But like I said, it really is up to you – however, do remember that when it comes to business, the more copies you have, the better.
Do not forget to add sequential numbering. They really do help when it comes to documentation.
Want to Print Your Own Carbonless Forms?
If you already have a design, head on over to UPrinting.com and have a look at all the carbonless form printing options we have to offer. You can upload your file and have one of our prepress experts assess your file for technical issues. We'll send you PDF proofs of your work in case we spot red flags on your design. Oh, and we do this for free!
So what are you waiting for? If your small business needs effective ways to cut down on costs and optimize its documentation process, carbonless forms are the way to go! Print your won NCR forms now! Call us at 1-888-888-4211!
Rafael is a writer for UPrinting and has spent years creating articles about online printing. If you're weirdly obsessed with print product design just like he is, you should definitely follow his work.
Outside of work, Rafael likes lying on his couch and getting the most out of his Netflix subscription.