Design
Personalizing Calendars for Effective Business Promotions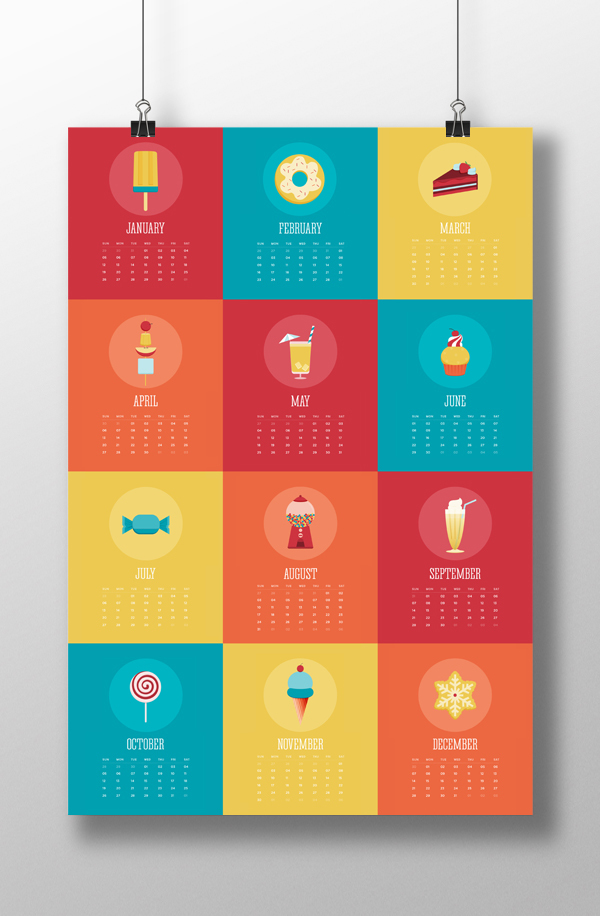 Via: Keso Design Collective
According to PPAI's calendar usage survey given to 1,050 businesses, 94% of respondents keep the advertising calendars given to them as complimentary gifts. This shows that calendars can be an effective marketing tool for promoting brands.
Calendar printing season starts every end of the year. Your target customers and other people will want to get their own calendars in preparation for the new year. You might want to take advantage of this by creating your own personalized calendars. Here is a compilation of some useful tips in creating calendars for business promotions:
Choosing the Theme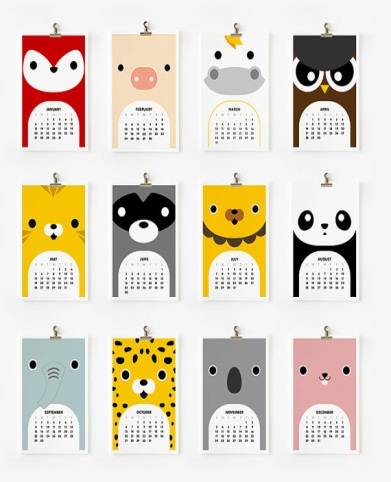 Via: Loopz
• Think about what you want your calendars to look like. Decide on the theme and list down your thoughts or create a draft or a sketch of your calendars.
• For wall calendars, you need to think of a unique design for each month. Wall calendars are posted on walls and usually serve as a home or office décor. List down names or a titles for your concept for each month's design. This will help you construct ideas for that design.
• For card and poster calendars, you only need to think of a single concept since they require only 1 sheet for printing. Poster calendars are used as wall art or décor while card calendars are Think of a theme that will show your identity. Choose a concept which will remind people of your brand.
• If you think it would be difficult to design calendars, you can look for a graphic designer or photographer to help you. Find them through online search or by visiting photography and design related sites which feature artist portfolios.
Using Images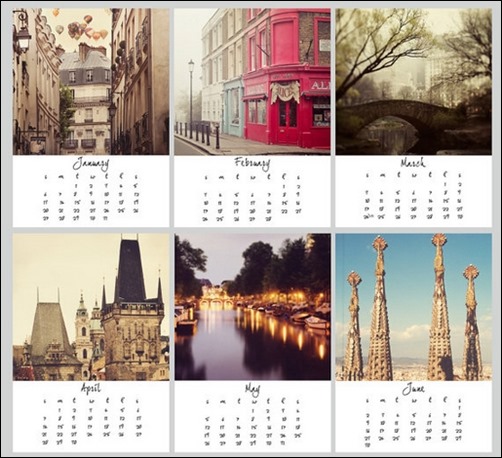 Via: Eye Photography
• Use product photos. For example, if you own a restaurant, you can display some of your signature dishes. This can attract customers to visit your place and eat at your restaurant. If you are on the real estate industry, you can print out photos of the houses or condos that you sell.
• Use photos which tell stories or touch emotions. Choose images that will make people remember your brand. For instance, if you are a travel agency, you may display photos of happy people on beautiful tourist spots. Avoid using stock photos. It's better to use images which display real emotions like children at play or a couple taking a walk in a park. Use real images taken by a professional or by your resident photographer to show people what your brand can bring to them.
• Use high resolution images to achieve high quality prints. Check for resolution guides for prints to help you adjust your images.
Placing Quotes/ Messages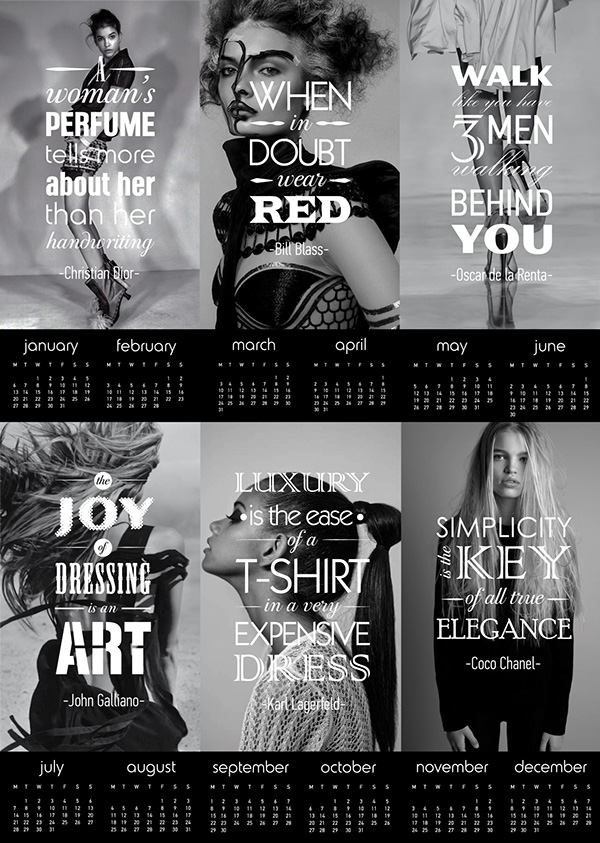 Via: Andili Rachouti
• Add captions to your photos. You can include quotes for each month to inspire your customers. You can also add humor by adding funny excerpts to your calendars.
• Choose the right font for your calendars. Make sure that text is legible by choosing the right font style and size.
• Do not add too much text or wordings to your calendars to avoid clutter.
Adding Fun Features for Customers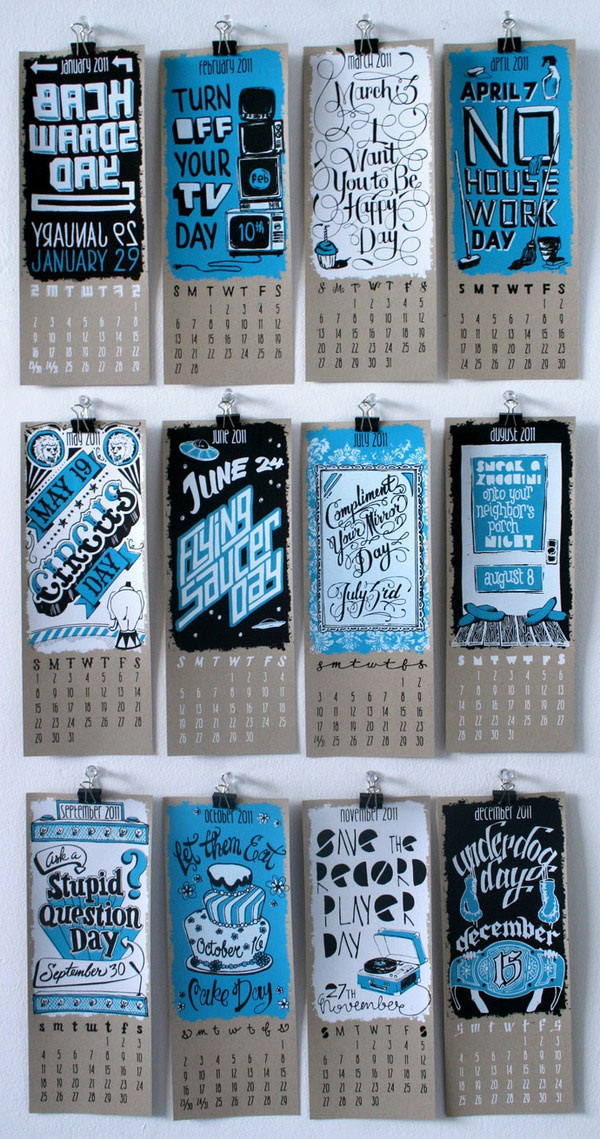 Via: Annica Lydenberg
• Provide an area for a To-Do-List. This will help customers keep track of their appointments and special events.
• Add important events like upcoming sale or discount promos. Include your campaigns that will keep your customers updated about your offers.
• Include a list of "Fun Holidays" like Talk like a Pirate Day to entertain your customers.
Printing
• Use calendar templates to guide you in creating your designs. You can also ask an expert to assist you with printing guides.
• Choose the right paper type and finish according to your design. If you want to achieve sharp and bright images, use gloss finish. This finishing is ideal if you want a shiny and reflective paper for your calendars. You can use matte finish if you prefer non-reflective and dull finish for your prints.
Personalizing calendars for your customers is a way of showing your gratitude towards their loyalty and continuous patronage. Tap new, potential customers by sending your personally designed calendars as an end-of-the-year gift or freebie. Have you used calendars for promotions? Share your tips on the comments below!