Print Tips
Business Card Printing Sizes
The standard business card is typically 2×3.5", but that doesn't mean you have to color within those lines. It also doesn't mean you can fire up a 2×3.5" design and call it a day. In fact, there a number of business card printing size options and settings that can make or break your card.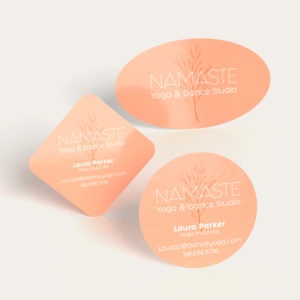 Custom and Standard Business Card Printing Sizes
Standard Sizes
Along with our custom sizes (see below), UPrinting also offers business cards in three standard sizes:
2×2"
2×3.5"
2×3"
Most business card holders, Rolodexes and carrying cases are designed for the standard 2×3.5" business card. If you want the convenience of standard sizing, but a design that's still unique, try opting for a vertical design. Your card will still fit into standard holders, but the vertical layout is more likely to stand out.
You can find templates for all of the above sizes on the UPrinting website. These templates include trim and bleed lines. For an explanation on bleed sizes, keep reading.
Bleed Sizes
If you want your design to extend to the very edge of Your Business Cards, like a photo that goes all the way to the edge, you will need to allow for bleed. This means the design template you submit will actually be larger than the card itself. Here at UPrinting, we require a 1/8" bleed.
If you use one of the many free business card templates available on the UPrinting website (Photoshop, Illustrator, JPG, PostScript, Publisher and Acrobat), each of these templates will include set bleed sizes and instructions. It's as simple as following the dotted lines.
Custom Sizes
UPrinting can and will print Custom-Sized Business Cards. We can print any size between 2×2" and 4×4" in 0.25" increments. Custom size cards are a great option if you are looking to have your cards stand out from the crowd. The great part about our custom size cards is they are extremely affordable!
For questions, please give us a call at 1-888-888-4211 or drop us a line on our contact page at https://www.uprinting.com/contact_us.html. We're open Monday to Friday, 9am -7pm PST.