What's New
Benjamin Franklin's Legacy in Print, Entrepreneurship, and Graphic Design
We hope you all had fun from last week's Independence Day celebrations. We're still feeling a Fourth of July hangover here at the UPrinting Blog. What better reason to talk about Founding Father and  pioneering American printer Benjamin Franklin?

 (1886 )Ben Franklin at work, tiles by Katherine Sturgeon and W J W Nunn of Doulton and Co. Edinburgh c/o Peter Stubbs
One blog post would be inadequate to list down all of Benjamin Franklin's contributions to science, technology, political and social thought, and wit. What we will try though is to give a brief rundown of his career and contributions as printer, entrepreneur, and graphic designer – which is exactly the stuff we live and breathe at UPrinting.
Ben Franklin The Printer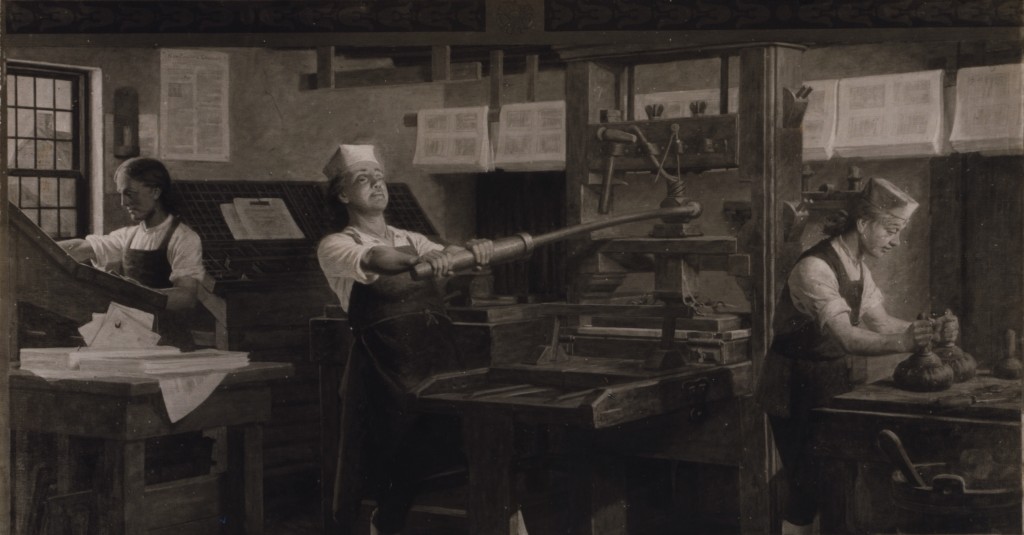 (c1914) Charles Mills via Detroit Publishing Co. Benjamin Franklin on a printing press. Library of Congress  # LC-USZC4-7217 
If you grew up in the American educational system, you probably know that Benjamin Franklin was a printer by trade. What a lot of people don't realize is that he had fallen into the business almost by accident. Being a printer during this time was no small feat. Press printing with movable type was a relatively advanced invention that required a significant amount of knowledge capital to use effectively. When he first made his way to Philadelphia to look for a job at 17, he first went to Andrew Bradford, the man who'd first started the first printing press in Philadelphia. However, there were no openings available for the inexperienced but mechanically-inclined Franklin in Bradford's shop – nor in most of Philadelphia at the time for that matter. Bradford then introduced Franklin to his competitor –Samuel Keimer.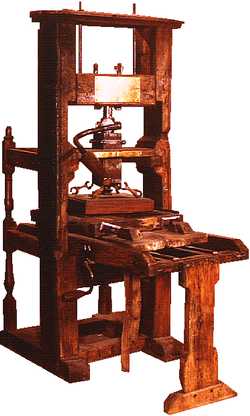 Alleged press Franklin worked with in London, c. 1725, Smithsonian Institution Press
At the time, Keimer did not even have a working press as his was broken down. Franklin helped bring it back to working order, became Keimer's protege. Seven months after arriving in Philadelphia, Franklin met Sir William Keith, the Governor of Pennsylvania. Keith  was impressed by the already brilliant Franklin and pledged to help him start his own print shop. with the condition that Ben go to London to buy a new printing press – a hugely expensive proposition even then. So expensive that Franklin only went because Keith had promised to send a letter of credit to help Franklin with his living expenses and printing. However, Keith broke his word and Ben Franklin unexpectedly spent the next two years in London working as a printing assistant to earn enough money to sail back to Pennsylvania. Fortunately, Benjamin Franklin was absolutely amazing at making new friends and made great use of his time, greatly expanding his social circle and printing and distributing his first pamphlet, A Dissertation on Liberty and Necessity, Pleasure and Pain.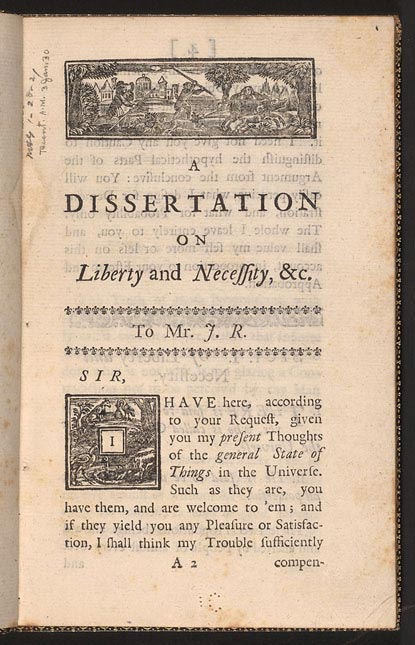 A Dissertation on Liberty and Necessity, Pleasure and Pain via  commons.wikimedia.org
As a printer's assistant in London, and as his own boss back in America, Benjamin Franklin continually developed alternative processes for casting type – a highly technical process then and today – as well as new varieties of ink.
Ben Franklin The Entrepreneur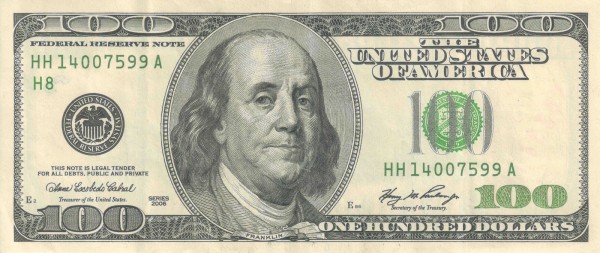 In London, he agreed to work for an American merchant named Thomas Denham, mostly because he agreed to take him back to Philadelphia. Franklin sailed for America with Denham on July 23, 1726. Franklin learned a great deal about business from Denham during his extremely short stint under his care – particularly the value his Quaker boss's frugality. However, both of them fell deathly ill not too long after with pleurisy, which Franklin survived, but ended up killing Denham. Interestingly enough, he died of the same illness decades later, in 1790 at the age of 84. Soon after he recovered, we went back to his old job with  Keimer. He soon impressed the father of James Meredith (another apprentice of Keimer's) so much that he decided to fund his own son and the now 24 year old Benjamin in starting their own printing business and newspaper. When their old boss Keimer found out, he beat them to the punch started his own paper, Pennsylvania Gazette – which greatly annoyed Franklin.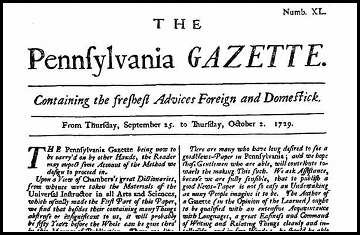 The Pennsylvania Gazette, October 2, 1729 via  commons.wikimedia.org
In response, he wrote a several essays for a competing newspaper. Keimer wasn't quite as savvy as Franklin for all his experience and he went bankrupt within a year. Franklin and Meredith then bought the Pennsylvania Gazette along with its subscribership of ninety and turned it into a hugely successful paper- the first known newspaper to be syndicated to the other colonies. In 1730, Franklin and Meredith won a contract to print the colony's official papers – and money.  He printed a pamphlet  called "A Modest Enquiry into The Nature and Necessity of a Paper Currency" calling attention to the need for paper money in Pennsylvania. All written anonymously of course, which is funny because he later succeeded in winning the contract to print the money. Franklin later bought out his partner and later on had the most successful printer in town, and likely the entirety of the Thirteen Colonies.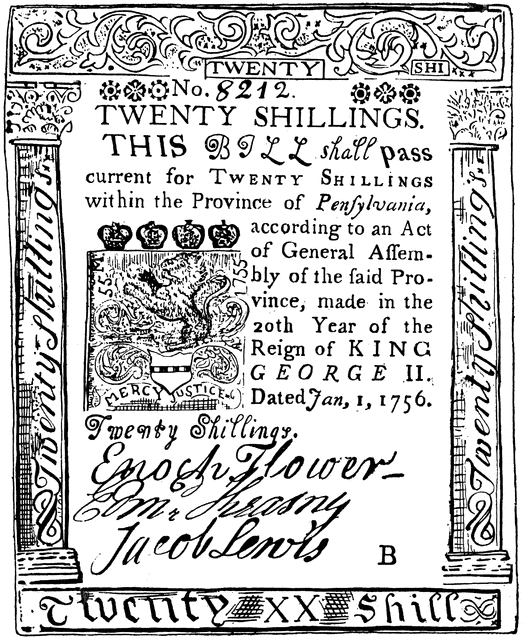 Pennsylvania Twenty Schilling note printed by Franklin, via commons.wikimedia.org
While the vast majority of  Benjamin Franklin's income was through The Pennsylvania Gazette, government contracting, and almanacs- he also printed what he called "Little Jobs" for everyone. These included things as mundane as blank forms, brochures, pamphlets. He even printed lottery tickets. He particularly enjoyed job printing compared to regular government contracts and had this to say about job printing:
 We [Franklin and his partner Meredith] scarce opened our Letters and put our Press in Order, before George House, an Acquaintance of Mine, brought a Countryman to us; whom he had met in the Street enquiring for a Printer. All our Cash was now expended in the Variety of Particulars we had been obliged to procure, and this Countryman's Five Shillings, being our First Fruits and coming so seasonably, gave me more Pleasure than any Crown [five shillings] I have since earn'd.
Ben Franklin The Graphic Designer
Benjamin Franklin wasn't just a printer, inventor, writer, and entrepreneur either. He was also an artist- a graphic designer, if you will. You might be familiar with one of his works: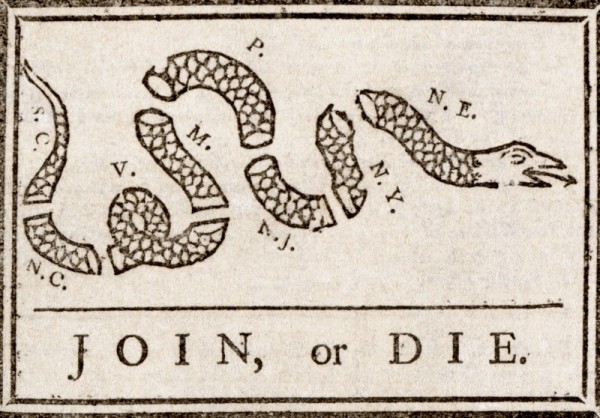 Join, or Die is the earliest known political cartoon in North America and was widely reproduced, not only in Franklin's paper The Pennsylvania Gazette, but in other publications and flyers throughout the original Thirteen Colonies and beyond as well.  While many have confused Join, or Die's main context with the American Revolution (where it made a comeback),  it was actually first published decades earlier back in 1752, when the English-settled American colonies were close to war with France and her own American settlements- which at the time ranged from Canada's Atlantic seaboard all the way through New Orleans. Benjamin Franklin created other political cartoons and graphics after Join, or Die, but even then, this first American political cartoon was a watershed in design. While our standards for graphic design have changed over the past 240 or so years, Join, or Die continues to have an iconic status throughout the world. The design remains a popular basis for many designs in sub and counter-cultures, from tattoos to skateboard decks.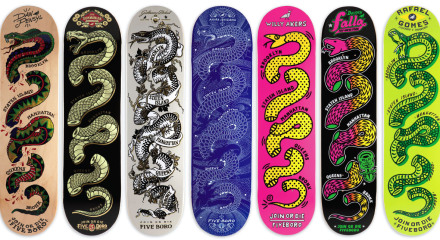 Join, Or Die Series by French artist Guillaume Dulout
Beyond Join, or Die, political cartoons were an important innovation that allowed even marginally literate readers to easily grasp ideas that might otherwise be complex. In a sense, these cartoons were forerunners of infographics, which provided a more sophisticated visual representation of data sets. Print, entrepreneurship, and design have admittedly gone a long way since Ben Franklin's heyday. Now we use these mediums for sharing all sorts of ideas, from the mundane, to the utterly life-changing. However, Benjamin Franklin understood, as we all still do, that print isn't just about sharing ideas. It is the power to shape lives and influence destinies.  Whether it's a revolutionary idea, or a new logo, or a wedding invite – printing still does just that.
Sources and Additional Reading:
History of the Benjamin Franklin Institute of Technology". Bfit.edu. Archived from the original on July 31, 2008. Retrieved September 21, 2009.
Isaacson, Walter (4 May 2004). Benjamin Franklin: An American Life. Simon & Schuster. ISBN 978-0-7432-5807-4
Benjamin Franklin's Political Arithmetic: A Materialist View of Humanity, Joyce E. Chaplin Dibner Library Lecture l December 13, 2006, Smithsonian Institution Libraries
Margolin, Victor. "Rebellion, Reform, and Revolution: American Graphic Design for Social Change." Design Issues Vol. 5, No. 1, 1988
"Join or Die". United States Library of Congress
Walking Moraley's Streets: Philadelphia by Billy G. Smith  via common-place.org
Education in the Thirteen_Colonies via Wikipedia.com