Design
Adobe Photoshop CS6 – What Can It Do for You
It's amazing how far Adobe Photoshop has come. When Photoshop first came out, I doubt designers were aware of just how Adobe was about to change the game forever. Photoshop is now a household name. Heck, the term "Photoshop" even made its way into the dictionary. Now that's something. Sure, there are other graphic design programs out there and we certainly aren't knocking them down. However, you can't deny the popularity Photoshop has attained over the last few years.
Disclaimer: UPrinting is not affiliated with any of the sites mentioned below. Images and videos found on this page are not owned by UPrinting and are used solely to help graphic designers know more about Adobe Photoshop CS6. Please click on the images to see their original sources.

And now, graphic designers are about to have a new reason to celebrate. With the impending release of Adobe Photoshop CS6, Adobe is about to change graphic designing anew. Armed with a new graphics engine, Mercury, users can expect CS6 to be a lot faster than its predecessors. And trust us, when we say a lot faster, we mean it. But that's just the tip of the iceberg. If you want to know more about the other improvements Adobe has made, check out these sites (by clicking on the images) and videos.
Adobe Photoshop Channel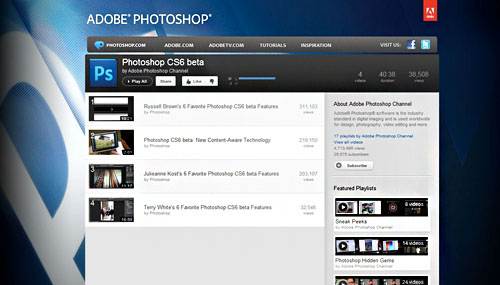 First, you might want to check out Adobe's Photoshop Channel on YouTube. Granted, as of this writing there are only four videos in there. But I think it's a safe bet that this channel will be filled with more videos on the new features CS6 will offer the closer we come to the official release date. Plus, the four videos are enough to give you a good preview of what CS6 can do for you.
Photoshop User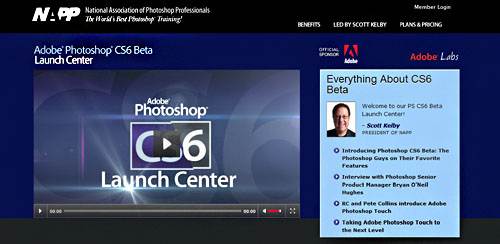 Members of the National Association of Photoshop Professionals have a website where they discuss everything about Photoshop. Here you can have a more in-depth view of what CS6 has to offer that may not have been discussed on Adobe Photoshop's YouTube channel.
Ice Flow Studios
One nice new feature for CS6 is video editing. You are now able to, not only edit videos on Photoshop, but also apply different effects as if the videos were still images. In this video, we get a nice preview of what the CS6 video editing capabilities are.
TutVid
The Content-Aware Move tool has been receiving a lot of praise – and for a good reason. Basically, what it does is it allows users to move an object within an image and lets Photoshop fill in any "hole" the transfer will cause. It's hard to do the new feature any justice through words. It's best that you play the video above and see for yourself how the Content-Aware Move tool can help improve your photos. What's nice about this video is that it also explains the possible problems one might encounter using the tool and discusses possible fixes.
Lynda Podcast
If you're used to using wide-angle or fish-eye lens, you might be interested to look into the new Adaptive Wide-Angle filter CS6 has got. The demo video above will show you how you could use this tool to correct those "curvy" images generated by wide-angle lens.
There are other references you could look at such as those from Design Modo or this article from Bjango. Many designers are already tinkering with CS6 and should post their reviews once they are done. In the meantime, why don't you download the beta version and see what the fuss is all about? You might even learn how to create cheap business cards, posters, yard signs, greeting cards, and a whole lot more using the faster and better CS6.
And to end this post, check out this prank video some guy made about CS6. It goes without saying that this guy isn't using CS6 and Photoshop isn't capable of pulling off this kind of restoration (not yet, anyway). I'm not a fan of fake videos myself but this one certainly made me laugh and hopefully, it might pull out a chuckle from you from as well.
Creative Station