Print Tips
Examining the Types of 8 Page Brochures: An In-depth Printing Guide
Successfully communicating your message to the audience depends on how well you present them and choosing the right fold is always an important part of any brochure marketing campaign. The most common used brochure folds are the tri-fold and bi-fold. They have simple formats for those who prefer their materials clean and short. You might think, "Fewer pages mean fewer complications", but that isn't necessarily true. An 8 page brochure might sound daunting, but when done right, can elevate your materials to a new level. These types of folds are excellent for graphic-heavy and text-heavy content.
There are different kinds of 4 paneled brochures available. Let us examine the most common types:
Accordion Fold
Accordion fold has an alternating fold direction that allows the panels to open in a "Z" pattern. To achieve the look you need to fold the sheets in a zigzag arrangement three times. The panels are nest together so you can extend it in its full size with a single pull. The fold's main feature is it presents information in a timeline or chronological order for easy reading. Accordion folds have equal sized panels so designing and layout for images and texts are easy.
If you have an image-heavy content you can layout your brochures so graphics run across the entire space. It creates a visual impact and makes your materials stand out.
Benefits: Presents text and information heavy designs in a clean and ordered manner. Cost-efficient, you don't need any binding and stapling to achieve a multi-page booklet look.
Best Used for: Travel Brochures, Instruction Sheets, Event Schedule
Other Names: back-and-forth, zigzag
Common Sizes: 5.5" x 8.5", 8.5" x 11", 8.5" x 14", 9" x 12", 11" x 17", 11" x 25.5"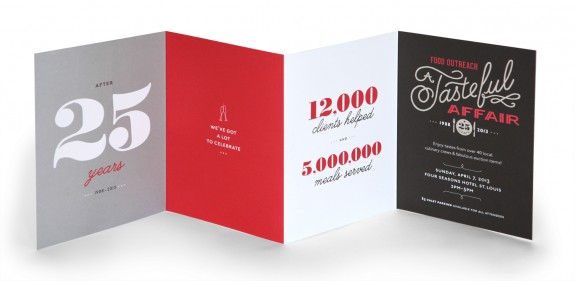 French Fold
You can achieve a French fold brochure by horizontally folding a sheet in half and then folding it again in half vertically. The finished fold should have 8 equal sized panels in total, 4 in front and 4 in the back.
French folds are perfect for showcasing large images in a single sheet. The inside panels are usually used to feature graphics. While back panels are often reserved for information. This format is ideal for product and event presentations. Putting the images in the inside panels allow audience to see all your offerings in one viewing.
French folds are also used for special occasions like wedding and holidays. This fold easily highlights designs creating a memorable message. They can fit standard envelopes and are easy to mail to friends, families and clients.
Benefits: Presents large images in a simple and clean manner. Showcase all images and information in one viewing.
Best Used for: Greeting Cards, Wedding Invitations, Direct Mail, Product Presentations
Other Names: right-angle half fold
Common Sizes: 8.5" x 11", 8.5" x 14", 9" x 12", 11" x 17", 11" x 25.5"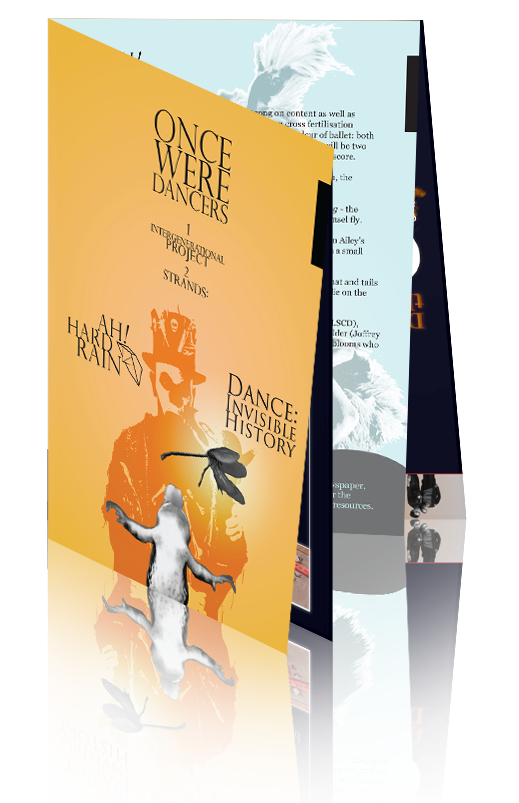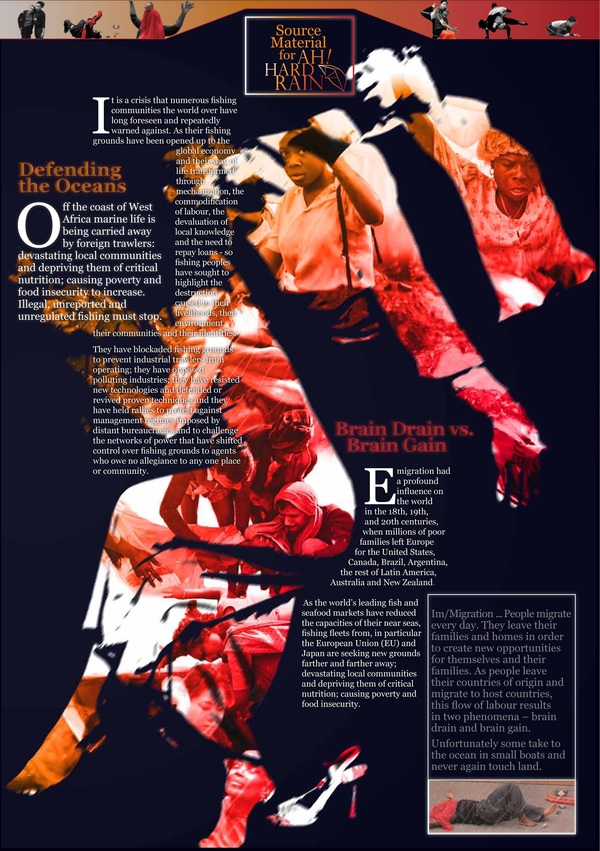 Inside Panels
Outside Panels
Roll Fold
A Roll Fold Brochure has 8 pages and 4 panels. Create this look by folding a sheet inwards from the right, then fold the leftmost panel to wrap around the rest of the sections. The panels for this type of fold format have different sizes. It has 2 panels that are equal in size, while one section is smaller and the last panel being the smallest.
Roll Fold is a great design for relaying information in a systematic fashion. This format allows you to layout texts and images so readers can easily review and compare data after their initial scan. Its open format is the perfect pattern when going back and forth between sections.
Benefits: Relays information in an orderly fashion. Easily compares information with its open format.
Best Used for: Step-by-step Guide, Tutorial Manuals
Other Names: Barrel Fold
Common Sizes: 5.5" x 8.5", 8.5" x 11", 8.5" x 14", 9" x 12", 11" x 17"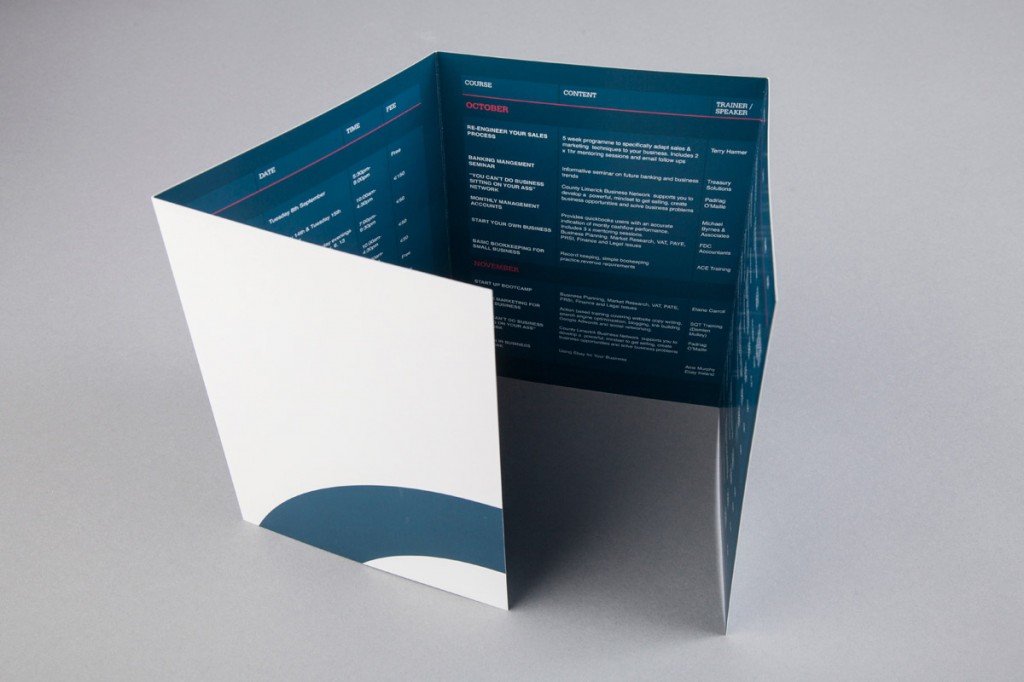 Double Parallel Fold
You can construct a Double Parallel Fold Brochure by folding a sheet in half, and then folding it again the same way in the same direction. It will create 4 panels or 8 pages, with 2 panels folded atop the others. The innermost section is usually a bit narrower than the rest.
A Double Parallel Fold Brochure will first open up like a standard Bi-Fold Brochure. These 2 interior panels would be the first thing readers will open to and should have attractive designs. When they pull the brochure to its full size 2 more panels will be revealed. This format allows readers to then see your entire content in one single viewing.
This layout gives you extra space to showcase large images. Use this opportunity to highlight special offers and events. The front and back cover panels are usually reserved for company information. It is ideally used for promotional materials and programs.
Benefits: The wide space is perfect for highlighting large images and graphics. Information is easy to view when brochure is opened to its full size.
Best Used for: Promotional Materials, Programs
Other Names: Parallel Map Fold, Parallel Center Brochure
Common Sizes:  8.5" x 11", 8.5" x 14", 9" x 12", 11" x 17"
Double Gate Fold
A Double Gate Fold is made by folding the leftmost and rightmost panels inward towards the middle to create a gate-like layout. The sheet is then folded again in half to create a 4-panel or 8-page brochure. The 2 "gate" panels should not overlap along the center fold and are usually smaller than the inner panels.
Double Gate Folds are ideal for large presentations. Images are designed across the 2 outer "gate" panels so when you close them they create one cohesive picture. Key details and information about the product or company is usually reserved for the inner sections. A gate fold can be used in publications and magazines as a teaser for the center spread.
Benefits: Great for showcasing large images. It is a creative way of presenting information.
Best Used for: Large Presentations, Magazines
Other Names: three-parallel gate
Common Sizes:  8.5" x 11", 8.5" x 14", 9" x 12", 11" x 17"
Pick the right fold for you. Pick wisely because it can make or break your marketing campaigns. If you have any questions or comments about this post, feel free to sound off below.
Resources:
http://designpink.com.au/folding-types-explained/
http://www.fosterprinting.com/?q=resources/8-page-brochures
http://www.graphicsuniversal.com/images/Folding%20Guide.pdf
http://www.imindyourbusiness.com/service_brochure.html
http://www.helloprint.co.uk/blog/author/sebastiaan/how-to-fold-your-brochure
http://www.companyfolders.com/blog/9-stylish-folder-brochure-folds-for-print-designers
http://www.paperspecs.com/debunking-the-gate-fold-myth/