Print Tips
6 Ideas for Printing Digital Photos Online
Have you been printing digital photos only to have them sit in a box for years? Keep reading for some great ideas that will give your photos purpose:
Ideas for Printing Digital Photos Online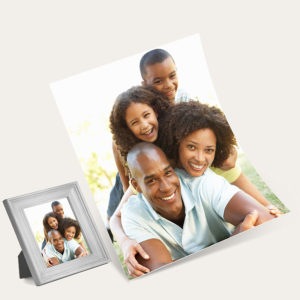 1. Custom Collages
Create a custom collage out of individual photos and then print out a larger, single print of your creation on high-gloss photo paper or even mounted canvas. These are great for the wall or scrapbooking.
If you don't have a photo editing suite like Photoshop, you can use free image editing software like Picasa (http://picasa.google.com) or Collagr.com (http://collagr.com) to create your own custom collages out of existing images on your hard drive.
2. Turn Them Into Artwork
Did you know that you could be printing digital photos as canvas-mounted artwork? UPrinting.com offers a stretched and mounted canvas printing service (starting at just over $70) that lets you print your cherished family memories on to heirloom quality canvas.
3. Custom Greeting Cards
Instead of spending a fortune on birth announcements, family Christmas cards or thank-you notes, start printing digital photos online as custom greeting cards. You can use them for correspondence with family and friends, as Christmas cards or to mark a special event like a new baby or a wedding. UPrinting offers amazing Greeting Card Printing services with custom Envelope Printing available as well.
4. Custom Postcards
If you're not up for a full run of greeting cards, opt for something more casual like postcards. We offer six standard postcard sizes and a full range of custom sizes, so you can go big or go small. They're perfect for quick notes, announcements and as invitations to a special event.
5. Make Your Own Wall Graphics
Take a favorite photo and turn it into an easy-to-stick, easy-to-remove wall graphic, available in a range of custom sizes and starting at just $14.00. This digital photo conversion idea is popular choice for parents trying to decorate nurseries and children's rooms.
6. Create a Calendar
Instead of just printing digital photos, turn them into a family centerpiece and create your own, custom calendar. Great for businesses and families, it's a perfect way to highlight the memories and pictures that matter most, all year round.