Print Tips
4 Envelope Printing Tips
Are you designing a new batch of envelopes for your business and looking for Envelope Printing tips? Well, here they are – a collection of easy-to-follow envelope tips from the best in the business: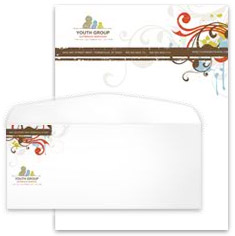 4 Easy to Follow Envelope Printing Tips
1. Use Color
In last April's Print Professional magazine, Aaron Hyte, president of EMA Specialty Envelopes & More, offered an array of envelope printing tips and was quoted as saying, "if you want the envelope opened, it needs to have color, texture, shape or graphics." He's right. A splash of color has a major impact on whether or not an envelope gets opened. If you'd prefer black, at least opt for a graphic, like your company logo, to accompany the return address.
2. Opt for Standard Sizes
Out of all of the Envelope Printing tips, this one will save you the most money. Opting for standard sizes means your mailers will be USPS automation compliant and eligible for standard postage rates. According to a May 2008 issue of Printing News magazine, "mailers should, whenever possible, be reconfigured to fit in a smaller, flatter, standard-sized mail piece." Here at UPrinting, we offer 7 different, standard envelope sizes – A2, A6, A7, #10, #10 with a window, 9.5" x 12.5" and 6" x 9".
3. Remember the Return Envelope
If you're printing envelopes to be used in a direct mail campaign, remember the response envelopes. According to Mark Novelli of Trade Envelopes in a recent interview with Business Forms, Labels and Systems magazine, "if you require recipients to find and address their own envelopes, response rates fall dramatically. " In contrast, providing recipients with an already addressed (and preferably pre-stamped) reply envelope pushes your response rate way up.
For help coordinating business reply postage graphics and compliance, please give us a call at 1-888-888-4211 or visit the USPS website on ReplyMail at http://www.usps.com/replymail/welcome.htm.
4. Remember Brand Consistency
If you're printing envelopes alongside letterhead, it's important to maintain brand consistency. For example, use the same logo and fonts in your letterhead as you did on your envelopes. UPrinting offers both envelope printing and letterhead printing services, making it easier to match your designs and your printing.