Design
10 Inspiring Church Door Hangers and Other Design Related Tips
Are you into Church marketing? If so, you would know first hand that many people who will hear you will not listen. Some will not even give you a glimpse. Expect to be mocked, even. Yes, the world has already hardened in more ways than one. But here you are, still trying.
Good, because as much as Church marketing could become one tricky business, it can honestly become a very rewarding one. In this post, you will see 10 Church door hanger ideas. Afterward, a few tips you can use in designing your own.
Church Door Hanger: A Popular Church Marketing Tool
We have noticed that door hangers have become popular Church marketing tools. They are rather cheap to produce and easy to spread around. However, are they as effective? It depends on certain factors. Like all other marketing and advertising efforts, these prints should be well designed and written, otherwise, your audience will not grasp your meaning, or worse, not bother to even check what your Church has in store for them.
Be straightforward and, please, dare not be boring!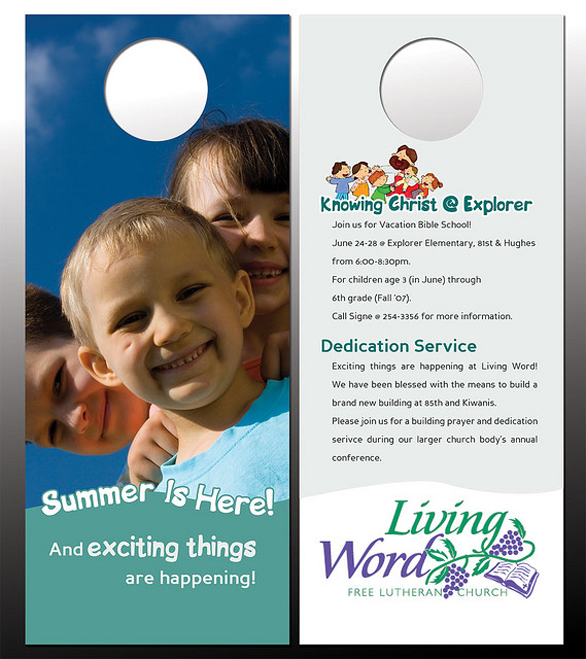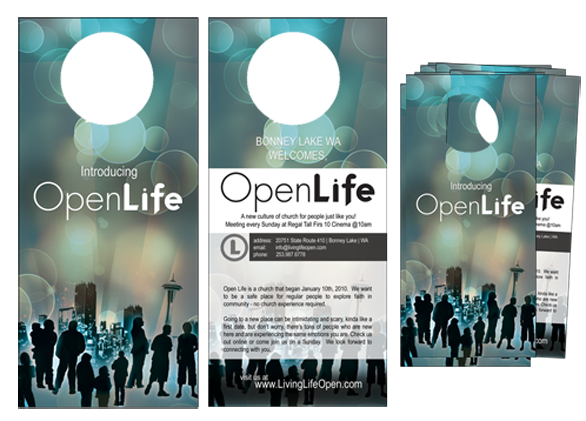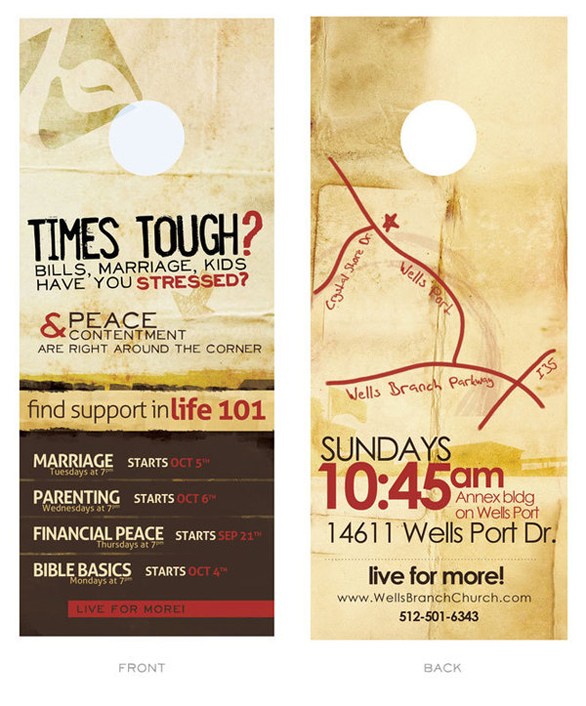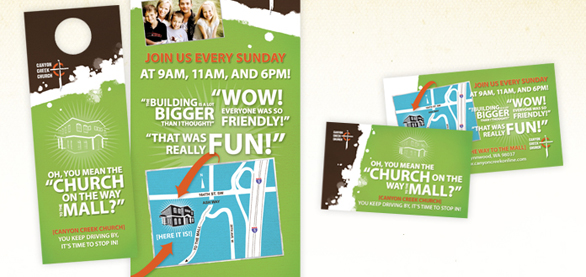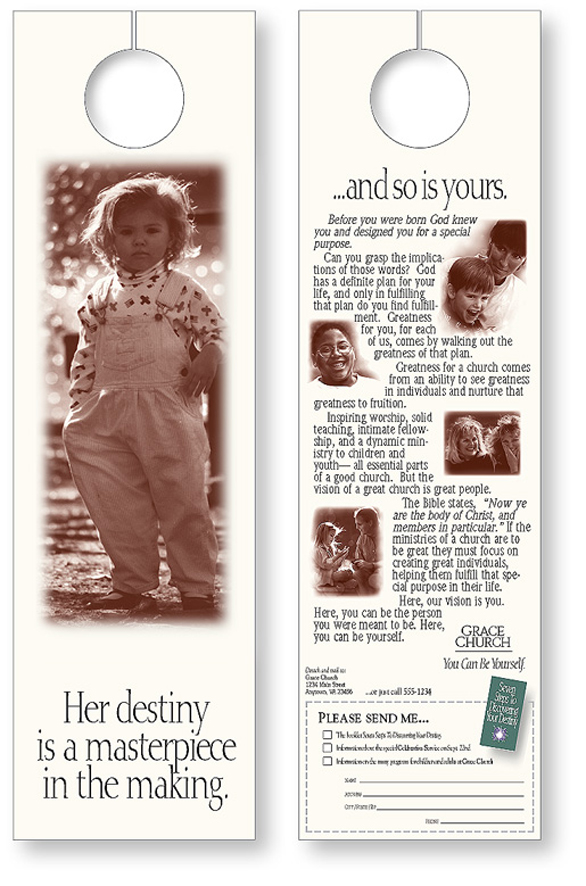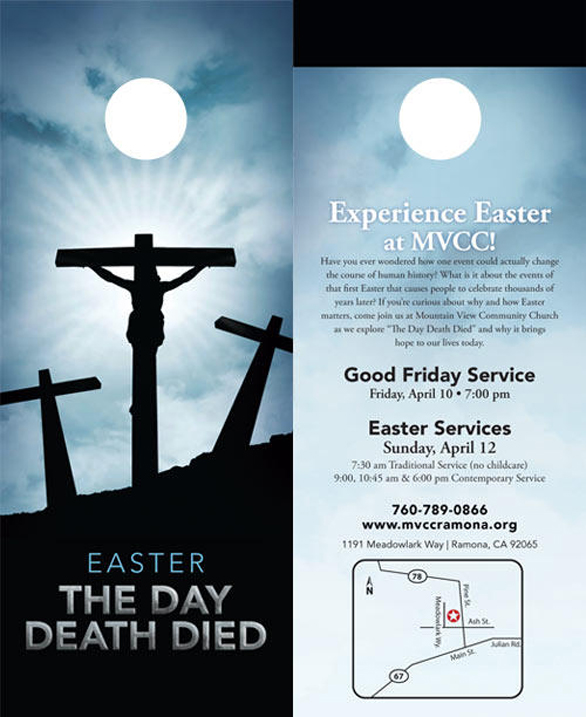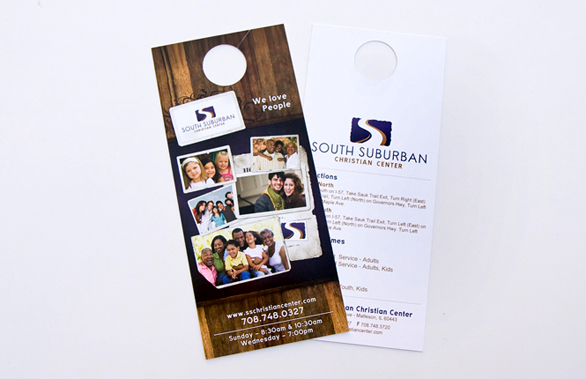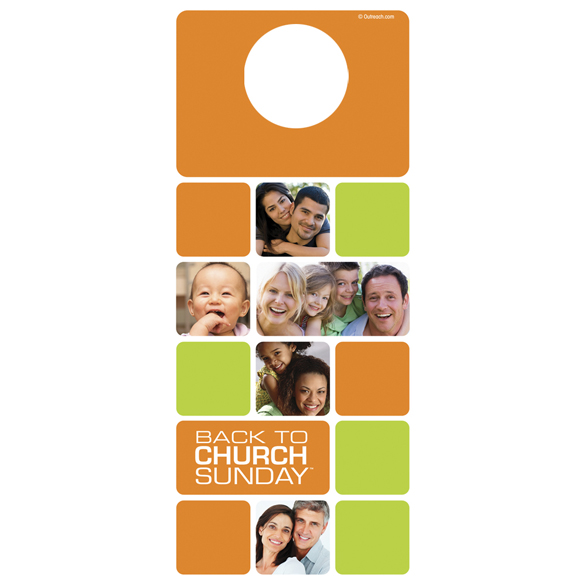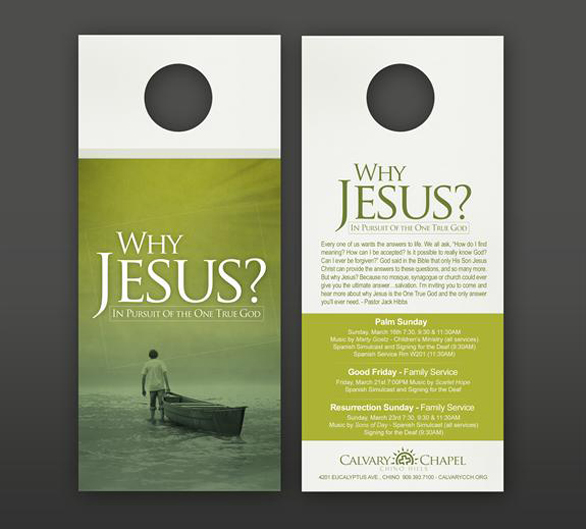 Design Tips 101
Your advertisements may not be the best designed in town. But do they send your message through? Are they persuasive or engaging enough? But then again, why settle for anything less? Here is a list of things many people commonly overlook and how you can improve on them:
1. Logo and Branding. What is your church all about? Make your 'branding' shine on your ads. If you have a logo in existence, feel free to make use of its colors predominantly.
2. Choice of font. Choose a font that communicates. You see, each font has its own voice. Choose a font that suits your purpose. Also, make your text readable by using the right font size.
3. Theme. Before creating your final artwork, make a draft. Create a theme and adhere to it. Use colors, shapes and other design elements that will fit your theme. Too much color or even too much text will only make your ads messy and hard to follow. Sometimes, keeping things simple or themed makes them easier to understand.
4. Images. Fond of stock images? Graphic artists favor them a lot. Truthfully, real photographs of people in your community speaks more than stock images ever would.
If you own a camera, this is the perfect time to put it into better use.
5. Simplicity. Dare not attempt to put so many ideas together. This will only hinder people to comprehend what you want to say. If you need to make your design harmonious and easy to the eyes, you would likewise need to make your copy or content easy to understand.
Be concise. After all, there is so much to say in so little space. Write only what is essential.
Regardless, Church door hangers are handy marketing tools for your community. It aids you to literally "knock" into their homes. Find out how to have customized door hangers printed for your community here.
Comments